Christmas Coffee Cake
A frosted holiday yeast coffee cake filled with nuts and candied fruit. Use whatever candied fruit you prefer, such as pineapple, cherries, citrus peel, raisins or cranberries.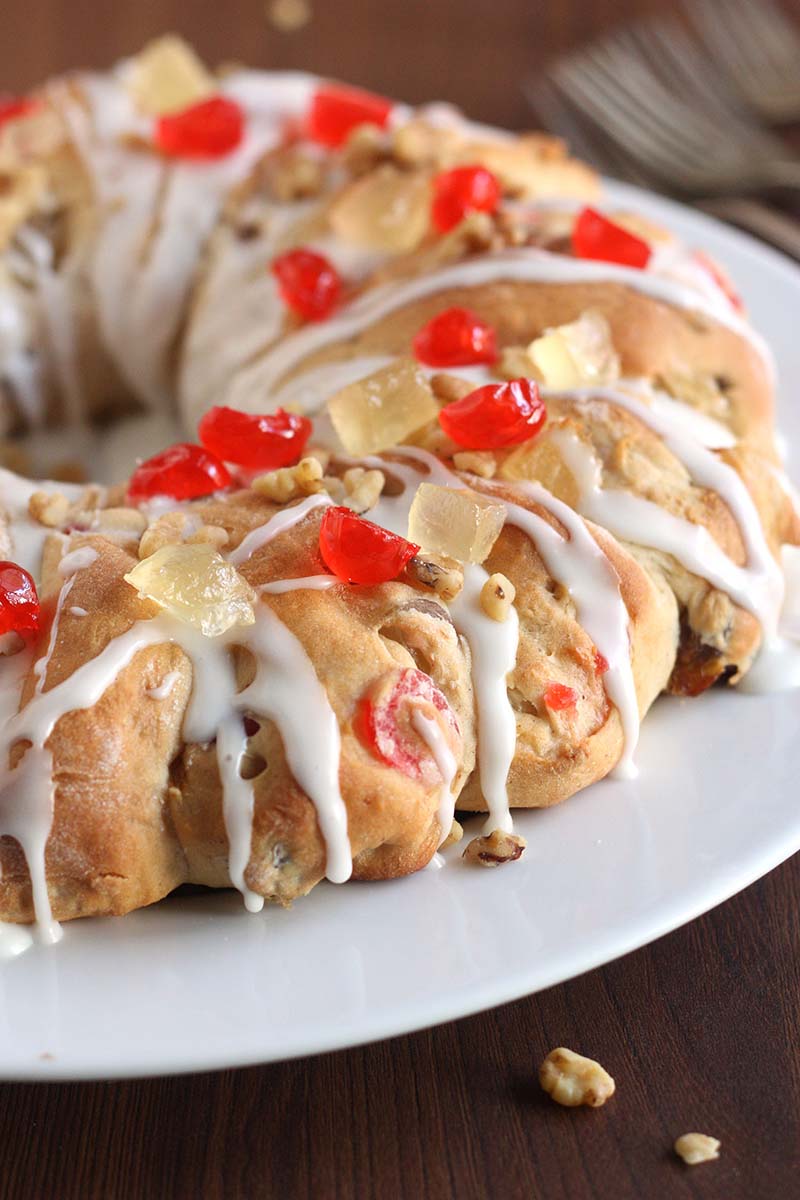 Yield:
One 10-inch coffee cake
Ingredients
¼ cup butter
1 cup milk
1 package (2¼ tsp, ¼oz, 7g) RED STAR Active Dry Yeast
¼ cup sugar
1 large egg
3¾ cups all-purpose flour
¼ tsp salt
¼ tsp ground nutmeg
¼ tsp cinnamon
1 cup mixed candied fruit
⅓ cup walnuts, chopped
For the glaze
1 cup powdered sugar, sifted
2 Tbsp milk
½ tsp almond extract
Instructions
Heat the butter and milk in a small saucepan over low heat until butter is melted. Remove and cool for about 5 minutes, until 110-115°F. Pour mixture into a large bowl and add the yeast, sugar and egg.


Mix in 1½ cups of the flour, salt, cinnamon, nutmeg, candied fruit and walnuts. Add in the remaining flour, ½ cup at a time, mixing after each addition until incorporated. Cover bowl with plastic wrap and set in a warm place. Let rise until doubled, about 1 hour.


On a lightly floured surface, roll out the dough into a rectangle, about 1-inch thick. Starting with a long end, roll it up tightly. Place rolled dough on a sheet pan lined with parchment paper and shape into a ring. Pinch to seal ends together.


Use a sharp knife to make cuts two-thirds of the way into the dough every 2 inches. Twist each section so that it lies parallel to the sheet pan. Cover with plastic wrap and let rise until doubled again, about 30-45 minutes.


Preheat oven to 350°F. Bake coffee cake until golden brown, about 25-30 minutes. Let cool.


To make the icing: stir together the sifted powdered sugar, milk and almond extract. Add more/less milk to achieve desired consistency. Drizzle over cooled cake. Garnish the cake with additional candied fruit and walnuts.


**You can substitute Instant (fast-rising) yeast in place of Active Dry Yeast. When using Instant Yeast, expect your dough to rise faster. Always let your dough rise until ripe. Traditional methods: use equal amounts; Bread Machine: use ½ tsp Instant Yeast OR ¾ tsp Active Dry Yeast per cup of flour in your recipe. Visit our Lessons in Yeast & Baking for more information.


Recipe featured at Completely Delicious.