Chocolate Cinnamon Roll Wreath
Chocolate meets cinnamon in this swirly pull-apart bread that's perfect for a brunch crowd!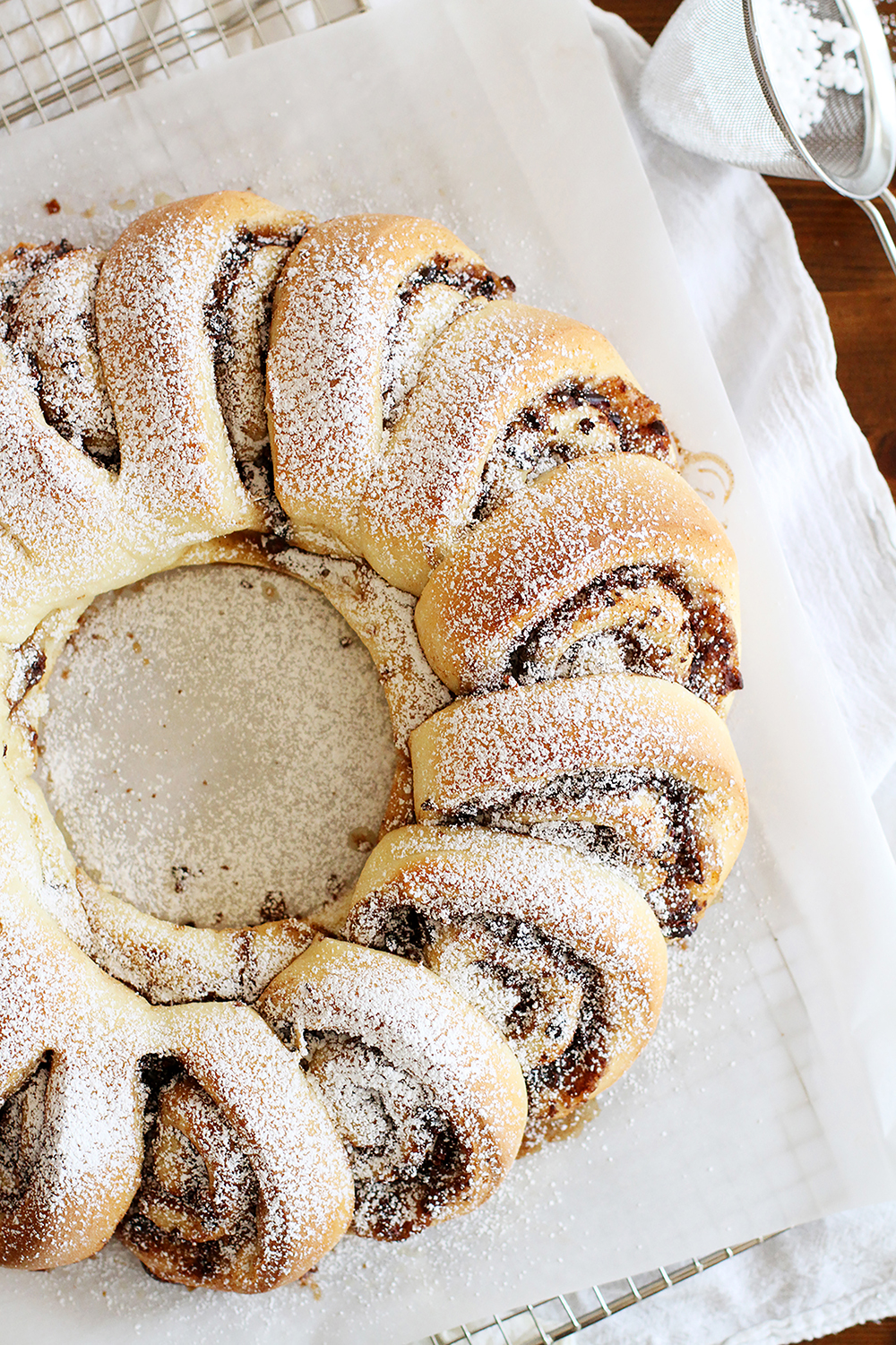 Ingredients
For the dough:
1 cup milk
3 Tbsp unsalted butter
3½ cups all-purpose flour, divided, plus more as needed
½ cup granulated sugar
1 egg
1 package (2¼ tsp, ¼oz, 7g) RED STAR Active Dry Yeast
1 tsp salt
Powdered sugar, for topping (optional)
For the filling:
¼ cup (1/2 stick) unsalted butter, softened
¾ cup light brown sugar
2 Tbsp cinnamon
1 tsp unsweetened cocoa powder
½ cup cocoa nibs (or mini chocolate chips)
Instructions
In small saucepan over medium-low heat, combine milk and butter. Heat until butter is melted and mixture reaches 120-130°F. Pour into large bowl or bowl of stand mixer. Add 2 cups flour, sugar, egg, yeast and salt. Using wooden spoon or dough hook on low speed, mix dough 3 minutes until well combined. Stir in remaining 1½ cups flour.


If kneading by hand, turn dough onto lightly floured surface and knead 10 minutes, adding more flour as needed until dough is smooth, soft, elastic and only slightly sticky. If kneading in stand mixer, knead with dough hook on low speed 5 minutes, adding more flour as needed until dough is smooth, soft, elastic and only slightly sticky.


Lightly spray inside of large bowl with cooking spray or brush with oil. Shape dough into ball; place in bowl and turn once to coat. Cover bowl with plastic wrap and let dough rise in warm place 1½ to 2 hours until doubled.


Punch down risen dough. On lightly floured surface, press or roll dough into approximate 15-by-11-inch rectangle. Spread softened butter evenly over dough. Sprinkle evenly with brown sugar, cinnamon, cocoa powder and cocoa nibs. Roll up dough tightly from long end into log. Transfer log to parchment paper-lined baking sheet.


With log seam side-down, carefully slice dough almost completely through into 1-inch rolls, so rolls are still connected at bottoms. Gently turn cinnamon rolls on sides, overlapping each other and gradually forming into one large circle. Tuck last cinnamon roll underneath first cinnamon roll. Place ramekin or other small oven-safe bowl in center of circle to maintain round shape. Cover rolls with clean kitchen towel and let rise 45 minutes until puffy.


Meanwhile, heat oven to 375°F. Uncover rolls and bake 20 to 25 minutes until tops of rolls are golden. Remove ramekin. Cool rolls slightly before sprinkling with powdered sugar, if desired. Serve warm.


Recipe created by Girl Versus Dough.