Overnight Brioche Cinnamon Rolls
These sweet yeast rolls feature brioche dough, a classic cinnamon-sugar filling, and delicious vanilla bean frosting! Prep the rolls in advance and bake in the morning to begin the day with freshly baked cinnamon rolls. The whole family will love this recipe for weekend brunch!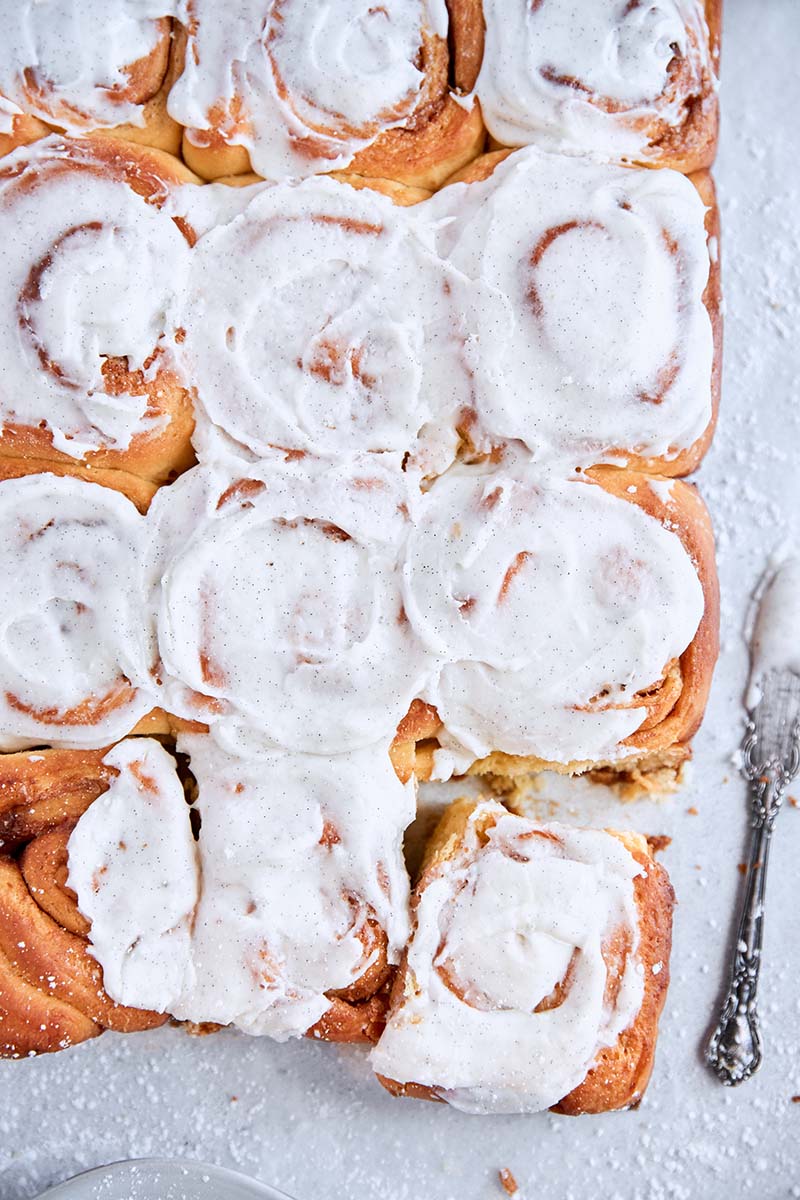 Ingredients
For the dough:
¾ cup (180 g) low-fat milk
1 package (2¼ tsp, ¼oz, 7g) Red Star PLATINUM Yeast
1½ tsp (9 g) salt
¼ cup (84 g) honey
4 large eggs (200 g), lightly beaten, at room temperature
¾ cup (168 g) unsalted butter, melted and slightly cooled
3¾ cups (525 g) all-purpose flour
For the filling:
5 Tbsp (70 g) unsalted butter, very soft
¾ cup (135 g) light brown sugar
1 tsp (2 g) cinnamon
⅛ tsp (0.75 g) salt
For the frosting:
¼ cup (56 g) unsalted butter, softened
¼ tsp (1.5 g) salt
1½ cups (180 g) powdered sugar
2½ Tbsp (37 g) milk
1 vanilla bean, seeds scraped (or 2 tsp (8 g) vanilla extract)
Instructions
(1) For the dough, heat milk in a microwave-safe measuring cup for 45 seconds to 1 minute, until very warm (120-130°F). Combine warm milk, yeast, salt and honey in a large mixer bowl; mix on low speed until incorporated. Add eggs and melted butter; mix until combined. Gradually
mix in flour, just until combined. Cover mixer bowl loosely with plastic and let rest in a warm
place for 45 minutes.


(2) After 45 minutes, the dough will be puffy and doubled in size. Transfer dough to the refrigerator and chill for 2 hours.


(3) Remove chilled dough from the refrigerator. Gently press down dough; cover and let rest for 5 minutes. Spray a 13 x 9-inch baking pan with nonstick spray.


(4) Turn dough out on a lightly floured board, dust with dough lightly with flour, and roll into an 18 x12-inch rectangle. Spread dough with softened butter, leaving a ¼-inch border. Combine
brown sugar, cinnamon, and salt; sprinkle over dough and press gently into dough with rolling
pin. Carefully roll dough up into a tight log and pinch edges to seal (if dough starts to stick, use
a bench scraper to lift dough from the board).


(5) Trim off uneven ends and score dough into 12 equal slices. Use unflavored dental floss to slice dough crosswise (slip a long slice of floss under log of dough and cross on top to cut slices
cleanly). Place rolls cut side up into prepared baking pan and cover tightly with plastic. Let rest
in the refrigerator overnight (up to 16 hours).


(6) On baking day, remove the chilled rolls from the refrigerator and place in a warm spot to rise
until puffy (about 45 to 60 minutes) before baking.


(7) While the rolls rise, preheat the oven to 350°F and make the frosting: Combine butter, salt,
powdered sugar, milk and vanilla bean seeds in a large mixer bowl and beat until smooth and
creamy.


(8) Bake rolls for 28 to 32 minutes, or until golden. Remove from oven and place on a wire rack to cool for 20 minutes. Spread the frosting over the warm rolls before serving.


Recipe in partnership with Tutti Dolci.
Notes
To bake the rolls right away: If you're planning to bake the rolls right away, work up to Step 5. In Step 5, cover the baking pan loosely with plastic and let rise in a warm place until puffy, about 30 to 40 minutes. Continue with Step 7.