Julekage
Julekage (pronounced yoo-ley-key-yeh) is a popular Norwegian Christmas fruit bread filled with candied fruit, golden raisins and cardamom. Glistening sugar and snow-white icing top this special holiday bread.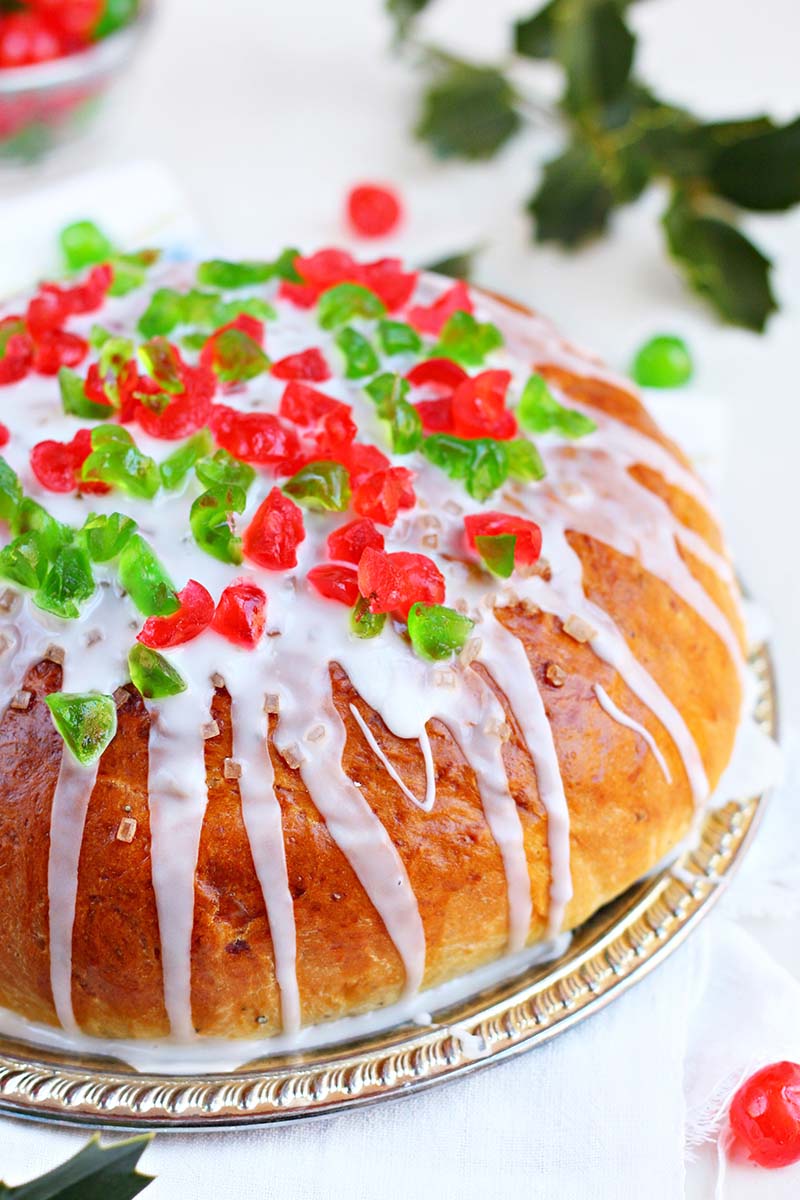 Ingredients
⅔ cup water
⅓ cup milk, evaporated
1 egg, large, room temperature
½ cup butter
½ tsp salt
¼ cup sugar
3⅓ cups bread flour
½ tsp cardamom, ground
1 package (2¼ tsp, ¼oz, 7g) RED STAR Active Dry Yeast
½ cup golden raisins
¼ cup citron or candied fruit, finely chopped
For the glaze:
1 egg
1 Tbsp milk
⅓ cup sugar cube, crushed, or pearl sugar
For the icing:
1 cup confectioners' sugar
1 Tbsp water
1 tsp butter
½ tsp almond extract
Instructions
Bread Machine Method
Place room temperature ingredients, except raisins and candied fruit, in pan in order listed.


Select SWEET setting, LIGHT crust. Do not use delay feature. Check dough consistency after 5 minutes of kneading. The dough should be in a soft, tacky ball. If it is dry and stiff, add water, ½ to 1 TBSP at a time. If it is too wet and sticky, add 1 TBSP of flour at a time. See our Bread Machine section for more helpful tips and information. Add raisins and candied fruit 5 minutes before the end of last kneading cycle. Combine egg and milk of Glaze. At end of rising time, before baking begins, open lid; brush top of loaf with Glaze; liberally sprinkle sugar over top. Close lid for baking. Remove from pan; cool on rack. Continue with Icing directions.
OR
Select DOUGH setting. When cycle is complete, remove dough from pan and continue with Shaping, Rising and Baking directions below.
Traditional Method
Combine yeast, 1 cup flour, salt and sugar. Heat evaporated milk, water and butter to 120º-130ºF. Butter does not need to melt. Combine dry mixture and milk mixture at low speed. Beat 2 to 3 minutes on medium speed. Add egg; beat 1 minute. By hand, stir in enough remaining flour to make firm dough. Knead on lightly floured surface 5 to 7 minutes or until smooth and elastic. Place dough in lightly oiled bowl; turn to grease top. Cover; let rise until dough tests ripe. Punch down to remove air bubbles. Turn dough onto lightly floured surface; press flat. Spread candied fruit and raisins across dough. Fold dough; knead fruits evenly throughout dough. Allow dough to relax 10 minutes.
Shaping, Rising and Baking
Shape into ball; place on greased baking sheet. Press dough to flatten somewhat. Combine egg and milk of Glaze; brush onto dough. Cover; let rise in a warm place until indentation remains after touching. Brush again with Glaze; liberally sprinkle sugar over top. Bake in preheated 350°F oven for 35 to 45 minutes until golden brown. Remove from pan; cool on rack.


Prepare icing: Combine Icing ingredients (add additional sugar or water to get the desired consistency); drizzle over cooled loaf. For added color, sprinkle candied fruit on top of icing.


Recipe featured at A TrEATs Affair.
Notes
You can substitute Instant (fast-rising) yeast for Active Dry Yeast. Traditional methods- replace 1:1. Expect your dough to rise faster; always let your dough rise until 'ripe'. Bread Machines- use ½ tsp Instant yeast (or ¾ tsp Active Dry yeast) per cup of flour in your recipe. Visit our
Lessons in Yeast & Baking
for more information on baking.