Honey Butter Dinner Rolls
Soft and fluffy dinner rolls infused with sweet honey and topped with homemade honey butter right after baking. They're absolutely a must for your dinner menu!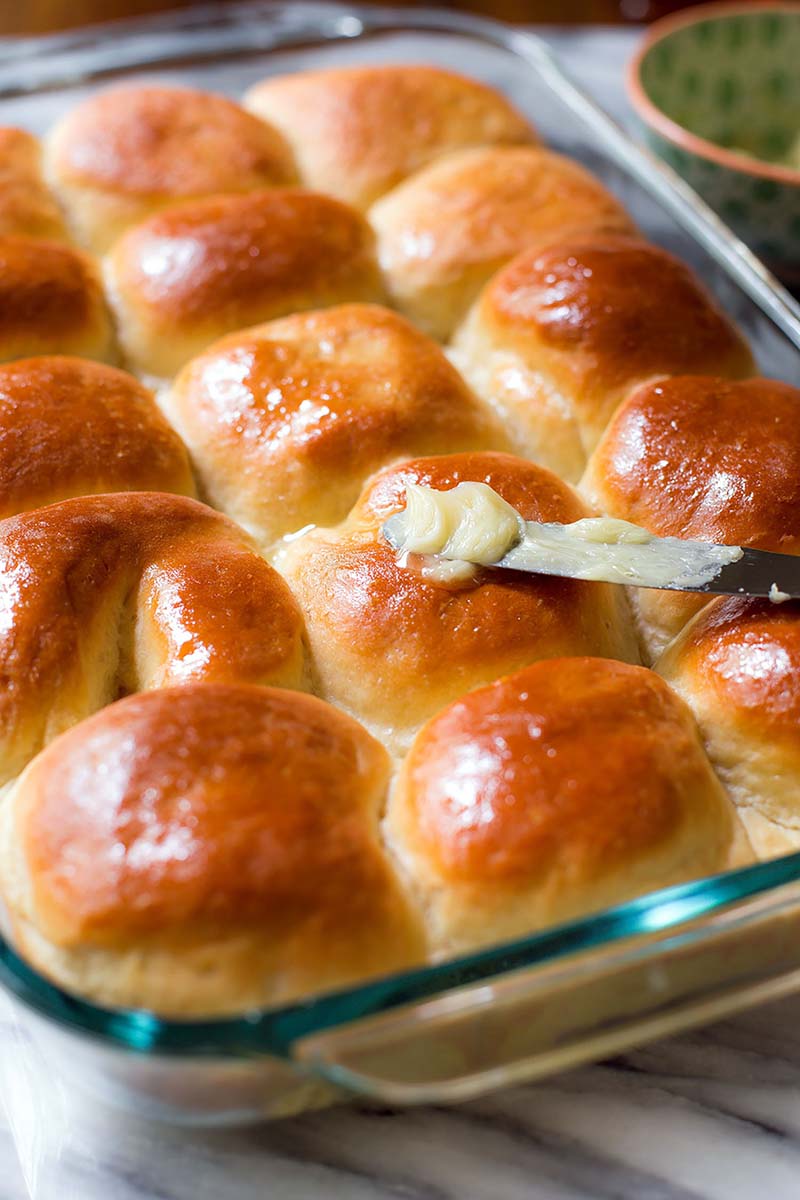 Ingredients
For the dough:
1 cup (240ml) whole milk, warmed to 110-115°F
1 package (2¼ tsp, ¼oz, 7g) RED STAR Platinum Superior Baking Yeast
½ tsp granulated sugar
¼ cup (84g) honey
1 large egg, plus 1 egg yolk
¼ cup (60g) unsalted butter, melted and slightly cooled
½ tsp salt
3½ cups (452g) bread flour
For the topping:
¼ cup (60g) unsalted butter, very soft
2 Tbsp (42g) honey
Instructions
Pour warm milk into the bowl of a stand mixer fitted with a dough hook attachment. Stir in yeast and ½ tsp sugar into the milk and allow to sit for 10 minutes.


With the stand mixer running on low speed, add the honey, egg, egg yolk, melted butter, salt, and 3 cups of flour. Beat on low speed for 1 minute, then add remaining ½ cup of flour. Beat on low speed for 1 minute as it all combines. The dough should be thick, yet soft. And only slightly sticky. It should pull away from the sides of the bowl as it mixes. When it does, it is ready to knead. If, however, the dough is too sticky to handle-- add more flour, 1 tablespoon at a time. Make sure you do not add too much extra flour; you want a soft, slightly sticky dough.


Form dough into a ball and turn it out onto a lightly floured surface. Knead for 2 minutes, then place into a greased bowl (use olive oil or nonstick spray). Turn the dough over to coat all sides. Cover the bowl with plastic wrap and place it in a warm environment to rise until doubled, about 2 hours. (*see note below)


Once doubled in size, punch down the dough to release any air bubbles. Remove dough from the bowl and turn it out onto a lightly floured surface. Punch down again to release any more air bubbles if needed. Using a sharp knife or dough cutter, cut the dough in half. Cut each half into 8 equal pieces for a total of 16 pieces that are about ¼ cup each-- golfball size, give or take. They don't need to be perfect! Shape into balls as best you can and arrange in a greased 9x13-inch baking pan. Loosely cover with plastic wrap and allow to rise until doubled in size and puffy, about 1 hour.


Preheat oven to 350°F (177°C). Bake the rolls for 18-21 minutes until the tops are golden brown and the edges of each roll look cooked. While the rolls bake, mix the topping ingredients together to make a creamy honey butter. Remove the rolls from the oven when they are done and brush or spread a generous amount of honey butter onto each warm roll. Serve with any remaining honey butter.


Cover leftovers and keep in the refrigerator for up to 1 week or freeze for up to 3 months, then thaw overnight in the refrigerator. Warm up in a 300°F (149°C) oven for 10 minutes.


Recipe created by Sally's Baking Addiction.
Notes
*Make ahead tip/overnight: After dough has risen two hours, punch down the dough inside the mixing bowl and cover the bowl tightly with plastic wrap. Refrigerate overnight or for up to 2 days, then remove from the refrigerator and continue with next step.

Do not leave off the honey butter topping! The rolls will be lacking a little flavor without it. Best to spread on the honey butter right after baking.

Do not sub low fat milk. Whole milk is key to best taste and texture. If anything, 2% may be subbed.