Hearty White Bread
After World War II, researchers at Cornell University developed a bread recipe that was relatively low in cost and high in protein value. Hearty White is an adaption.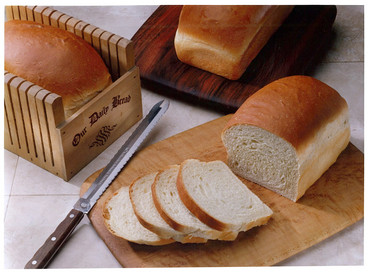 Ingredients
Medium loaf (1½ lb. bread machine)
1 cup water
2 tsp vegetable oil
1 egg, large
2 tsp honey
3 cups bread flour
½ cup soy flour
1 Tbsp wheat germ
½ cup non-fat dry milk
1 tsp salt
1 package (2¼ tsp, ¼oz, 7g) RED STAR Active Dry Yeast
Large loaf (2 lb. bread machine)
1¼ cup water
1 Tbsp vegetable oil
1 egg, large
1 Tbsp honey
3½ cups bread flour
⅔ cup soy flour
4 tsp wheat germ
⅔ cup non-fat dry milk
1½ tsp salt
1 Tbsp RED STAR Active Dry Yeast
Instructions
Bread Machine Method
Place room temperature ingredients in pan in order listed. Select BASIC setting and MEDIUM crust. Check dough consistency after 5 minutes of kneading. The dough should be in a soft, tacky ball. If it is dry and stiff, add water, ½ to 1 Tbsp at a time. If it is too wet and sticky, add 1 TBSP of flour at a time. See our Bread Machine section for more helpful tips and information.
Traditional Method
Using ingredient amounts listed for medium loaf, combine yeast, 1 cup bread flour, and other dry ingredients. Combine liquids and heat to 120°-130°F; add to flour mixture and beat 3 minutes on medium speed. Add egg; beat one minute longer. By hand, stir in enough remaining bread flour to make a firm dough. Knead on floured surface 5 to 7 minutes until smooth and elastic. Place in lightly greased bowl. Cover; let rise until dough tests ripe, about 40 minutes.
Shaping, Rising and Baking
Turn dough onto lightly floured surface; punch down to remove air bubbles. Roll or pat into a 14 x 7- inch rectangle. Starting with shorter side, roll up tightly, pressing dough into roll. Pinch edges and taper ends to seal. Place in a greased 9 x 5- inch loaf pan. Cover; let rise until indentation remains after touching. Bake in preheated 375°F oven 35 to 40 minutes. Remove from pan; cool before slicing.


You can substitute Instant (fast-rising) yeast for Active Dry Yeast. Traditional methods- replace 1:1. Expect your dough to rise faster; always let your dough rise until 'ripe'. Bread Machines- use ½ tsp Instant yeast (or ¾ tsp Active Dry yeast) per cup of flour in your recipe. Visit our Lessons in Yeast & Baking for more information.