Giant Cinnamon Roll Cake

Author: Sally McKenney Quinn
Learn how to make a giant cinnamon roll cake using my easy 7 ingredient homemade cinnamon roll dough and swirling it into one large cake. Top with vanilla icing for an extra indulgent breakfast or brunch. Kids and adults alike can't get enough and it's REALLY fun to make!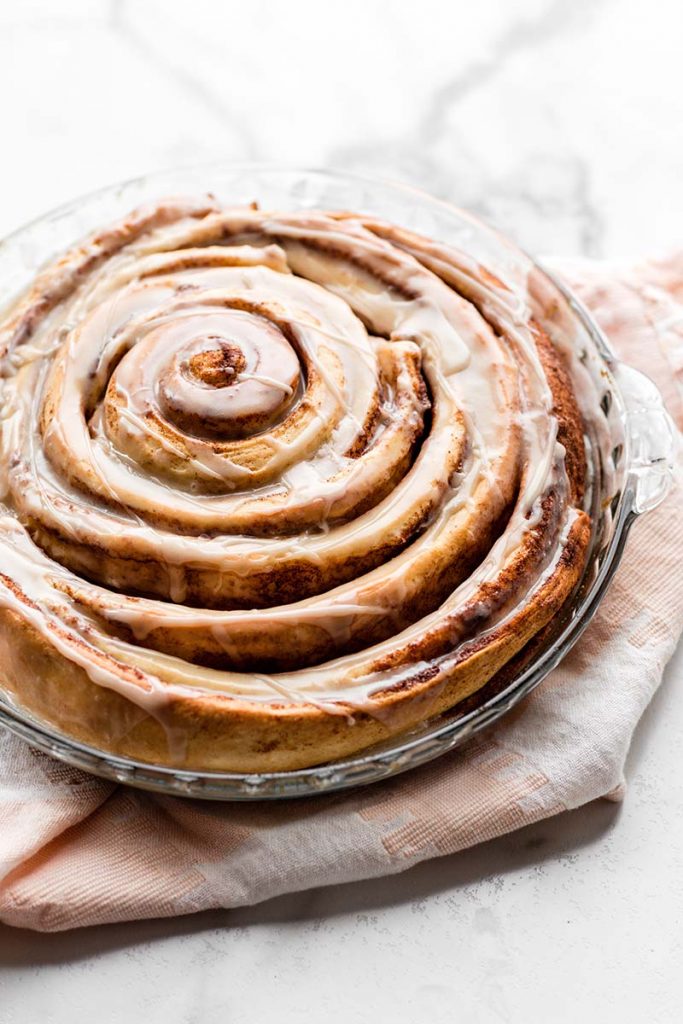 Here are the basic steps:
Make the dough: You need flour, sugar, salt, yeast, milk, butter, and egg. Heat the butter and milk together. Next, stir or beat the milk mixture into the dry ingredients, then add the egg. After mixing, your dough is ready to knead.
Knead the dough: You can use your mixer or hands to knead the dough. When you're finished kneading, cover the dough and let it rest for 30 minutes.
Fill & shape the cinnamon roll cake: Roll the dough into a 15×12 inch rectangle. Spread the softened butter on top, then sprinkle with brown sugar and cinnamon. Slice the dough into 6 horizontal strips. Roll up 1 strip and place in a greased pan. Coil the remaining 5 strips around the center roll, starting each strip at the end of the previous one to make one large cinnamon roll.
Rise: Let the shaped cake rise until doubled in size, about 1-2 hours. Because we're using my shortcut dough, this is the only rise time required. Usually cinnamon rolls require 2 long rises.
Bake: After the giant cinnamon roll cake is puffy, bake until golden brown.
Drizzle with vanilla icing.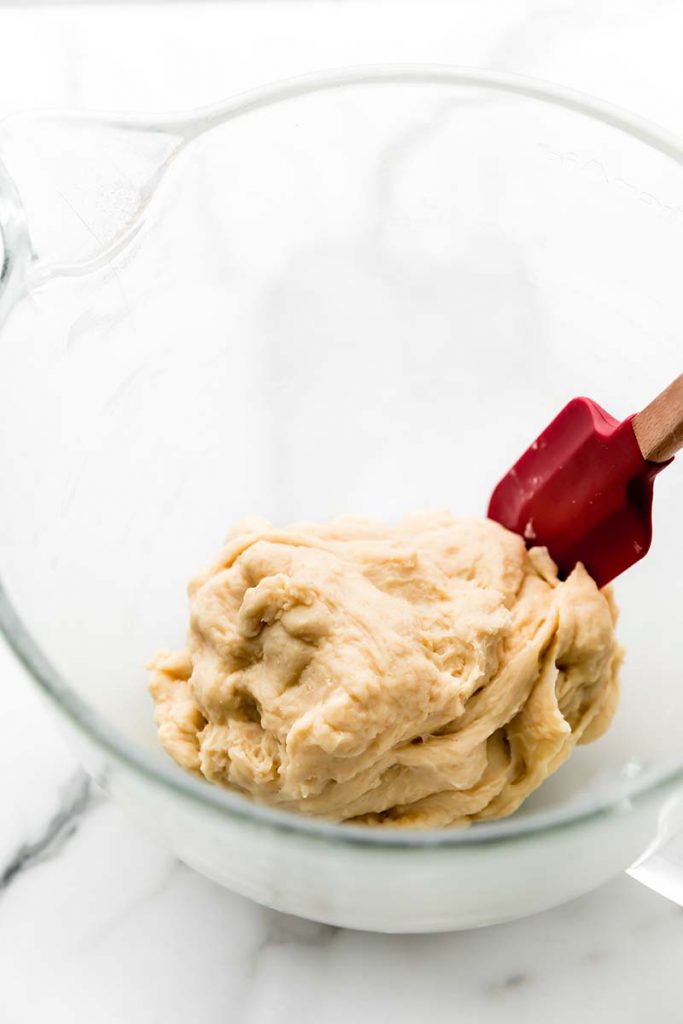 Shaping is much easier than it seems. Just keep wrapping strips of dough into a spiral. Since this is a round cake– or shall I say a super mega cinnamon roll– use a round cake pan or pie dish.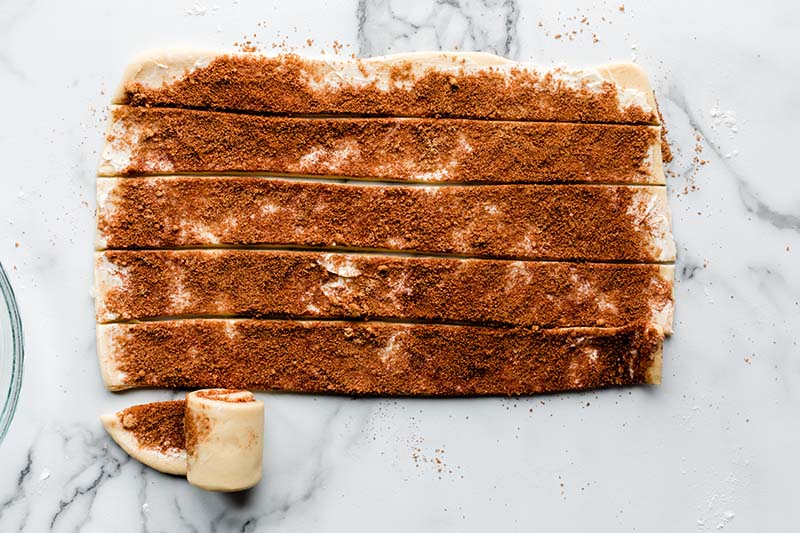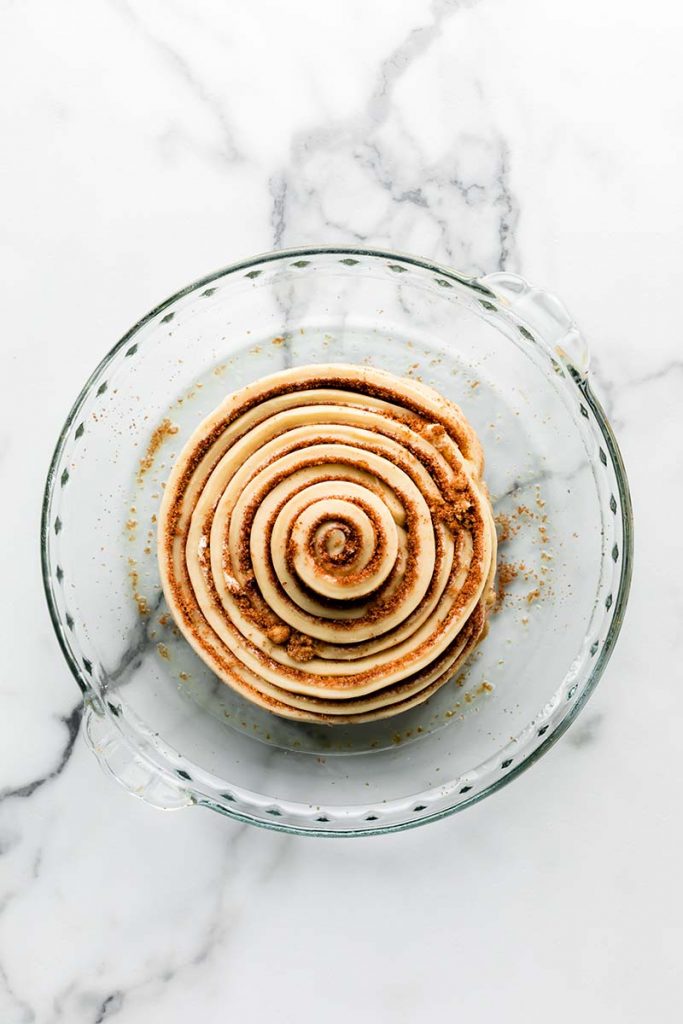 Here's my #1 tip: I exclusively use Red Star Yeast in my bread baking and always recommend bakers do the same. A dependable yeast like Platinum Yeast by Red Star guarantees dough success. This is an instant yeast, which helps cut down on rise time. (Always a plus!) Additionally, its careful formula strengthens your dough and makes working with yeast simple.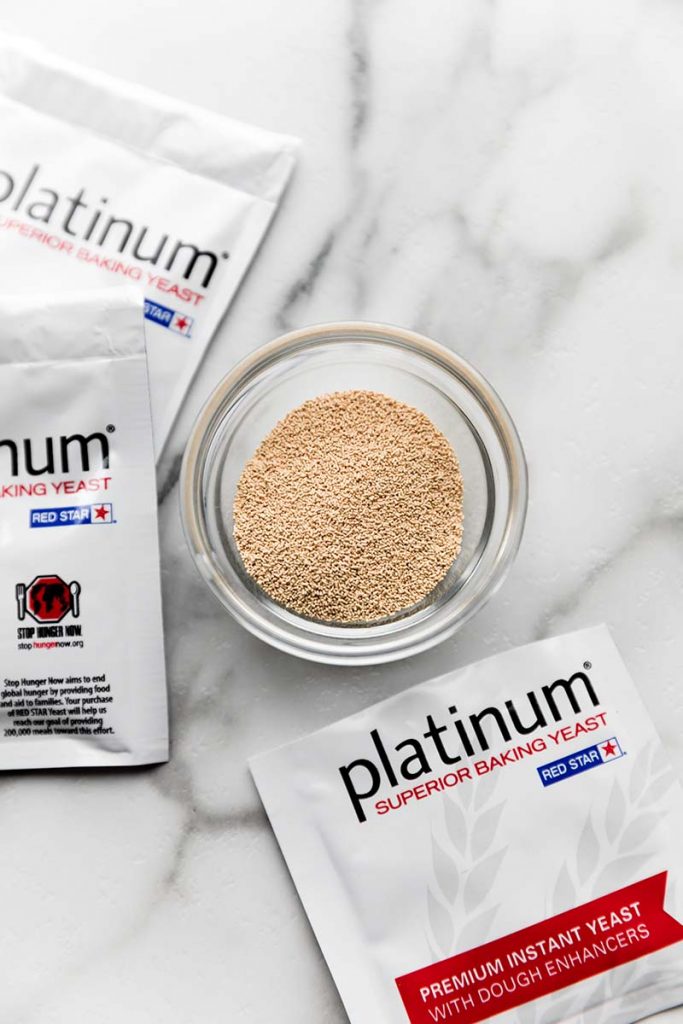 To serve, cut it like a traditional cake. You could also uncoil it and let everyone dig right in. Basically, there's no wrong way to eat a giant cinnamon roll cake!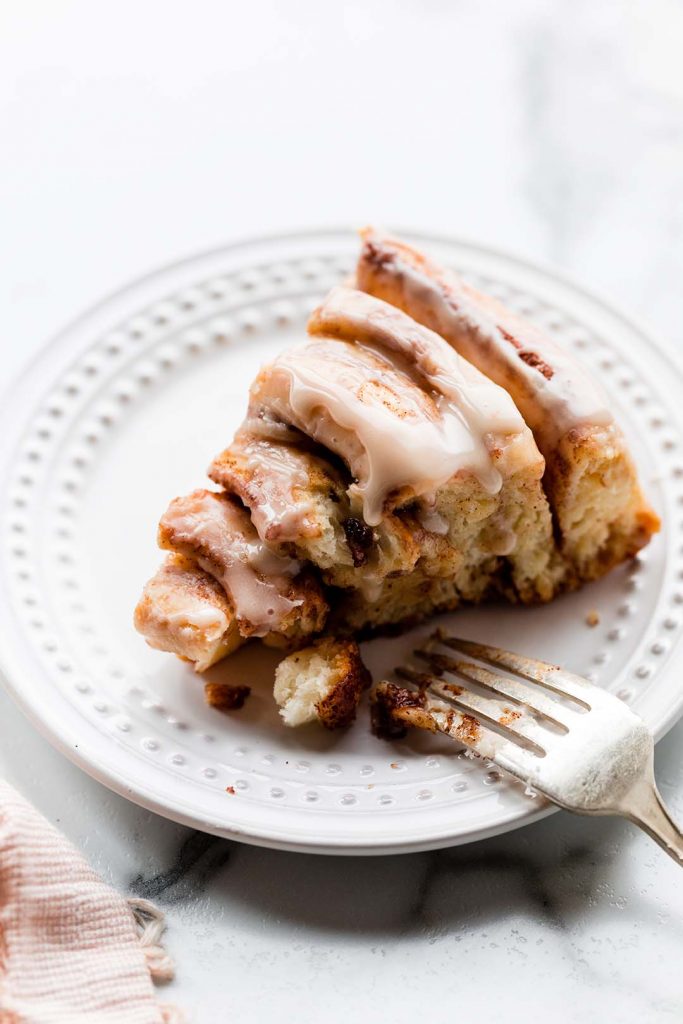 Video Tutorial : Giant Cinnamon Roll Cake

Giant Cinnamon Roll Cake
A beautiful, soft and fluffy cinnamon roll cake with a gooey cinnamon center and vanilla icing melting into every crevice. Review the video tutorial above and recipe notes below before beginning.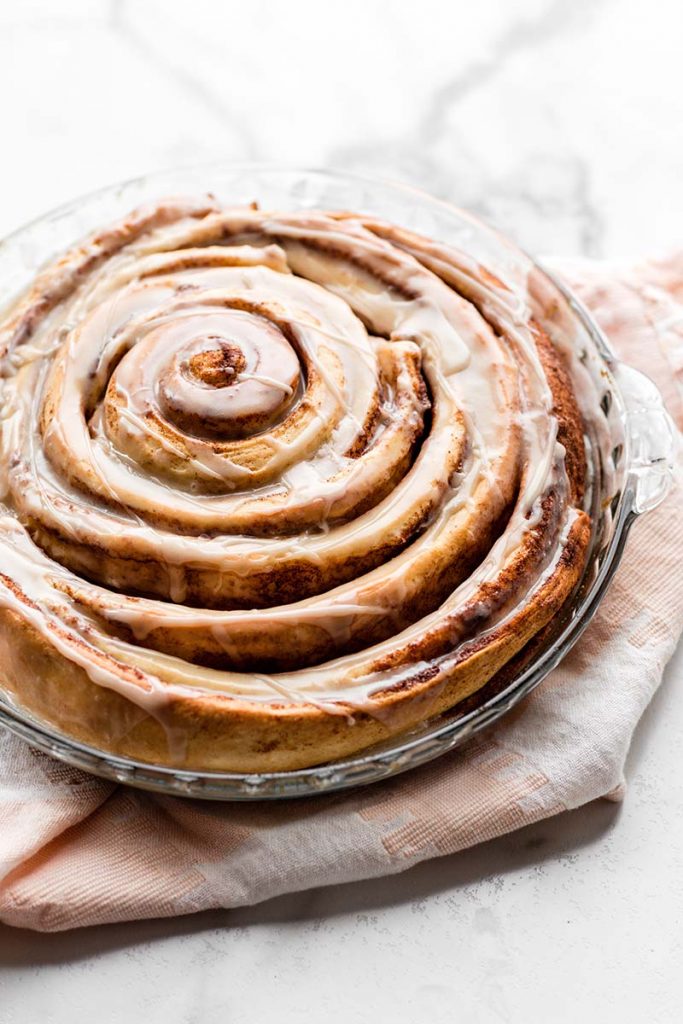 Ingredients
For the dough:
2 and ¾ cups (345g) all-purpose flour, plus more as needed
¼ cup (50g) granulated sugar
1 teaspoon salt
2 and ¼ teaspoons Platinum Yeast (one standard packet, 7g, ¼oz)
¾ cup (180ml) whole milk
¼ cup (4 Tbsp or 60g) unsalted butter
1 large egg, at room temperature
For the filling:
¼ cup (4 Tbsp or 60g) unsalted butter, softened to room temperature
¼ cup (50g) brown sugar or granulated sugar
1 Tablespoon ground cinnamon
For the vanilla icing:
1 cup (120g) confectioners' sugar
2 Tablespoons (30ml) milk or heavy cream
1 teaspoon pure vanilla extract
Instructions
Step 1. Make the dough: Whisk the flour, sugar, salt, and yeast together. Set aside. Heat the milk and butter together in the microwave until the butter is melted and the mixture is warm to the touch, between 100-110°F, 38-43°C. Pour the warm milk mixture into the dry ingredients. Add the egg. Using a handheld or stand mixer fitted with a dough hook or paddle attachment, or using a rubber spatula and mixing by hand, beat/mix the mixture until a soft dough forms. The dough is ready when it gently pulls away from the sides of the bowl. If the dough is pretty sticky, beat/mix in 2-4 extra Tablespoons of flour.


Step 2. Turn the dough out onto a lightly floured surface. With lightly floured hands, knead the dough for 3 minutes. If you'd rather use the mixer to knead it, beat the dough on low speed for 3 minutes instead. After kneading, poke the dough with your finger – if it slowly bounces back, the dough is ready for the next step. If not, keep kneading.


Step 3. Form the dough into a ball on your work surface. Cover it with a clean towel, aluminum foil, or plastic wrap, then let it rest for 30 minutes at room temperature.


Step 4. Make the filling: After 30 minutes, use a rolling pin to roll the dough out into a 15x12-inch rectangle. Evenly spread the softened butter on top. Mix the sugar and cinnamon together and sprinkle it all over the buttered dough.


Step 5. Grease a 9-inch round pie dish or cake pan with butter or nonstick spray.


Step 6. Shape the cinnamon roll cake: Using a very sharp knife or a pizza cutter, cut the dough into six 2-inch wide strips. Roll up one strip and place it in the center of the pan. Coil the remaining 5 strips around the center roll, starting each strip at the end of the previous one to make one large cinnamon roll. Some of the filling may spill out as you pick up the strips, so just sprinkle it on top of the cake when you're done shaping it.


Step 7. Loosely cover the cake with aluminum foil or plastic wrap and allow it to rise in a relatively warm, draft-free environment for 1-2 hours or until double in size.


Step 8. Bake: Preheat the oven to 350°F (177°C). Bake for 30-35 minutes or until golden brown. If you notice the top or edges browning too quickly, tent the cake with aluminum foil. While the giant cinnamon roll cake is baking, some spots may rise up more than other spots. That's completely normal and expected from something this large. Simply remove the pan from the oven and, with the back of a spatula, press down the spots that are rising taller than others to help keep them even. Return to baking.


Step 9. Remove the finished cinnamon roll cake from the oven and cool in the pan on a wire rack for 10 minutes.


Step 10. Make the icing: Whisk the icing ingredients together. If you want a thicker icing, whisk in more confectioners' sugar. If you want a thinner icing, whisk in more milk or cream. Drizzle all over warm cake and serve.


Step 11. The cinnamon roll cake is best enjoyed the same day it's made, but will remain fresh covered tightly for up to 4 days in the refrigerator.
Notes
Overnight Instructions: The night before serving, prepare the cinnamon roll cake through step 6. Cover tightly and refrigerate for 8-12 hours. The next morning, remove from the refrigerator and allow to rise on the counter, covered, for 1-2 hours before continuing with step 8.

Freezing Instructions: Baked cinnamon roll cake can be frozen up to 3 months. Thaw overnight in the refrigerator and warm up before enjoying. You can also freeze the unbaked cinnamon roll cake and here's how: bake the cake in step 8 for only about 10 minutes. Cool completely, then cover tightly and freeze. To thaw and bake, take the cake out of the freezer and put into the refrigerator a few hours before you wish to serve it. Before serving, finish baking it.

Yeast: Platinum Yeast is an instant yeast. You can use active dry yeast instead. If using active dry yeast, whisk the yeast into the warm butter/milk mixture instead of into the dry ingredients. (If you forget to do this and add the active dry yeast to the dry ingredients, the cake will still be fine– trust me!) The rise time will take a little longer if using active dry yeast.

Alternate Icing:
Maple Vanilla Icing: Simply replace 1 Tablespoon of milk/cream with pure maple syrup.

If desired for a coffee flavored icing, replace all of the milk/cream with strong brewed black coffee.
---
Baking enthusiast Sally McKenney Quinn is the blogger and photographer behind Sally's Baking Addiction, as well as the author of best-selling cookbooks Sally's Baking Addiction and Sally's Candy Addiction. The kitchen is where her creative juices flow and she enjoys sharing recipes with her millions of fans around the world. When Sally isn't in the kitchen or behind the camera, she enjoys practicing yoga, running off all those cookies, and hiking with her husband, Kevin, and their dog, Jude.