Focaccia 4 Ways
Fluffy and salty with aromas of olive oil and fresh herbs, focaccia is a true all-purpose bread. Great by itself as a snack, it can stand in for dinner rolls, or be used as a base for a variety of casual appetizers. Split horizontally, it makes wonderful sandwich bread, especially with hearty meats.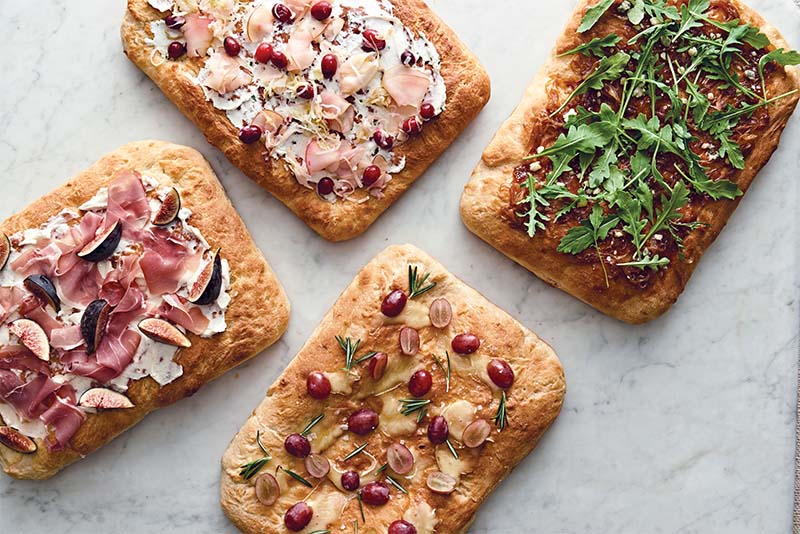 Ingredients
2 packages (1⁄4 oz, 7 g each) Red Star® Platinum Superior Baking Yeast
2 cups warm water (110°-115°F)
4 Tbsp honey
6 Tbsp olive oil; more for the bowl
1 tsp salt
5½ to 6½ cups bread flour
Flaky sea salt
Instructions
In a large bowl of a stand mixer, add the yeast and water. Stir in 1 teaspoon of the honey and let stand until the yeast softens and bubbles, about 5 minutes.


Mix in the remaining honey, 4 tablespoons olive oil, and salt.


Add 5 cups of the flour and beat with the paddle attachment on medium speed until dough is elastic and pulls away from the sides of the bowl, about 5 minutes. Stir in about ½ cup more flour to make a soft dough.


In a stand mixer, with a dough hook attached, knead until smooth and elastic, about 15 minutes, adding just enough flour to prevent the dough from sticking.


Place the dough in a large greased bowl, cover and let rise until doubled in volume, about 1 hour.


Punch down the dough. Cover with the inverted bowl and let rest for 10 minutes. Divide the dough in half. Roll and stretch each portion into a rectangle. Place on a quarter-sheet pan. Dimple the dough and brush with the remaining 2 Tbs. olive oil. Let stand until dough looks puffy, about 15 minutes.


Position oven racks in the top and bottom thirds of the oven, and heat the oven to 425°F. Bake the focaccia until golden brown, 15 to 20 minutes, switching the pan from top to bottom racks halfway through baking. Top and cut as you'd like, and serve warm.


Topping suggestions:
GRAPE & TALEGGIO
Top the baked focaccia with sliced Taleggio (it's fine to include the rind), halved grapes, olive oil, fresh rosemary, and flaky sea salt. Broil until the cheese is melted and browned.


ARUGULA, CARAMELIZED ONION & GORGONZOLA
Spread a light coating of fig jam on the baked focaccia and top with caramelized onions and a smattering of Gorgonzola. While broiling the topping, toss arugula with a squeeze of lemon and just enough olive oil to coat it lightly. Pile the arugula on the focaccia and season with salt and pepper.


LEEK, APPLE & CRANBERRY
Sauté sliced leeks, sliced apples, and cranberries in plenty of butter; season with salt and pep-per. Season soft goat cheese with salt, pepper, and chopped fresh herbs. Spread the goat cheese on the baked focaccia and top with the leek mixture.


FIG, GOAT CHEESE & PROSCIUTTO
Combine goat cheese and honey and spread over the baked focaccia. Add very thin slices of prosciutto. Arrange sliced figs on top. Broil for 2 to 3 minutes to caramelize the figs and crisp the prosciutto's edges.


Recipe created in partnership with Fine Cooking.