Easy Cinnamon Rolls
Quick and easy cinnamon rolls with only one rise.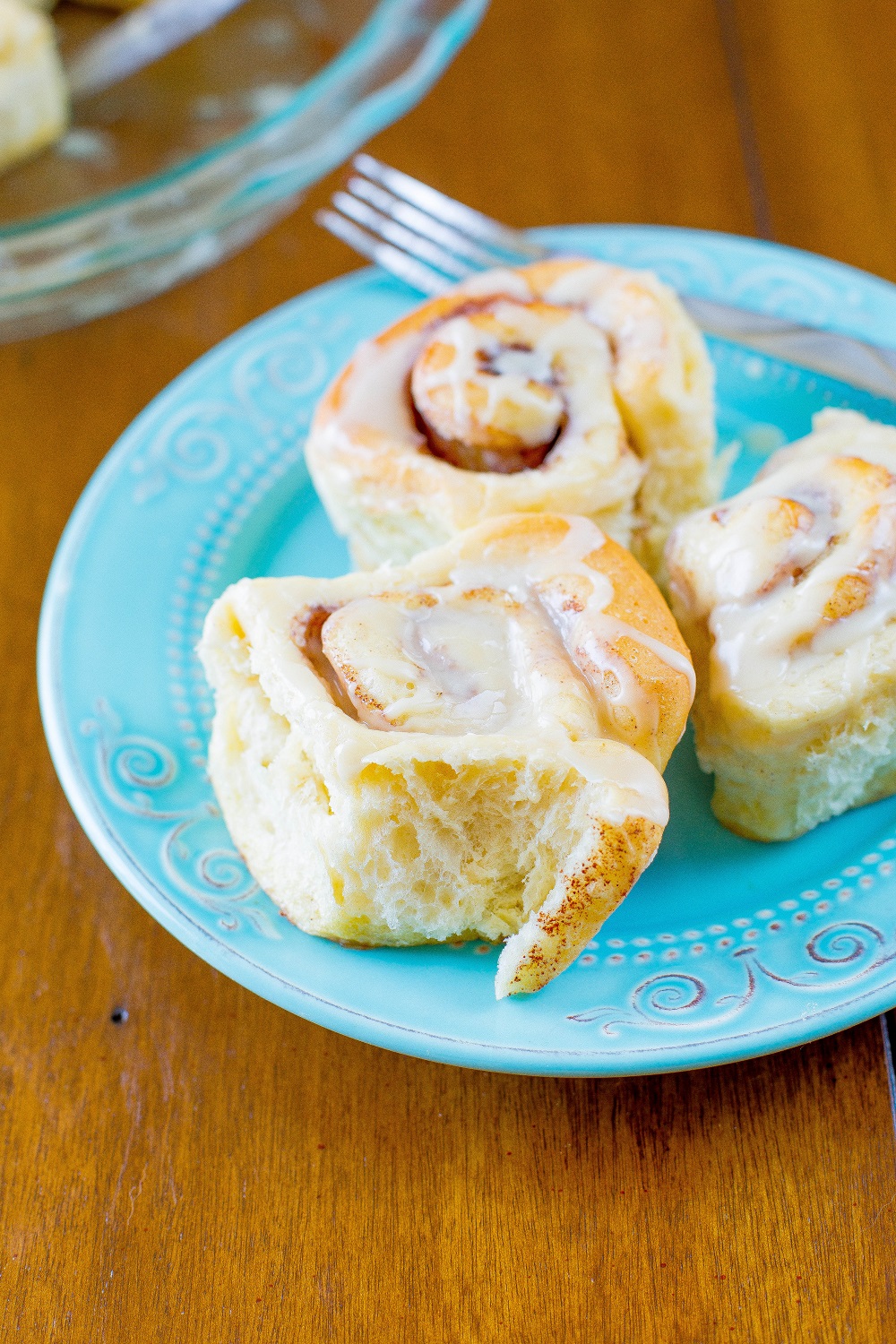 Ingredients
For the dough:
2¾ cups (345g) all-purpose flour
3 Tbsp granulated sugar
1 tsp salt
1 package (2¼ tsp, ¼ oz, 7g) RED STAR Platinum Superior Baking Yeast
½ cup (120ml) water
¼ cup (60ml) milk
2½ Tbsp (40g) unsalted butter
1 large egg
For the filling:
3 Tbsp (45g) unsalted butter, softened to room temperature
1 Tbsp ground cinnamon
¼ cup (50g) granulated sugar
For the coffee glaze:
1 cup (120g) powdered (confectioners') sugar
1 tsp vanilla extract
2-3 Tbsp (30-45ml) strong coffee (or use milk/cream instead)
Instructions
(1) Make the dough: Set aside ½ cup of flour. In a large bowl, toss the 2¼ cups flour, the sugar, salt, and yeast together until evenly dispersed. Set aside.


(2) Heat the water, milk, and butter together in the microwave the mixture is very warm, but not too hot to touch; about 115-120°F. It's ok if butter does not completely melt. Stir the butter mixture into the flour mixture. Add the egg and only enough of the reserved flour to make a soft dough. Dough will be ready when it gently pulls away from the side of the bowl and has an elastic consistency.


(3) On a lightly floured surface, knead the dough for about 3-4 minutes. Place in a lightly greased bowl and let rest for about 10 minutes.


(4) Make the filling: After 10 minutes, roll the dough out in a 14x8-inch rectangle. Spread the softened butter on top. Mix together the cinnamon and sugar and sprinkle it all over the dough. Add more cinnamon/sugar if desired. Roll up the dough tightly. Cut into 11-12 even pieces and place in a lightly greased 9-inch round pan or pie dish.


(5) Loosely cover the rolls with aluminum foil and allow to rise in a warm, draft-free place for 60-90 minutes.


(6) After the rolls have doubled in size, preheat the oven to 375°F. Bake for 25-30 minutes until lightly browned. You can cover the rolls with aluminum foil after 15 minutes to avoid heavy browning.


(7) Make the glaze: Right before serving, top your cinnamon rolls with glaze. Mix the powdered sugar, vanilla and 2 Tbsp coffee together until smooth and drizzle over rolls. If it seems too thick, add 1 more Tbsp coffee. You may replace the coffee with milk or cream if you do not want a coffee flavored glaze. If you prefer a thicker glaze, add more powdered sugar and then add salt to cut the sweetness.


Recipe created by Sally's Baking Addiction.
Notes
Rolls are best enjoyed the same day, but stay fresh and soft in a covered container at room temperature or in the refrigerator for 5 days. Glaze the rolls immediately before serving. Rolls (with or without glaze) freeze well, up to about 3 months. Thaw in the refrigerator and heat up however you prefer.


Overnight: The dough may be made the night before through step 4. Cover with plastic wrap and let rise in the refrigerator overnight. The next morning, remove from the refrigerator and let rise, about 1 hour.