Whole Wheat Pizza Crust
Add some tasty whole grain goodness to your pizza with this soft & chewy whole wheat pizza crust recipe.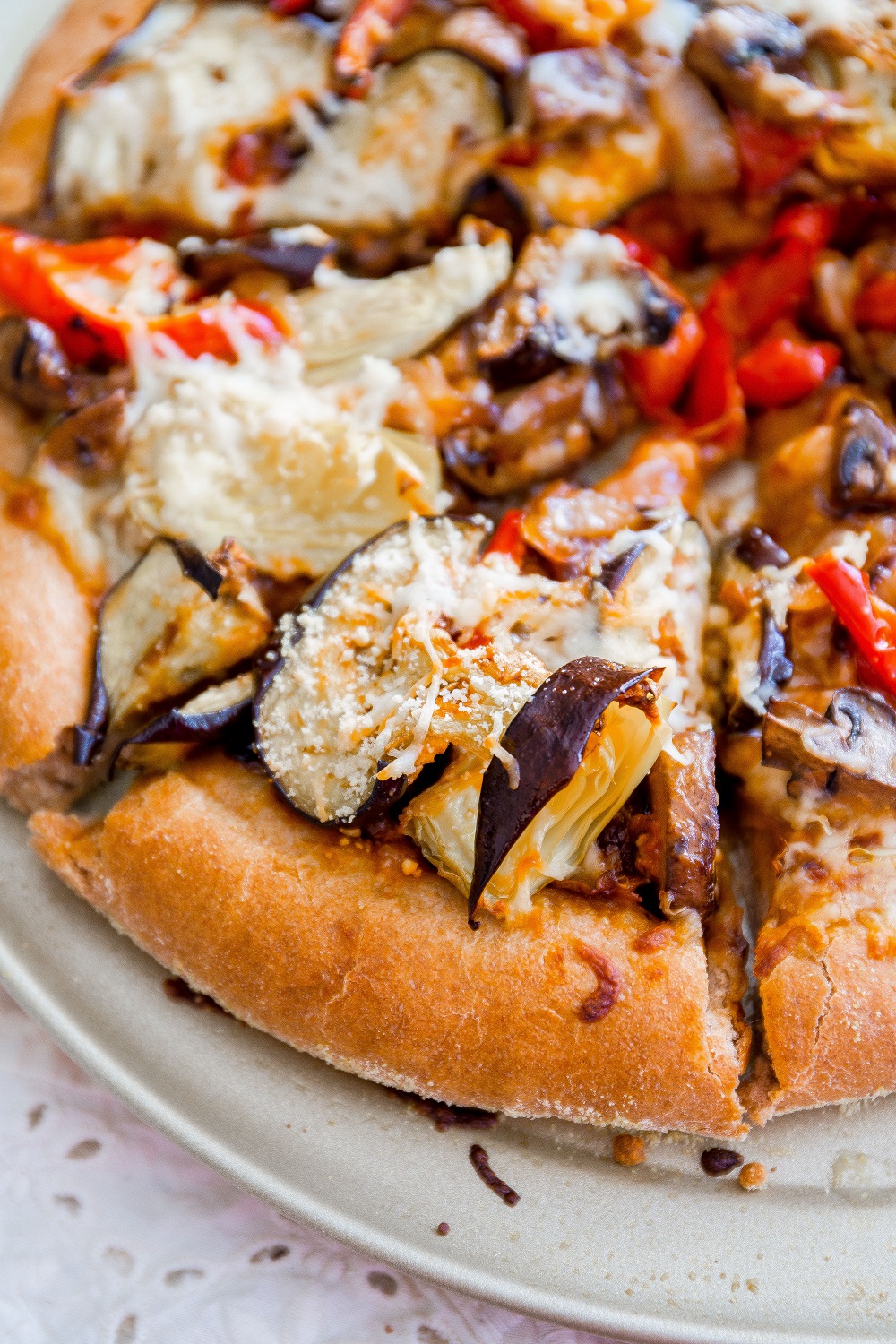 Yield:
Two 12-inch pizza crusts
Ingredients
For the Whole Wheat Pizza Crust: (makes 2 crusts)
1 tsp granulated sugar
1 package (2¼ tsp, ¼oz, 7g) RED STAR Platinum Superior Baking Yeast
1½ cups warm water (110-115°F)
1 Tbsp olive oil
1 Tbsp honey
1 tsp salt
3⅓ cups whole wheat flour
Olive oil for brushing crust
¼ cup cornmeal for sprinkling
Instructions
(1) In a large mixing bowl or the bowl of a stand mixer fitted with a hook attachment, combine the sugar, yeast, and warm water. Stir it around and let sit for 5 minutes or until the yeast is foamy and dissolved. Add the olive oil, honey, and salt. Mix by hand with a whisk or with the dough hook on low speed for 30 seconds. Add 3 cups of whole wheat flour and mix with the dough hook on low speed or with a large rubber spatula until dough starts to come together.


(2) Once mixed, knead for 5 minutes by hand on a lightly floured surface or with your dough hook on low-medium speed. If your dough is too wet, add up to ⅓ cup more whole wheat flour, a little at a time, after a minute or two of kneading. After kneading, your dough should be smooth and elastic. Poke it with your finger - if it slowly bounces back, your dough is ready to rise. If not, keep kneading.


(3) Shape the dough into a ball and place in a large mixing bowl that has been coated lightly with olive oil. Turn it over to coat all sides. Cover tightly with plastic wrap and allow to rise in a warm environment (about 75-80°F).


(4) Dough will double in size in about 1 - 2 hours. Punch the dough down to release the air. It will deflate.


(5) Cut the dough into two.


(6) Roll each half into a ball and let rest in two separate bowls lightly covered with plastic wrap or aluminum foil for at least 20 minutes. You may freeze (*see notes) one of the dough balls at this point to use at a later time.


(7) While dough is resting, preheat oven to 475°F degrees. Allow to heat for at least 30 full minutes. Grease 2 baking sheets or pizza pans with nonstick spray or olive oil. Sprinkle with cornmeal (preferred for flavor and texture).


(8) After 20 minutes, flatten each ball of dough 1 at a time on a lightly floured surface or directly onto your cornmeal lined pizza pan/baking sheet. Flatten into a 12-inch round circle, flattening and stretching the dough. If using a pizza stone, place the dough directly on baker's peels dusted with cornmeal.


(9) Lift the edge of the dough up to create a lip around the edges. (Simply pinch the edges up to create the lip.) To prevent the filling from making your pizza crust soggy, brush the top lightly with olive oil. Using your fingers, push dents into the surface of the dough to prevent bubbling, or dock it. Transfer dough to the pizza pan, baking sheet, or pizza stone. Be gentle with it.


(10) Top with your favorite toppings, like roasted vegetables and cheese.


(11) Bake for 15 minutes or until the crust is lightly browned.


(12) Slice hot pizza and serve immediately. Store leftover pizza covered tightly in the refrigerator and reheat as you prefer. Baked pizza slices may be frozen up to 1 month.


Recipe created by Sally's Baking Addiction.
Notes
Freezing Pizza Dough Instructions
It's important to know that this recipe is enough to make two 12-inch pizzas. If you do not need two pizzas, here are the freezing instructions:

After the pizza dough has risen and you divide the dough in half to form into two pizzas (step 5), you may freeze one of the balls of dough to make a pizza at a later time. Or you may simply freeze both balls of dough, separately. Lightly spray all sides of the dough ball(s) with nonstick spray or lightly coat all sides with olive oil. Place the dough ball(s) into individual zipped-top bag(s) and seal tightly, squeezing out all the air. Freeze for up to 3 months.

Thawing Instructions
Put your frozen pizza dough ball(s) in the fridge overnight or for about 12 hours to thaw. When ready to make the pizza(s), remove the dough from the refrigerator and set out on the counter to rest for 30 minutes and come to room temperature. Continue with step 6.