Whole Wheat Cranberry Walnut Bread
100% whole wheat bread studded with cranberries and walnuts in every bite. It's vegan, too!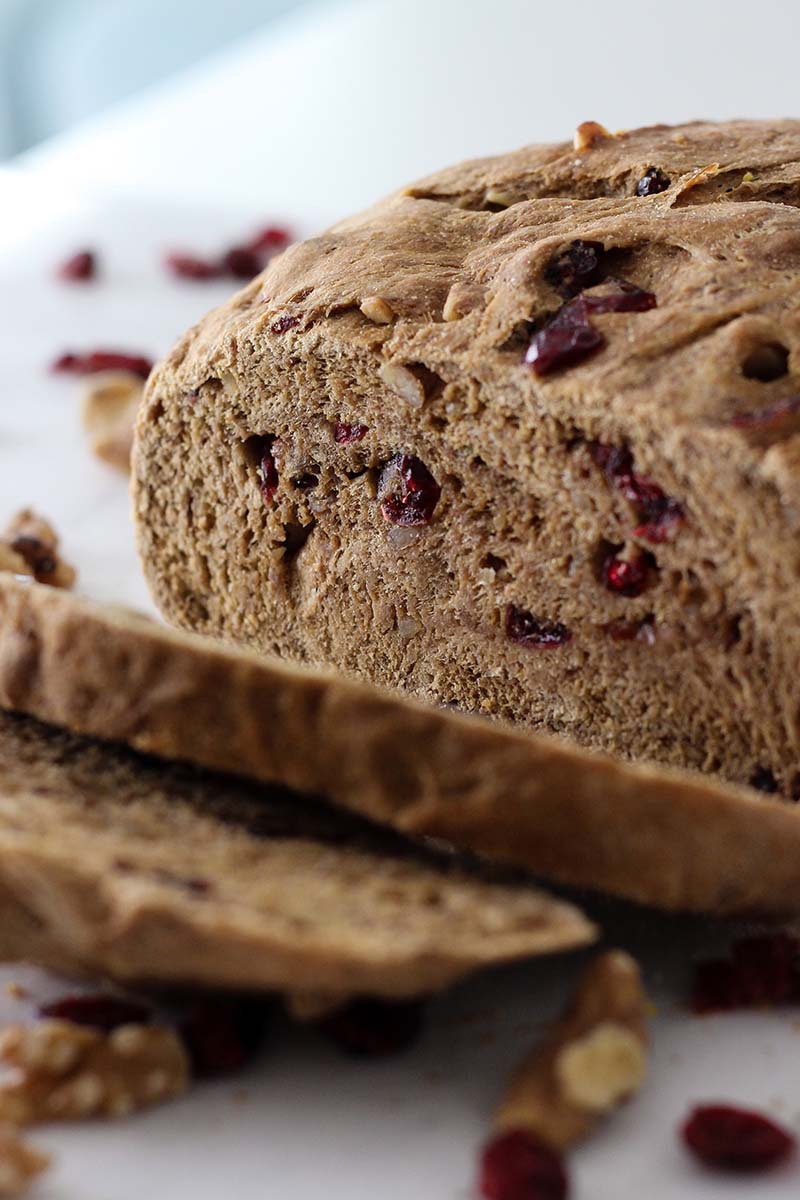 Ingredients
3 cups whole wheat flour
1 Tbsp vital wheat gluten
1½ tsp salt
½ cup water
½ cup almond milk
1 package (2¼ tsp, ¼oz, 7g) RED STAR Platinum Superior Baking Yeast
⅛ cup brown sugar
2 Tbsp grapeseed oil
2 Tbsp blackstrap molasses
1 Tbsp dried orange peel
½ cup dried cranberries
½ cup walnuts, chopped
Instructions
Warm the water, milk, and sugar to lukewarm (110-115°F). Add the yeast and let it sit until it's nice and foamy, about 5-10 minutes. While that's happening you can chop your walnuts and get the rest of the ingredients ready.


Add the yeast mixture, oil, and molasses to the bowl of a stand mixer. Add in the flour, gluten, salt, and orange peel. Mix for 2-3 minutes then add the cranberries and nuts. Keep kneading for about 5 more minutes.


Once the dough has come together take it out of the bowl and knead with your hands until the dough is nice and elastic. Form it into a ball then place in an oiled bowl. Place the bowl, covered with a dish towel or plastic wrap, into a warm place to rise until the dough has doubled, between 1-2 hours.


Take dough out of bowl and knead a few times. Form it into a round loaf and place in a greased Dutch oven. Cover, and let rise for about 40 minutes until it's doubled in size. Bake in a 375°F oven with the lid on for 20-30 minutes. Take the lid off and bake for 5-10 more minutes or until it's golden brown.


Set bread on wire rack to cool. Slice and enjoy!


Recipe created by The Yooper Girl.
Notes
You can also shape the dough into a loaf. Bake in a 9x5-inch pan uncovered for 25-30 minutes.