Whole Grain Christmas Stollen
Authors: Jeff Hertzberg and Zoë François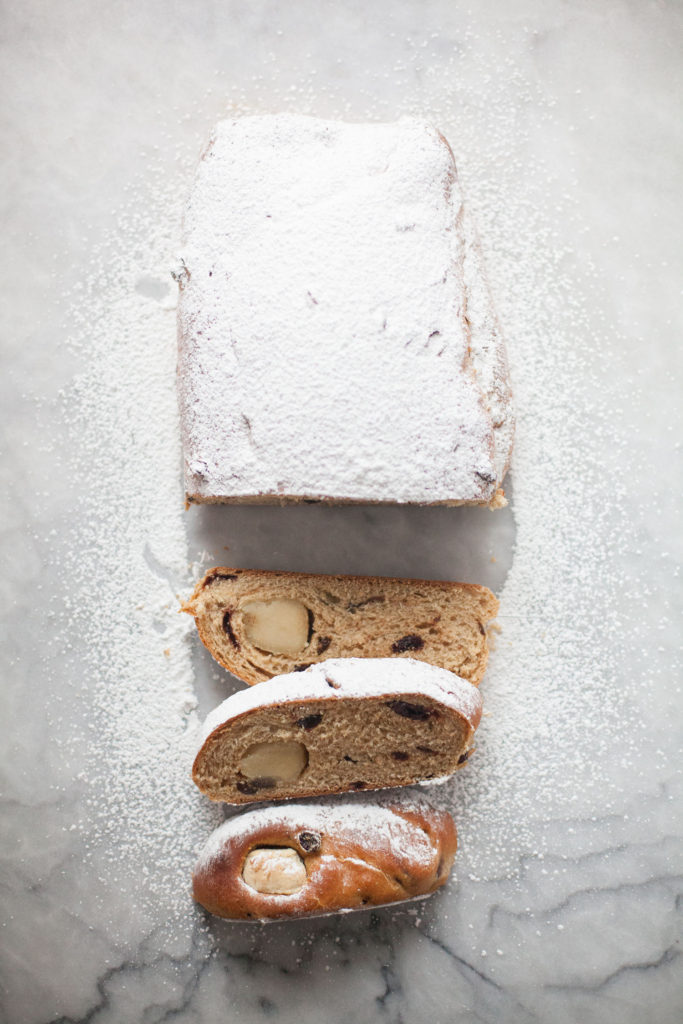 Christmas Stollen is a wonderful German baking tradition this time of year. A sweet loaf that is studded with dried fruit, spiced with cardamom and a special treat of almond paste runs through it. Once it comes out of the oven it is traditional to slather the warm loaf in butter then roll it in sugar, but we skip the extra butter and dust it with a thick layer of confectioners' sugar to look like the snow outside. This loaf actually holds up very well for a couple of days and that makes it a great gift for the holidays.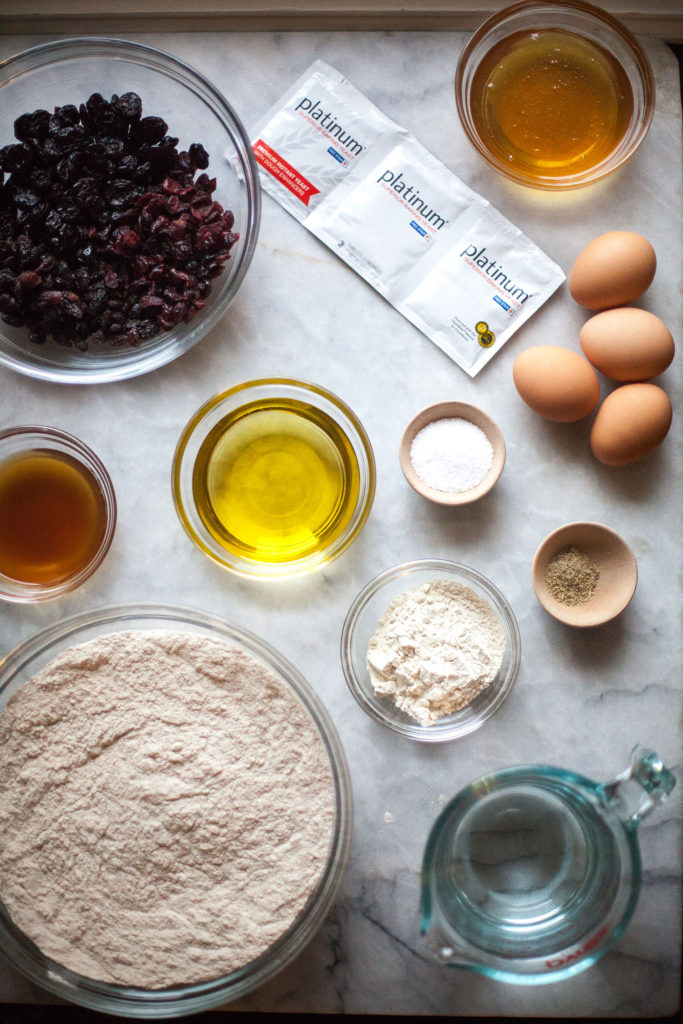 100% whole wheat Christmas Stollen from The New Healthy Bread in Five Minutes
Makes enough for three 1 1/2 pound loaves
6 cups white whole wheat flour
1 tablespoon Red Star Platinum Superior Baking Yeast
1 tablespoon kosher salt
1/2 tablespoon ground cardamom
1/4 cup vital wheat gluten
2 cups lukewarm water
1/2 cup unsalted butter, melted and cooled slightly (see the book for other alternatives)
1/2 cup honey
4 large eggs
1/4 cup brandy (orange juice or black tea can be substituted)
1 1/2 cups finely chopped dried and/or candied fruit (Choose your favorites. I used cherries, raisins, craisins, and  apricots.)
1/2 cup almond paste, per loaf
Egg wash (1 egg beaten with 1 tablespoon water)
Confectioners' sugar for the top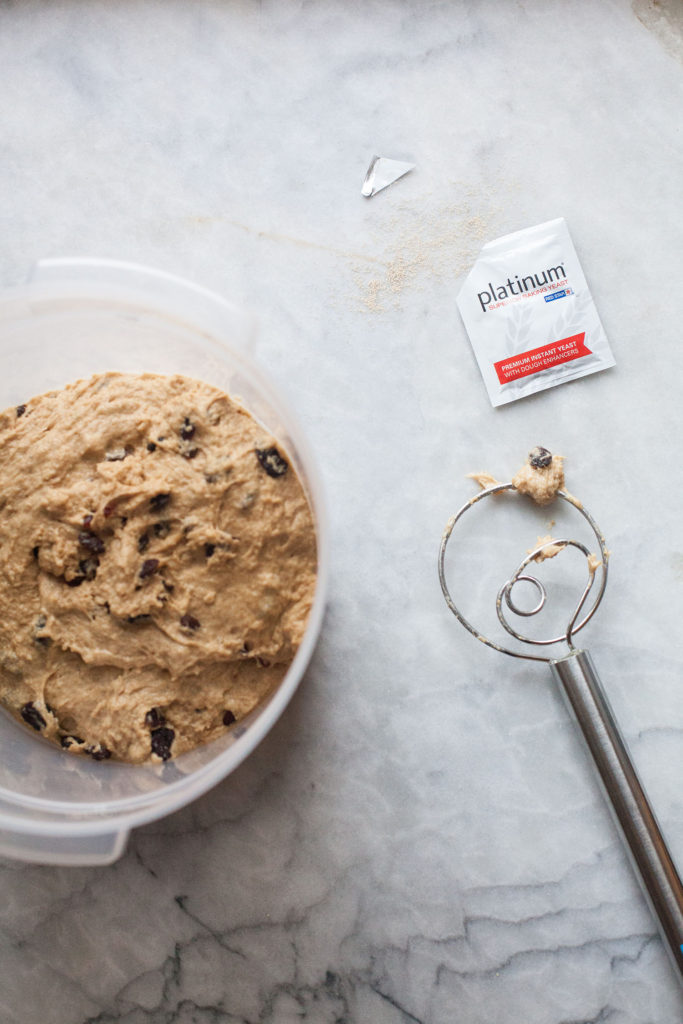 Mixing the dough: Dump the flour, yeast, salt, cardamom, and vital wheat gluten in a round food-storage container with lid and stir them together with a spoon or Danish dough whisk. Add the water, butter, honey, eggs, brandy and dried fruit, mix until well incorporated. No kneading! Cover loosely and let stand on the counter for 2 hours. This dough will be sticky, but much easier to handle after it has been refrigerated for several hours. It can be stored in the refrigerator for 5 days or frozen for 2 weeks.
For a version that is a little more decadent, you can use the Brioche Dough (page 189, ABin5) and add the cardamom, the dried fruit fruit and replace 1/4 of the water for the brandy.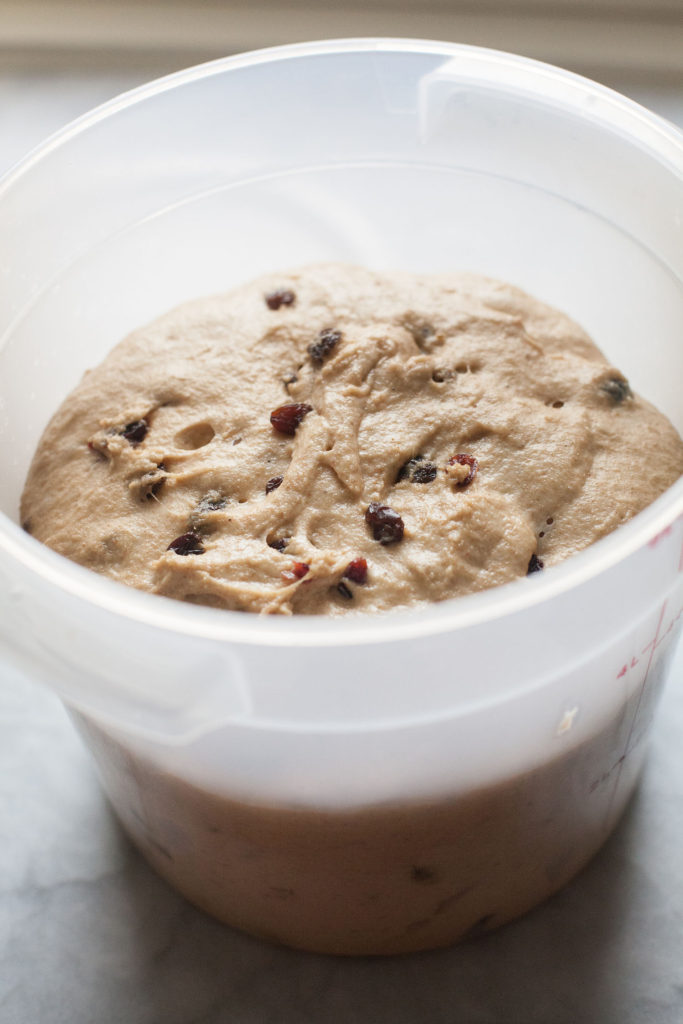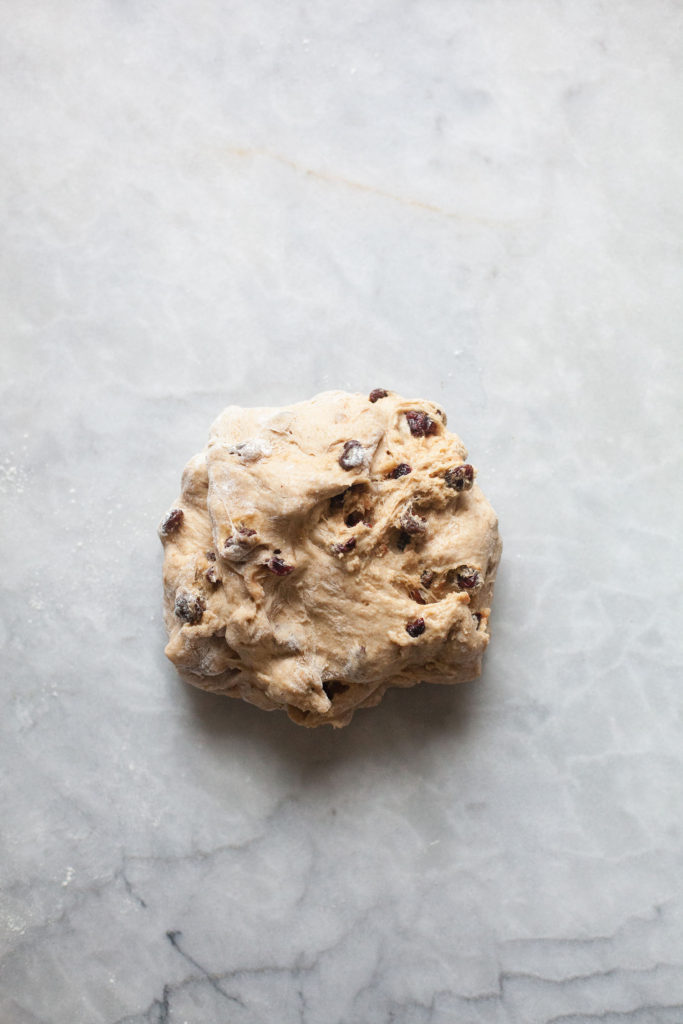 On baking day take a 1 1/2 pound (small cantaloupe-size) piece of dough from the bucket.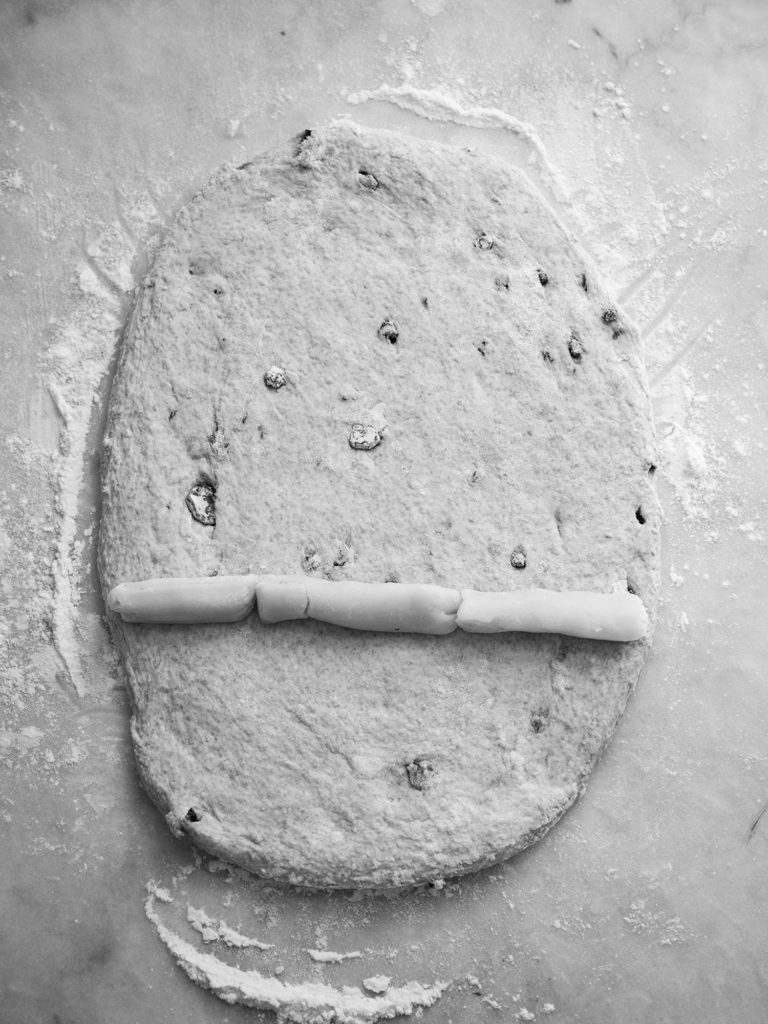 Using plenty of flour roll out the dough into a 1/4-inch-thick oval. Form the 1/2 cup almond paste into a rope and lay it onto the dough about a 1/3 of the way from the end.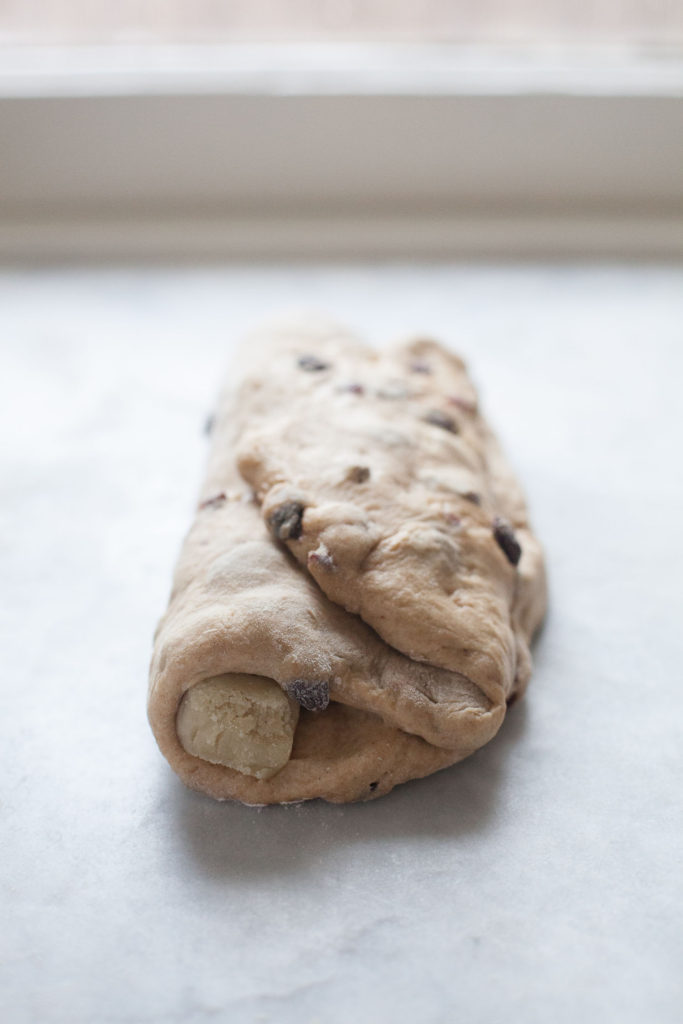 Fold the dough over the almond paste in thirds, so that it forms an S-shape, when you look at it from the end.
Place the loaf on a sheet pan with parchment or a nonstick silicone baking mat and loosely cover with plastic and let it rest for 90 minutes.
Preheat the oven to 350°F, with rack in the middle of the oven.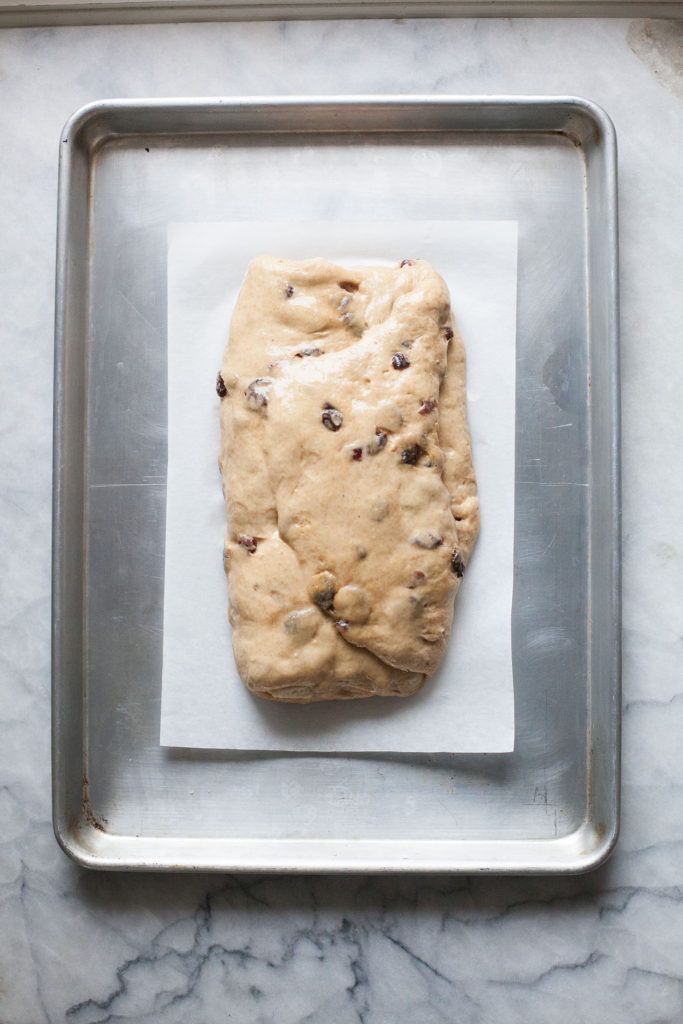 Once it has rested use a pastry brush and cover lightly with egg wash, then bake for 35 to 40 minutes.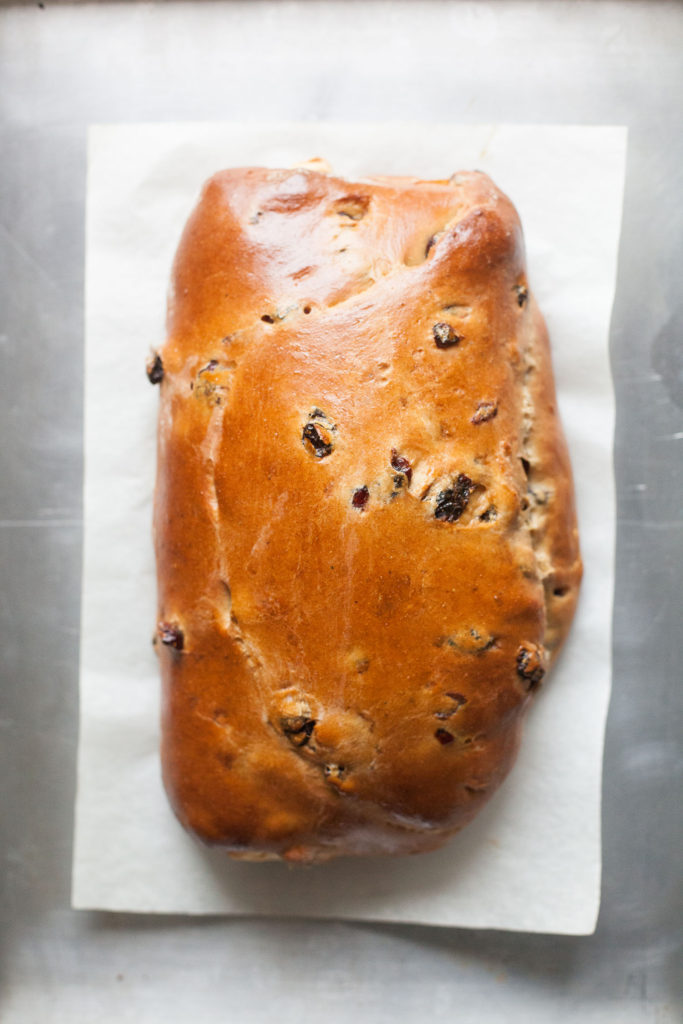 Let the loaf cool for about 20 minutes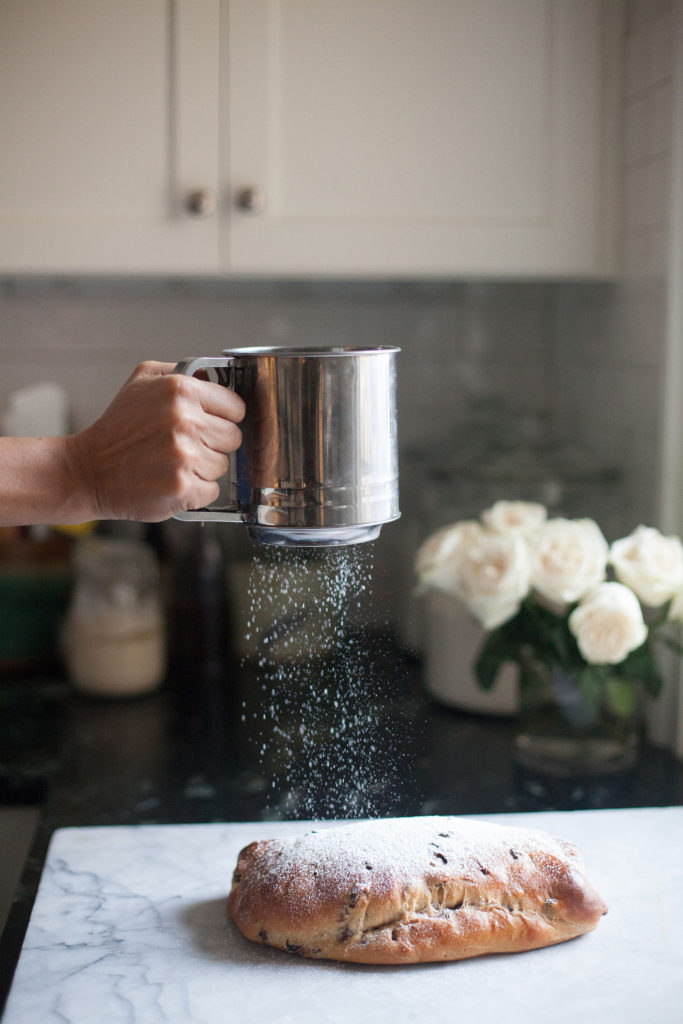 and then sprinkle it with confections' sugar…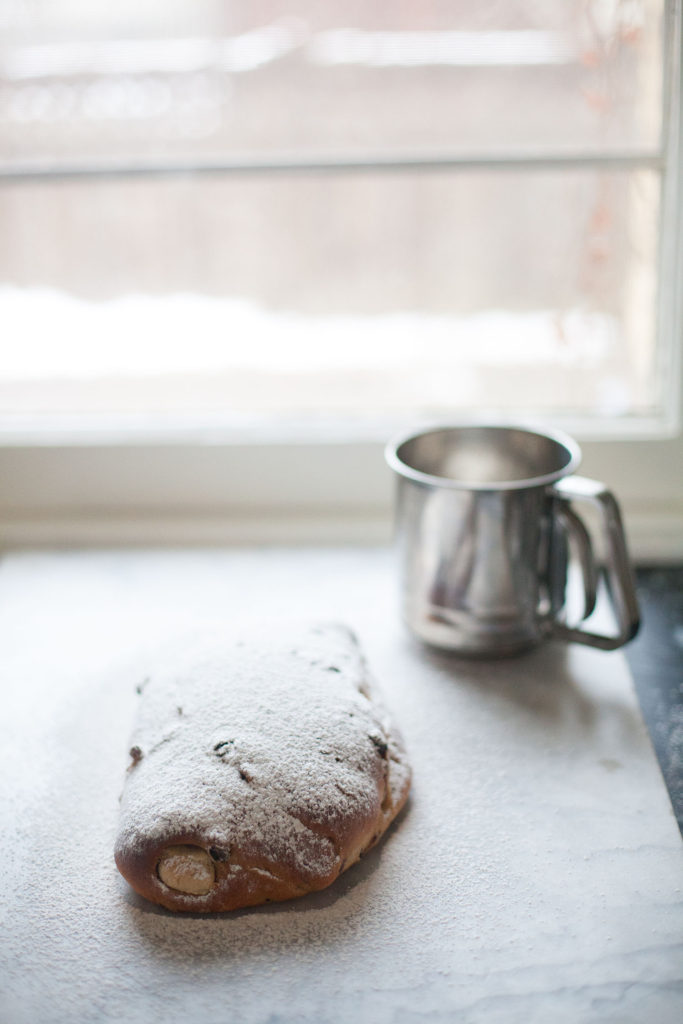 until it is completely covered and looks like snow!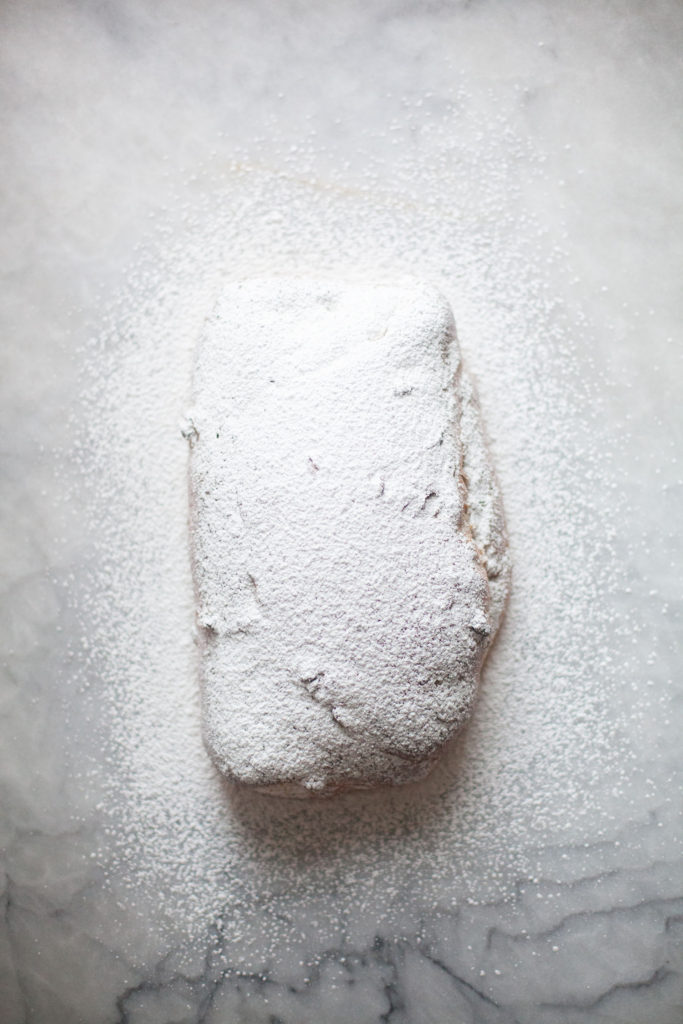 ---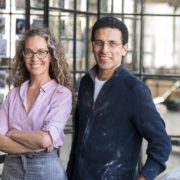 Jeff Hertzberg and Zoë François met in their children's music class in 2003 and have written bread cookbooks with more than 715,000 copies in print. Jeff, a doctor by training, is a self-taught baker who grew up eating great bread and pizza in New York City, and longed to recreate it himself.  Zoë is a pastry chef and baker trained at the Culinary Institute of America. Her work appears in blogs all over the United States, and her dessert menus grace fine restaurants in the authors' hometown, Minneapolis, Minnesota. Jeff and Zoë were among the very first cookbook authors to support their readers with personal responses on their website, BreadIn5.com, beginning in 2007, where they blog about their super-fast yeast breads.