Ultimate Honey Whole Wheat Challah
Slightly-heavy, almost-cakey, perfectly crusty and totally delicious challah – all with 100% whole wheat flour!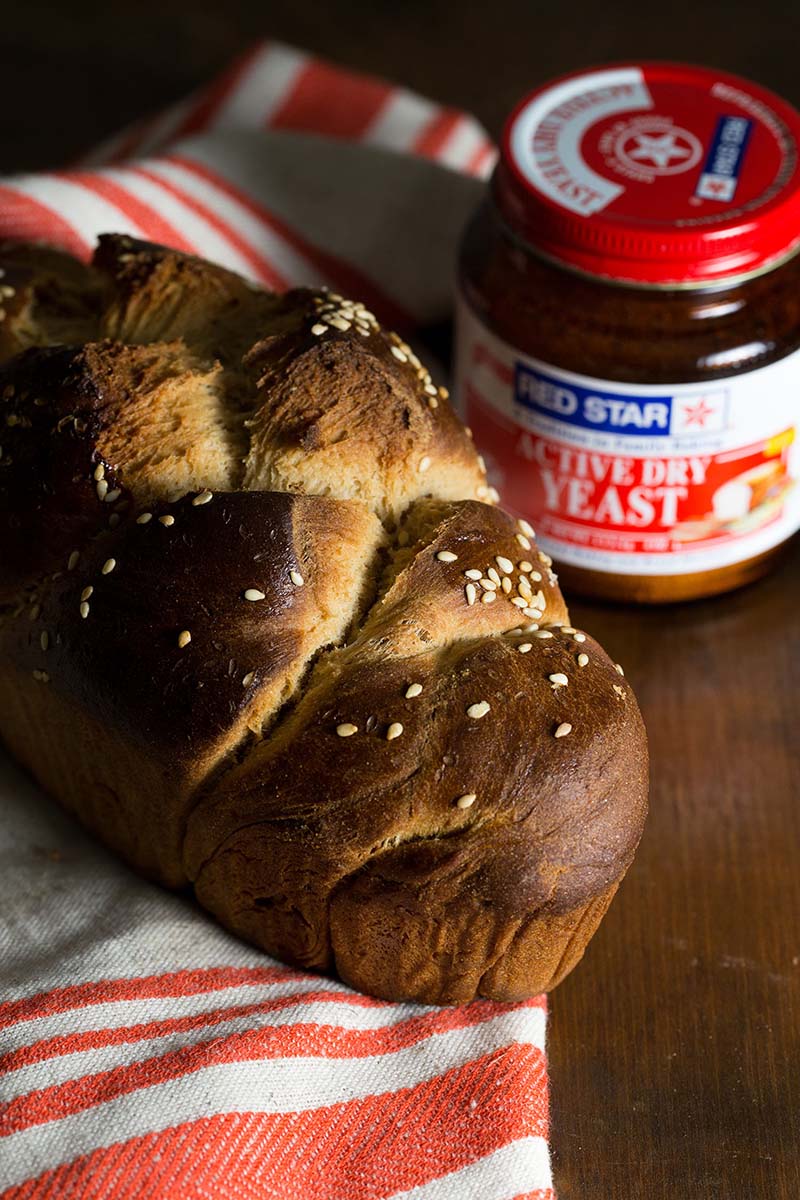 Ingredients
2 Tbsp RED STAR Active Dry Yeast
1 Tbsp sugar
2 cups warm water (110-115°F)
4 tsp salt
1 to 1⅓ cups honey* (see note)
4 eggs
⅔ cup oil
9 cups whole wheat flour, preferably white whole wheat
1 egg, lightly beaten, for egg wash
Sesame seeds, for topping
Instructions
In the bowl of a stand mixer fitted with a dough hook, combine yeast, sugar and ½ cup of warm water. Mix lightly to incorporate ingredients, then allow mixture to sit for about 5 minutes, until it starts bubbling.


Add remaining water, salt, honey, eggs and oil. Turn mixer to low and add the flour, about two cups at a time, until all flour has been added and a dough is formed.


Knead dough on medium-low for about ten minutes, then cover the dough and allow it to rise for about an hour and a half.


Preheat oven to 400°F.


Grease oval shaped "challah" pans OR a baking sheets and set aside.


Divide dough into 5 equal portions for small challah loaves, or 3 equal portions for large challah loaves. Divide each portion into 3 or 4 strands and braid into a loaf. Place each loaf into a "challah" pan or on a baking sheet.


Brush the top of each challah with beaten egg, then sprinkle sesame seeds over it.
Bake at 400°F for 5 minutes, then lower the temperature to 350°F and bake for an additional 30-40 minutes, depending on the size of the challah, until golden brown.


Cool breads on a wire rack.


Recipe created by Overtime Cook.
Notes
If you like a sweeter challah, add 1⅓ cups honey. If you prefer yours less sweet, add just a cup of honey.

Plan Ahead: This challah freezes nicely. Cool completely then store in an airtight bag. Reheat straight from freezer until warmed through.