Sweetheart Coffeecake
Love is a universal word and what better way to say it than with this beautiful heart coffeecake!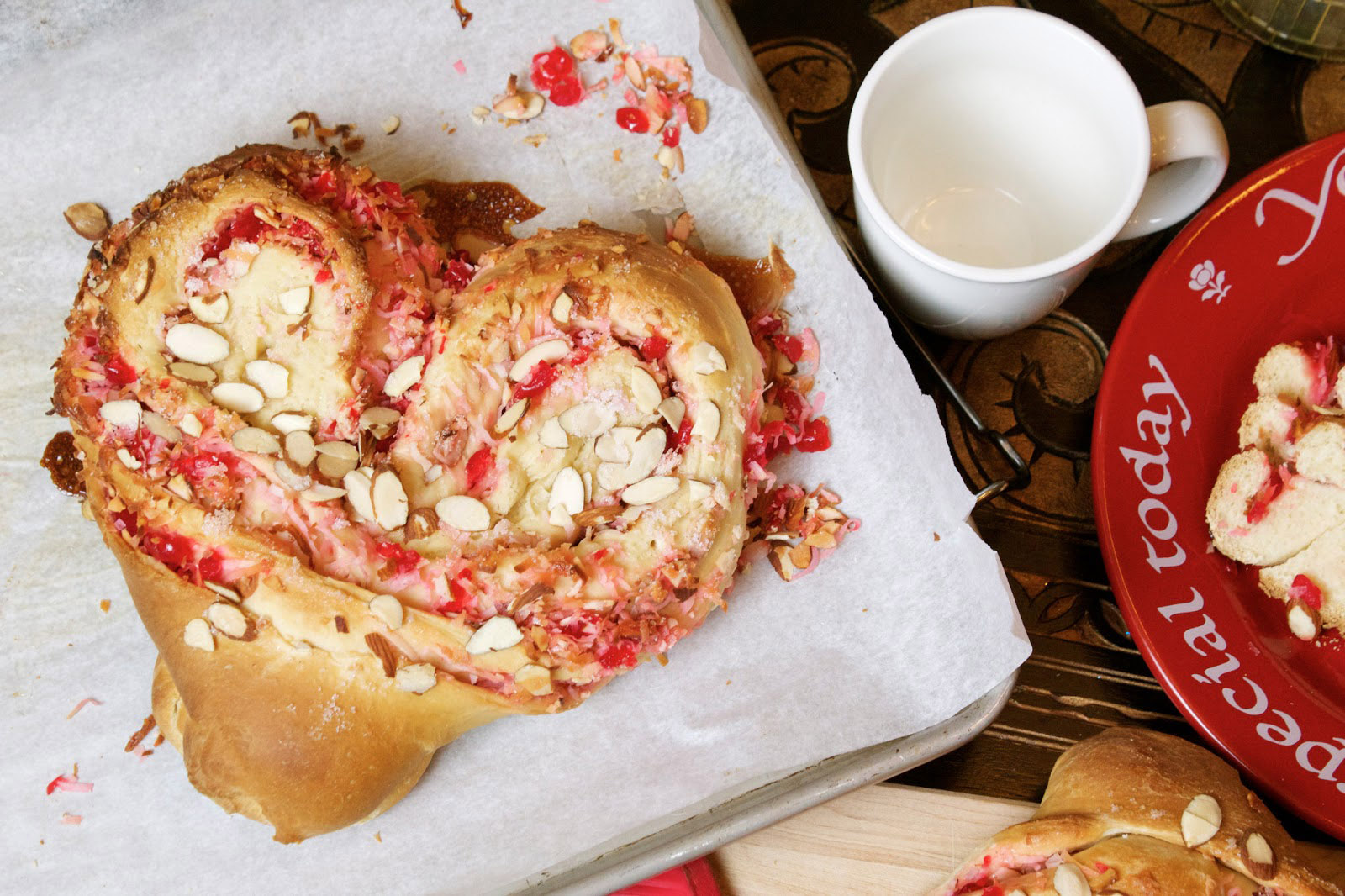 Ingredients
For the dough
½ cup milk
¼ cup water
1 egg
3 Tbsp butter
3 cups all-purpose flour
1½ tsp salt
3 tbsp sugar
1 package (1/4oz, 7g) or 2¼ tsp RED STAR Active Dry Yeast
For the filling
½ cup coconut
½ cup snipped maraschino cherries
⅓ cup chopped almonds
1 Tbsp sugar
For the topping
1 Tbsp slivered almonds
1½ tsp sugar
Instructions
Bread Machine Method
Place room temperature ingredients in pan in order listed. Select dough cycle. Do not use the delay timer. Check dough consistency after 5 minutes of kneading. The dough should be in a soft, tacky ball. If it is dry and stiff, add water, ½ to 1 tablespoon at a time. If it is too wet and sticky, add 1 tablespoon of flour at a time. Continue with Shaping, Rising and Baking section below. See our Bread Machine section for more helpful tips and information. At end of cycle, remove dough and follow Shaping, Rising and Baking instructions below.


Traditional Method
In medium mixing bowl, combine yeast, 1 cup flour, 3 tablespoons sugar and salt. Heat milk, water and 3 tablespoons butter to 120° to 130°F; butter does not need to melt. Add to flour mixture. Beat 2 to 3 minutes on medium speed. Add room temperature egg; beat one minute. By hand, gradually stir in enough remaining flour to make a soft dough. Knead on floured surface 5 to 8 minutes or until smooth and elastic. Use additional flour, if necessary. Place dough in lightly oiled bowl and turn to grease top. Cover; let rise until dough tests ripe, about 45 minutes.


Prepare Filling by combining coconut, cherries, almonds, and sugar; set aside. Prepare Topping by combining almonds and sugar.


Shaping, Rising and Baking
Punch down dough. On lightly floured surface, roll dough into a 15 x 10-inch rectangle. Spread with 1 tablespoon softened butter. Sprinkle with Filling. Starting with longer side, roll up tightly. Pinch edge to seal. Place seam side up on greased baking sheet. Fold half of the roll over on top of other half, sealing ends. Starting at folded end, cut with scissors down center of roll to within 1-inch of other end. Turn cut halves out, cut side up, to form a heart. Sprinkle Topping over dough. Cover; let rise until indentation remains after lightly touching. Bake in preheated 350°F oven for 18 to 20 minutes until golden brown. Remove from baking sheet; cool. If desired, combine 3 tablespoons powdered sugar with 1 tablespoon water and ¼ tsp almond extract; drizzle over coffeecake.


*You can substitute Instant (fast-rising) yeast in place of Active Dry Yeast. When using Instant Yeast, expect your dough to rise faster. Always let your dough rise until ripe. Traditional methods: use equal amounts; Bread Machine: use ½ tsp Instant Yeast OR ¾ tsp Active Dry Yeast per cup of flour in your recipe. Visit our Lessons in Yeast & Baking for more information on baking.


Red Star recipe. Image by Thyme In Our Kitchen.