Strawberry Rhubarb Streusel Bread (+ video)
Strawberry Rhubarb Streusel Bread is a sweet, soft bread made with jam so you can enjoy the delicious combination of strawberries with a hint of rhubarb all year long!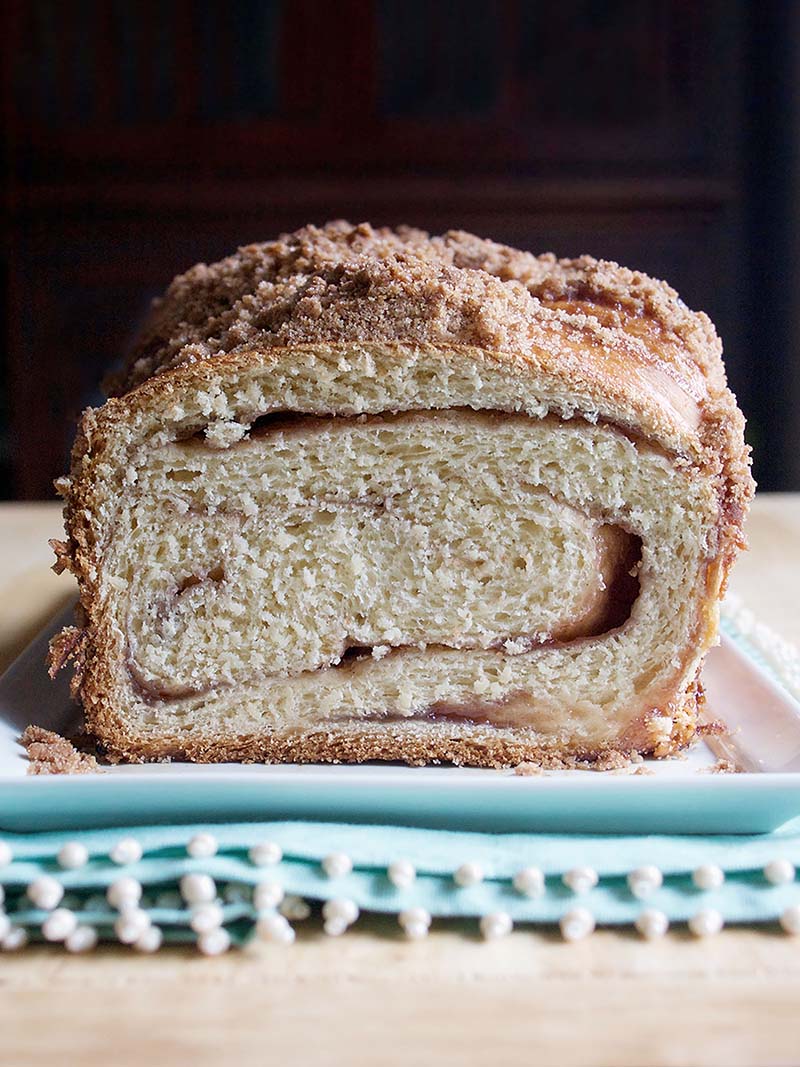 Ingredients
For the dough:
3 ¾ cups bread flour
1 package (2¼ tsp, ¼oz, 7g) RED STAR Quick·Rise Yeast
3 Tbsp sugar
1 tsp salt
1 cup milk (warmed to 120-130°F)
¼ cup oil
1 egg + 1 egg yolk (reserve egg white for egg wash)
For the filling:
For the streusel topping:
⅛ cup room temperature butter
⅛ cup granulated sugar
¼ cup packed brown sugar
¼ cup flour
1 tsp cinnamon
Instructions
In the bowl of your stand mixer add the dough ingredients. Mix to form a dough, then knead with a dough hook for about 10 minutes.


Cover and let the dough rise for one hour in a warm place until nearly doubled in size.


Grease a loaf pan.


After the dough has risen, roll out into a rectangle. Cut in 3 equal pieces lengthwise. You'll have 3 long strips of dough.


Spread jam on the strips and sprinkle cinnamon on top of the jam.


Place strips on top of each other, jam facing up, then twist. (see video)


Place twisted dough in the loaf pan. Cover and let it rise for about 30 minutes in a warm place. It won't quite double in size.


Preheat oven to 350°F.


Mix egg white with 1 tablespoon of water. Brush over risen loaf.


Bake for 25 minutes.


While the bread begins to bake, make the streusel topping: In a medium sized bowl, mix together butter, sugars, flour and cinnamon, mashing them with a fork until well combined and crumbly.


After the bread has baked for 25 minutes, remove from the oven and sprinkle with topping.


Bake for another 20-25 minutes. The bread will bake for about 50 minutes total. Tent with foil if browning too fast.


You'll know it's ready when you gently tap on the center of the bread and it feels firm not doughy and squishy. If it feels really squishy it's not baked all the way through. Add 5 more minutes until the center is firm but not hard.


Let bread cool for 20 minutes in the baking pan on a wire cooling rack. You can remove it from the pan to serve or you can cut it in the pan and put it directly on plates.


Recipe created by Try Anything Once Culinary.