Spinach Goat Cheese Swirl Rolls
Creamy whipped herb goat cheese and fresh spinach wrapped up inside super fluffy whole wheat swirl rolls. These rolls can be made ahead and are perfect to serve for a special brunch or weeknight dinner.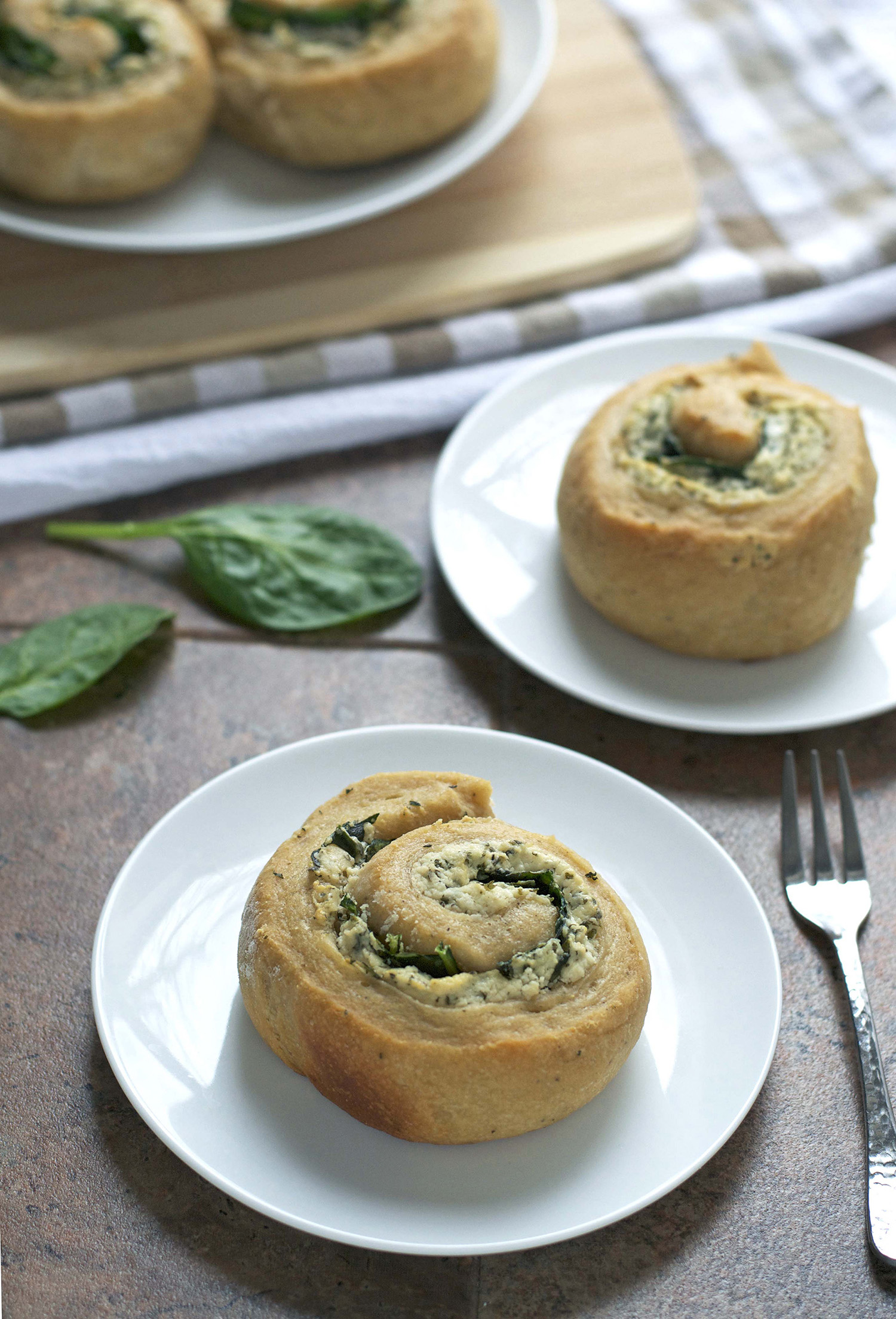 Yield:
6 rolls (can easily be doubled)
Ingredients
For the dough:
¾ cup all-purpose or bread flour
¾ cup white whole wheat flour (or substitute all-purpose or bread flour)
2 Tbsp vital wheat gluten (optional but will make dough more fluffy—omit if using 100% bread flour)
2 tsp sugar
½ tsp kosher salt
¼ tsp freshly cracked black pepper
½ package (1⅛ tsp) RED STAR Platinum Superior Baking Yeast
½ cup milk
3 Tbsp unsalted butter, melted, divided
For the filling:
5 ounces goat cheese with herbs, softened
⅛ tsp garlic powder
⅛ tsp kosher salt
1½ cups fresh spinach
Instructions
Make the dough: In the bowl of a standing mixer fitted with the paddle attachment or a large mixing bowl, combine the all purpose flour, white whole wheat flour, vital wheat gluten (if using), sugar, salt, pepper, and yeast. In a small saucepan or a microwave-safe measuring cup, heat milk to 120 to 130°F.) Pour heated milk over the flour mixture. Add 2 tablespoons melted butter. Mix on low speed (or by hand with a wooden spoon), until the dough forms a shaggy mass.


Switch to the mixer's dough hook or turn dough out onto a lightly floured work surface. Knead by machine for 6 minutes or by hand for 8 minutes, until smooth. Place the dough in a lightly oiled bowl, turn to coat, then cover with plastic wrap that has been lightly misted with cooking spray or a clean towel. Let rise in a warm, draft-free place until doubled, about 2 hours. (Alternatively, you can chill the dough overnight or up to 3 days. Bring to room temperature, then continue as directed.)


Make the filling: Beat together the goat cheese, garlic powder, and salt until smooth. Set aside.


Form the rolls: Turn the dough out onto a well-floured work surface, and roll into a 9x6-inch rectangle, with the longest side closest to you. Spread the filling over the dough's surface, leaving a ½ inch border on short ends. Top evenly with spinach leaves. Starting with the bottom short edge (one with a border), roll the dough into a tight 9-inch log (the spinach might try to scoot out, but press it in as you go). Pinch the end to seal. With a sharp serrated knife, carefully cut the log into six 1½-inch pieces.


Lightly mist a 9-inch round or 8-inch square pan with cooking spray, line with parchment paper, then lightly mist again. Arrange the rolls in the pan and brush tops with the remaining tablespoon of melted butter. Loosely cover the pan with lightly oiled plastic wrap, then let rise again at room temperature until doubled, about 2 hours. (Alternatively, if you did not refrigerate the dough in step 2, you may do so now. Let rolls rise in the refrigerator overnight, remove pan from refrigerator 1 hour before baking and let stand at room temperature. Continue baking as directed.)


Place rack in center of oven and preheat oven to 350°F. Bake rolls for 20 to 25 minutes, until the tops are golden brown and the interior temperature reads 190°F on an instant-read thermometer. Serve immediately.


Recipe created by Well Plated by Erin.