Spinach Artichoke White Cheese Pizza
Thick style homemade pizza crust topped with garlic, two cheeses, artichokes, and spinach. Like spinach artichoke dip, but better. If that's even possible!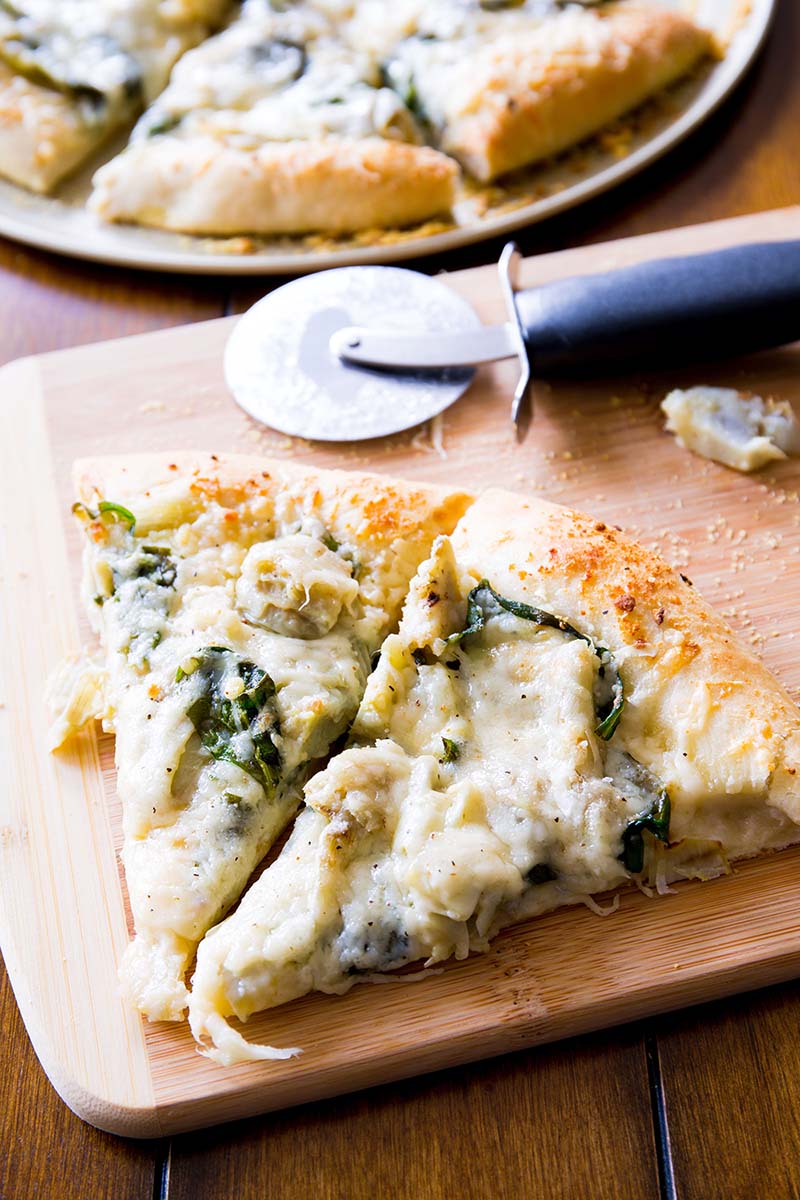 Ingredients
½ recipe homemade pizza crust (see link in directions)
1 Tbsp olive oil
3 cloves roasted garlic, finely chopped*
¼ cup grated Parmesan cheese, plus more for sprinkling on top
2 cups shredded mozzarella cheese
One 13 ounce bag artichoke hearts, drained and quartered**
1 and ½ cups fresh spinach
Fresh pepper to taste
Instructions
Link >> homemade pizza crust.


Prepare the homemade pizza dough (see link above) through step 8.


Prepare the toppings (step 9): Mix the olive oil and chopped garlic together in a small dish.


Continue with steps 10 and 11.


Spread olive oil/garlic mixture on top of crust. Top with ¼ cup Parmesan, 1 cup mozzarella cheese, artichokes, and spinach. Sprinkle the top with remaining 1 cup of mozzarella cheese and sprinkle more Parmesan, if desired. Season with a little pepper, to taste.


Bake for 14-16 minutes or until the crust is lightly browned and the cheese is bubbling. For the last minute, you can move the oven rack to the top rack to really brown the edges. That's optional.


Slice pizza and serve immediately. Store leftover pizza covered tightly in the refrigerator and reheat as you prefer. Baked pizza slices may be frozen up to 1 month. Please see homemade pizza crust recipe for how to freeze the pizza dough.


Recipe created by Sally's Baking Addiction.
Notes
*How to roast garlic: slice off the top of a garlic bulb so the cloves are exposed inside. Place, clove side up, in a baking pan or on a baking sheet (such as a pie dish) and drizzle with a bit of olive oil. Top it with some fresh ground pepper and sea salt. Cover with aluminum foil and roast at 375°F degrees for about 35-40 minutes. The cloves will be very soft inside. You will need 3 cloves for this recipe.

**One 13 ounce bag of frozen artichokes, thawed completely and drained. You may use canned - just drain and quarter beforehand. Anywhere around 13 ounces is fine. Add more/less - whatever you prefer!