Snickerdoodle Bagels
Soft and chewy homemade bagels with cinnamon crunch topping that taste just like a snickerdoodle cookie!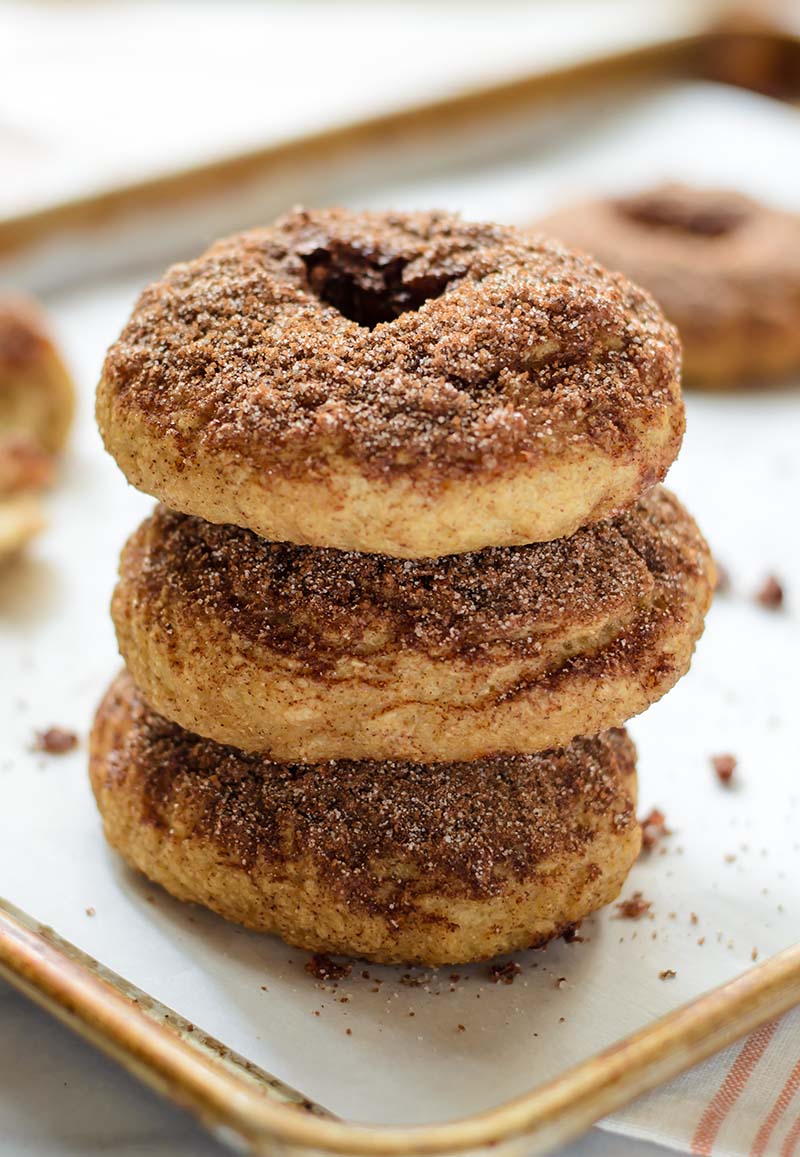 Ingredients
For the dough:
⅓ cup granulated sugar
1 Tbsp cinnamon
1 package (2¼ tsp, ¼oz, 7g) RED STAR Platinum Superior Baking Yeast
2 cups all-purpose flour (or substitute bread flour)
2 cups white whole wheat flour (or substitute all-purpose or bread flour)
3 Tbsp vital wheat gluten (optional—will yield a softer bagel; omit if using bread flour)
1 Tbsp cream of tartar
1 Tbsp brown sugar
2 tsp salt
1½ cups very warm tap water (120-130°F)
For the water bath:
4 cups water
2 Tbsp brown sugar
For the topping:
¼ cup white sugar
¼ cup brown sugar
3 tsp cinnamon
Instructions
Make the dough:
In a small bowl, combine the cinnamon and sugar. Set aside.


In a large mixing bowl, combine the yeast, all purpose flour, white whole wheat flour, vital wheat gluten, cream of tartar, brown sugar, and salt. Add the warm water to the dry ingredients, then stir to moisten the flour. Knead the dough with a stand mixer fitted with a dough hook for 10 minutes on medium low speed or by hand for 10 to 15 minutes on a lightly floured work surface. The dough should be very stiff, smooth, and hold its shape.


Clear your work surface, then sprinkle it generously with the cinnamon and sugar mixture. Knead the dough on top of the cinnamon sugar by a few turns to incorporate the mixture and form a swirl. Transfer the dough to a lightly greased mixing bowl, then cover and set aside to rise until noticeably puffy, 1 to 1½ hours (the dough may not double).


Divide the dough into 8 portions, then roll each into a smooth, round ball. Set the balls on a lightly greased cookie sheet, then cover with plastic wrap lightly misted with cooking spray and let rest for 30 minutes.


While the dough is resting, prepare the water bath. Bring the water to a low boil in a deep, wide pot. Preheat your oven to 425°F. Lightly grease a large baking sheet with cooking spray or line with parchment paper or a silicone mat.


Once the dough has rested, use your index finger to poke a hole through the center of each ball, then lift the ring and twirl it around your finger to stretch the hole until it is roughly 2 inches in diameter (the entire bagel will be about 4 inches across). Transfer to the prepared baking sheet and repeat with the remaining dough.


Working four bagels at a time (if your pan is not large enough, work in smaller batches), carefully transfer the bagels to the simmering water. If necessary, increase the heat to return the water to a gently simmering boil. Cook the bagels for 2 minutes on the first side, flip, then cook 1 additional minute. With a slotted spoon or spatula, remove the bagels from the water and place them back on the baking sheet. Repeat with the remaining bagels.


Combine the topping ingredients (brown sugar, granulated sugar, and cinnamon), then sprinkle the mixture evenly over the bagels, using the full amount. Bake the bagels for 20 to 25 minutes, until golden. Transfer to a wire rack to cool completely.


Recipe created by Well Plated by Erin.
Notes
Bagels are best enjoyed the day they are made, but can be kept at room temperature in a zip-top bag for up to 2 days. So that all may enjoy while they are fresh, keep four for yourself, and give four away! Bagels may also be wrapped tightly in plastic wrap or foil and frozen for up to 3 months.