Slow Cooker Hot Cross Bun Cinnamon Rolls
These slow cooker hot cross bun cinnamon rolls are perfect for a super delicious, no fuss, set-it-and-forget it Easter brunch recipe. The most amazing thing about these incredible slow cooker cinnamon rolls is that the dough is super easy to make and there is no long rising time, because the slow heat from your slow cooker does all the work for you!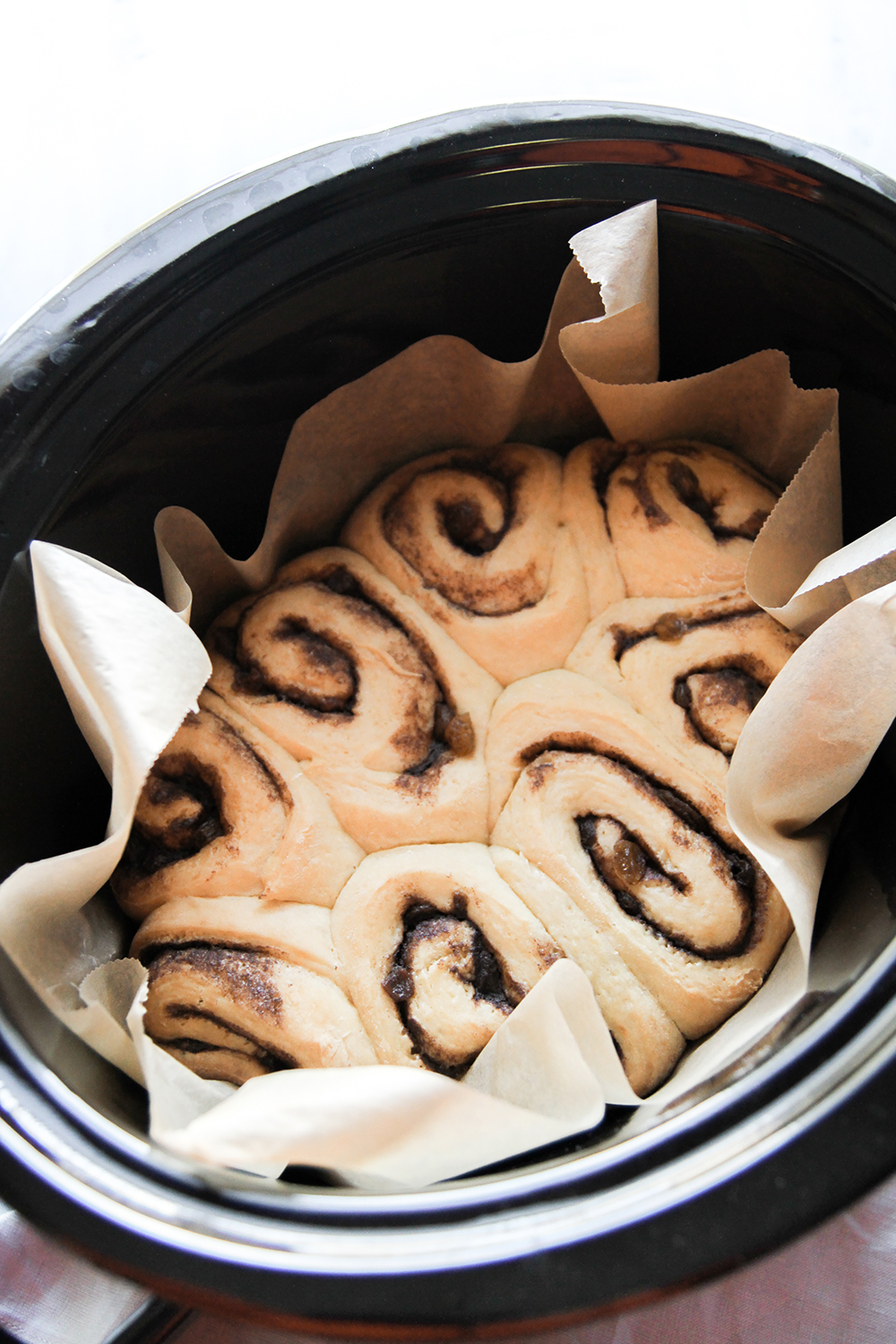 Ingredients
For the dough:
½ cup milk
2¼ tsp (one package) RED STAR Platinum Yeast
¼ cup sugar
1 egg
3 Tbsp salted butter, melted*
2 ¼ cups all-purpose flour, plus ¼ cup for rolling
½ tsp baking powder
½ tsp baking soda
For the filling:
4 Tbsp butter, melted
2 Tbsp cinnamon
½ tsp allspice
¼ cup sugar
½ cup raisins
For the Frosting:
2 cups powdered sugar
1 tsp vanilla extract
4 Tbsp milk
Instructions
To make the dough:
Start by warming the milk to 110-115°F. Add yeast, stir once or twice and then let sit for 5-10 minutes until it is foamy. (Optional: Stir in a teaspoon of sugar to give the yeast a good start.)


Pour milk and yeast mixture into a large mixing bowl and add in the sugar and egg and stir with a wooden spoon until combined.


Next add in the melted butter and stir, and then add in the flour, baking powder and baking soda. Stir until the dough comes together. It will be a slightly wet and sticky dough. Form dough into a ball and put it on a floured board or surface. Cover with a towel while making the Filling.


Make the Filling: Mix all ingredients together and stir until combined.


Gently roll out into a rectangle shape (12-14 inches long by 8 inches wide).


Spread the filling onto the dough with a spatula, and then carefully-yet-tightly- roll the dough along the long side.


Cut the dough into 8 pieces (a pizza cutter works great for this.) Line your slow cooker with parchment paper and spray it with cooking spray.


Gently place formed rolls in the bottom of your slow cooker, leaving a little space in between them.


Place a layer of paper towels under the lid (important step, you don't want the condensation dripping onto your dough) and cover the slow cooker.


Turn on high and cook for 2 hours.


When the hot cross bun cinnamon rolls are done (they will be slightly brown around the edges) carefully remove the parchment paper from the slow cooker and set them on a board.


Make the frosting by stirring all the ingredients in a bowl and pour it over the warm rolls - OR - pipe a cross on each roll (add additional powdered sugar or less milk to get desired consistency) for the 'Hot Cross Bun'. Gently break the cinnamon rolls apart and serve warm!


Recipe created by Sweet Phi.
Notes
*Melt the butter in the microwave and set aside before starting to make the dough.