Russian Piroshki (Meat Hand Pies)
Perfect for picnics, potlucks and dinners at home, these Russian piroshki (meat hand pies) are made of tender and soft dough, filled with simple meat and rice mixture and fried till crisp golden perfection!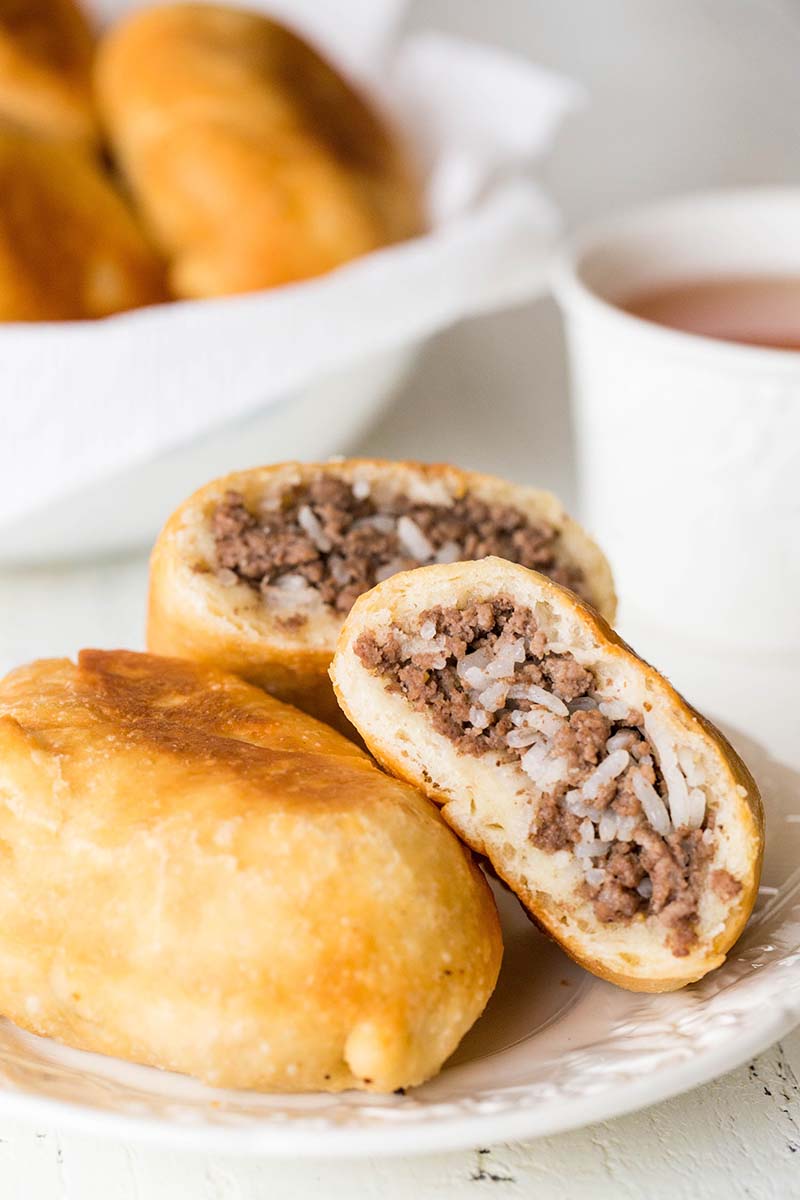 Ingredients
For the dough:
4 cups (500gr) all-purpose flour
1 package (2¼ tsp, ¼oz, 7g) RED STAR Platinum Superior Baking Yeast
½ tsp salt
⅓ cup (80ml) vegetable (or canola) oil
1 cup (240ml) warm water (120-130°F)
For the meat filling:
1 Tbsp olive oil
1 lb. (450gr) lean ground beef
2-3 garlic cloves, pressed
1 tsp salt
1 cup cooked rice
Oil for frying
Instructions
To make the dough, in a large mixing bowl, combine flour, yeast and salt.


Add vegetable oil and water and mix until smooth. (If dough is too dry, add more water a tablespoon at a time until dough is smooth and soft. If the dough is too wet, add more flour, a tablespoon at a time until dough is smooth and soft.)


Coat the dough with a little bit of vegetable oil and place it back in the bowl. Cover with damp kitchen towel and place it in a warm place to rise, for about 30-60 minutes.


Meanwhile, prepare the filling. Heat olive oil in a large skillet or Dutch oven over medium high heat.


Add the meat, garlic and salt. Cook the meat, breaking it apart with a wooden spoon, until cooked through. Transfer into a large bowl and mix it with rice.


Once the dough is doubled in size, take it out onto a lightly floured surface and knead into a smooth ball, 1-2 minutes. Lightly flatten the dough ball into a disk, and divide into 12 equal parts as you slice a pizza. Roll each piece into a smooth ball.


To make the hand pies, take a piece of dough and flatten it with your hands. Put the filling in the center and fold the dough in half. Pinch the edges of the dough to seal, creating a half moon. Then gently flatten it between your palms, making sure the sealed crimps are on flat side.


Once all the hand pies are formed, heat 1-inch oil in a large skillet, or Dutch oven. (Tip: You don't need a thermometer to fry these savory hand pies. Simply drop the end of a wooden spoon into heated oil, and if it's bubbling up around the wood, that means the oil is ready for frying!)


To cook the hand pies, drop 4 hand pies in the hot oil and cook until golden brown, 3-4 minutes. Flip and cook until it's nice and golden. Remove into a bowl, lined with paper towel to absorb excess oil. Continue with the remaining batches.


Serve piroshki warm or at room temperature.


Recipe created by Sweet & Savory by Shinee.
Notes
As an alternative to frying, you can bake these at 350°F for 20-25 minutes.