Raspberry Pecan Swirl Bread
This sweet raspberry pecan bread is sure to add an elegant touch to your table. So tender, it literally melts in your mouth!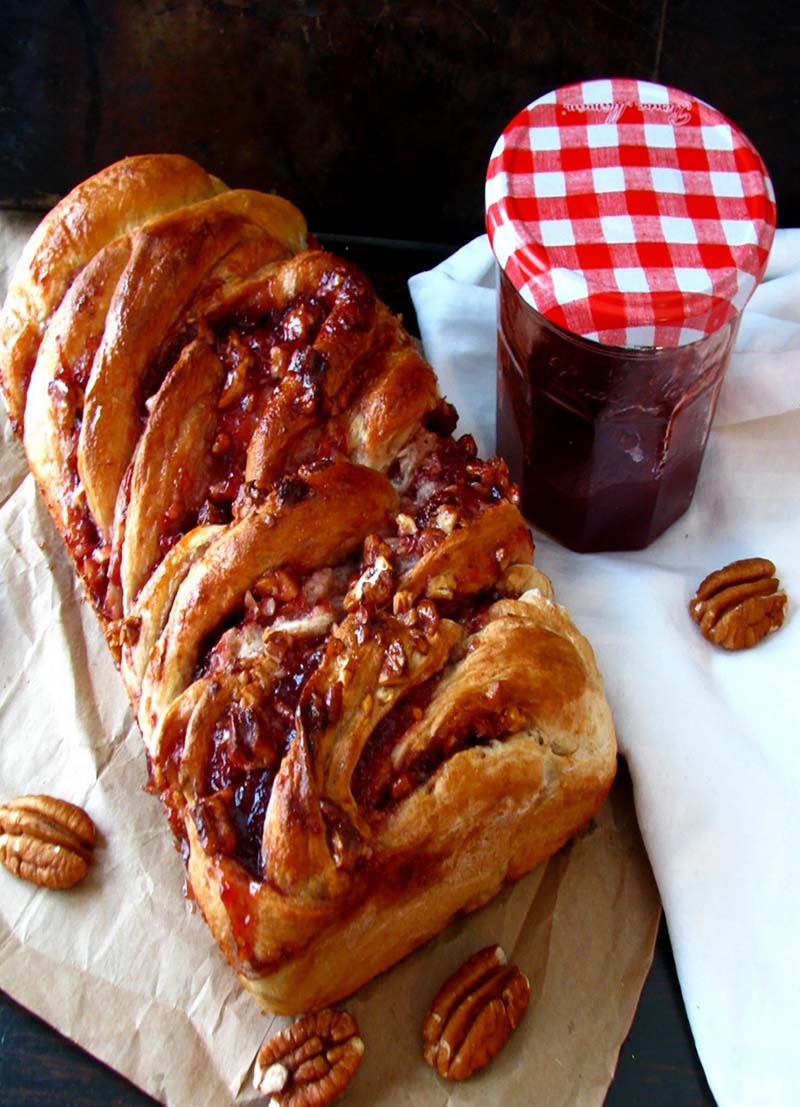 Ingredients
1 package (2¼ tsp, ¼oz, 7g) RED STAR Platinum Superior Baking Yeast
1 Tbsp sugar
2¼ cups all-purpose flour
1 tsp salt
1 cup raspberry jam
¾ cup pecans, chopped
1 cup warm water (110-115°F)
Instructions
In a medium bowl whisk yeast, warm water and sugar. Set aside until foamy. Once yeast has proofed, add 1 cup flour and salt. Mix with dough whisk or large spoon.


Mix in remaining flour, ½ cup at a time. At this time you will probably need to use your hands.


Knead dough on lightly floured counter top until dough is soft and elastic.


Place dough into a lightly greased medium mixing bowl. Cover with a clean tea towel and let rise in a warm area for about 1 hour, or until it has doubled in size.


Once doubled in size, punch down and place on a lightly floured surface.


Roll dough out to about 10x20-inch rectangle.


Carefully, spread jam on dough leaving about ½ inch around the edges. Sprinkle pecans evenly on top of jam.


Roll dough tightly, starting at the 10-inch side. Seal the edges down as you go.


Using a sharp knife cut down the middle of your roll. Carefully, braid (twist) the two pieces of dough – this will be a little messy. Tightly seal the ends together.


Gently place twisted dough in a lightly greased loaf pan. Cover and let rise for 30-45 minutes.


Preheat oven to 350°F.


Bake bread for 55 minutes, or until bread is golden brown.


Recipe by Jenna Edmiston.