Raspberry Danish Twist Bread

Author: Sally McKenney Quinn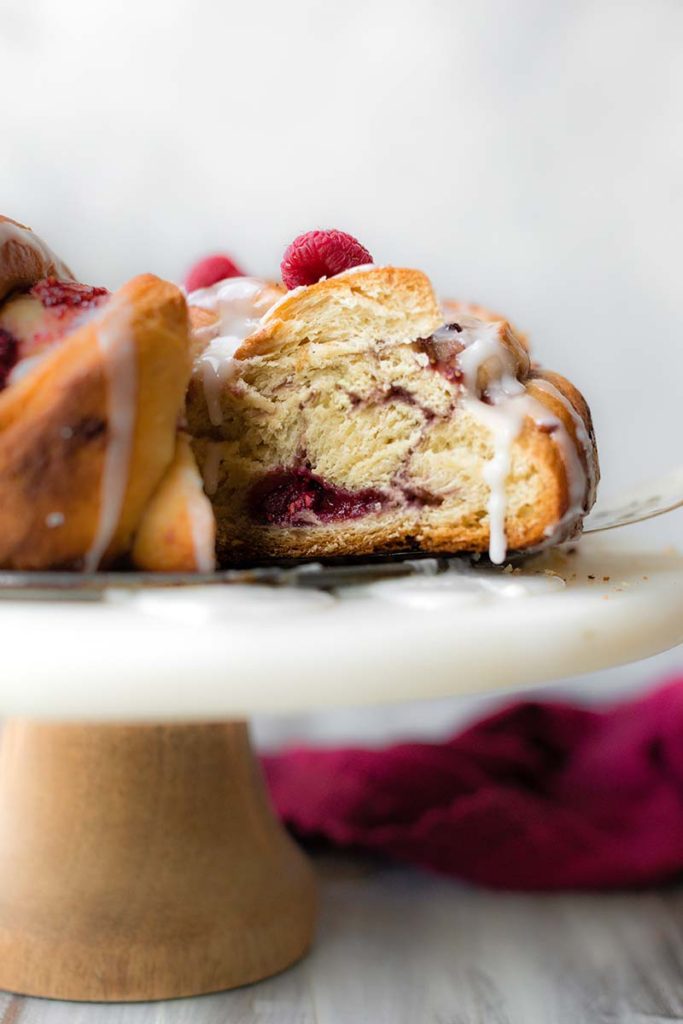 Forget everything you consider to be brunch goals because THIS is brunch goals! Today I'm showing you how to make a stunning raspberry danish twist bread. We're combining a simple rich dough with sweet raspberry jam and creamy vanilla icing.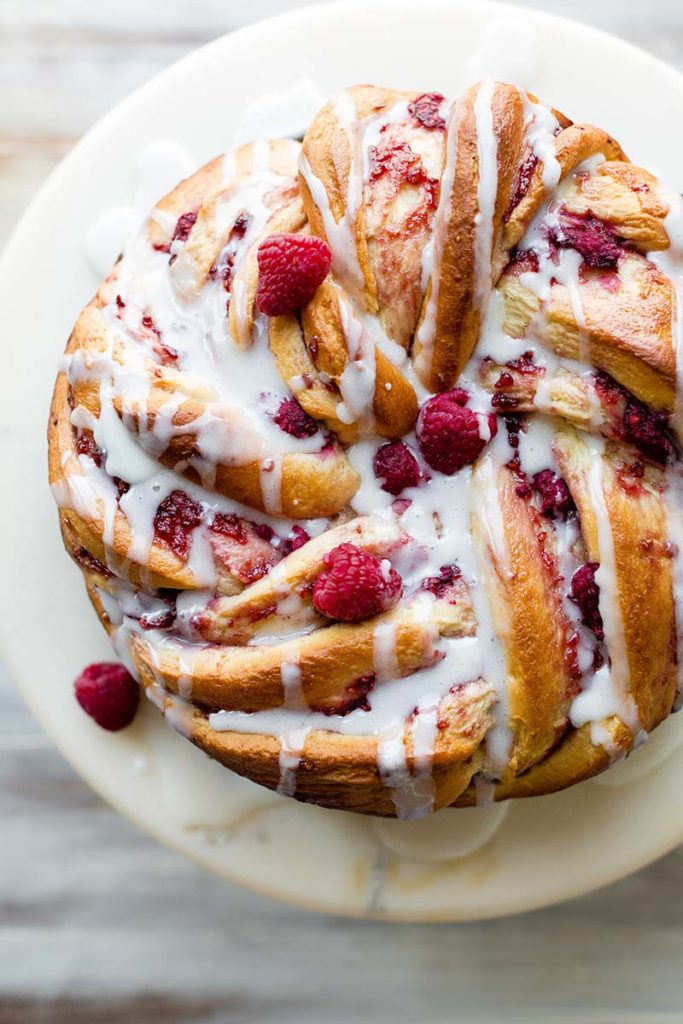 This raspberry danish twist bread is texture paradise channeling the flakiness of breakfast danishes but with half the work. How's it possible? The secret's in the way we twist the dough. And even though that hypnotizing twist looks complicated to replicate, I swear it COULD NOT BE EASIER.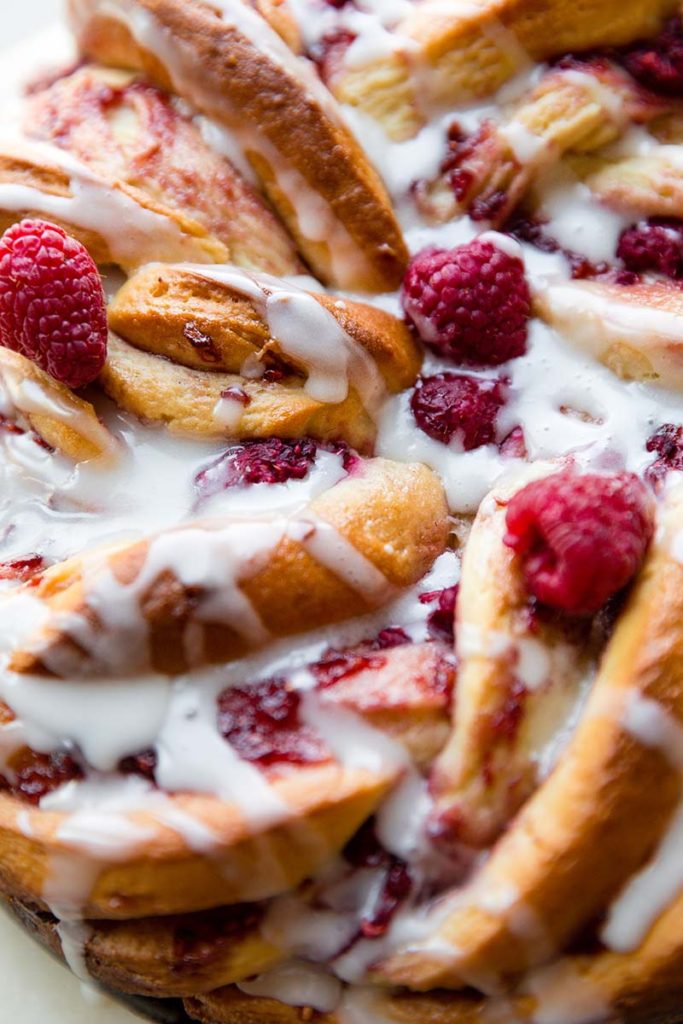 Behind every great dough is a great yeast– the workhorse behind this whole recipe! Like usual, I use Red Star Platinum Superior Baking Yeast. Platinum is an instant yeast that builds a stronger, taller, more voluminous dough. If you don't have Platinum, Red Star Active Dry or Quick Rise Yeast works too!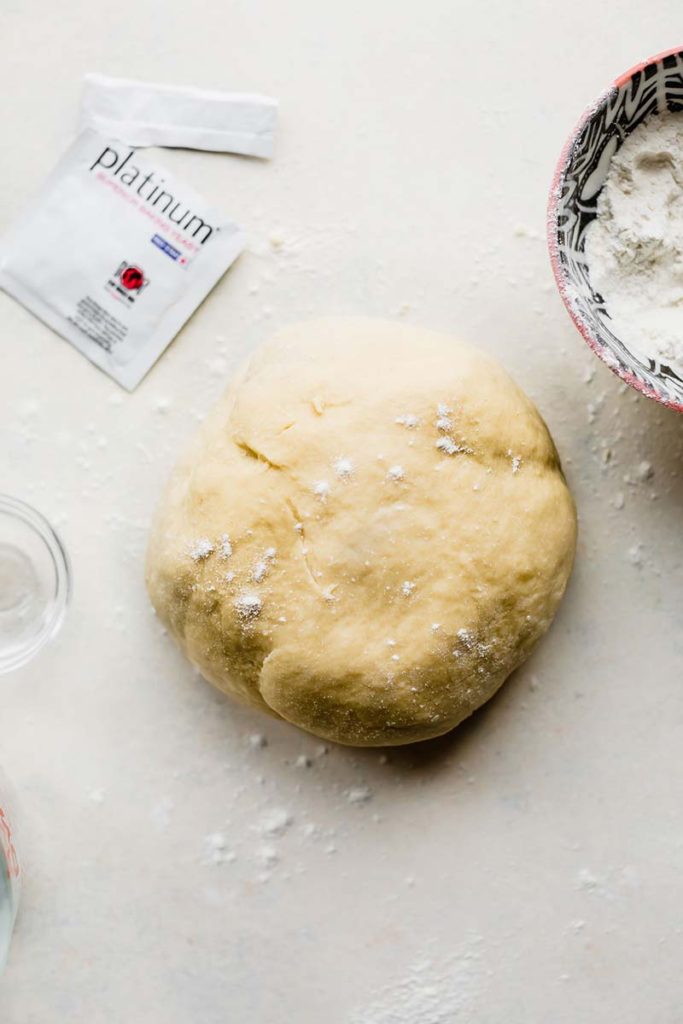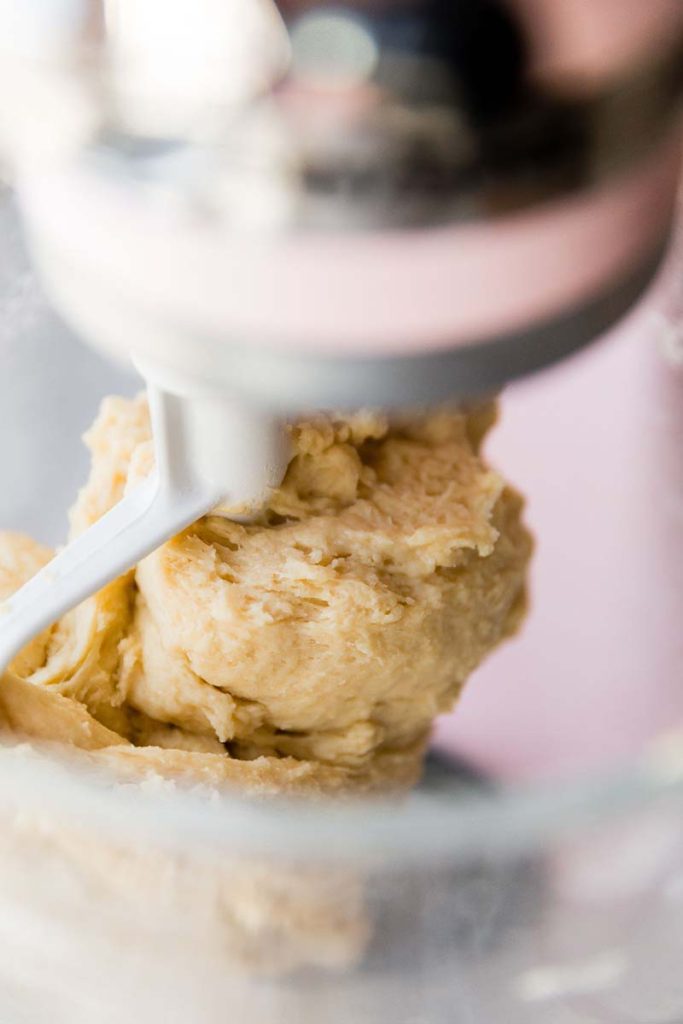 The dough rises twice: first after it's made then again after the twist is shaped. After the 2nd rise, it'll be big, beautiful, and ready to bake.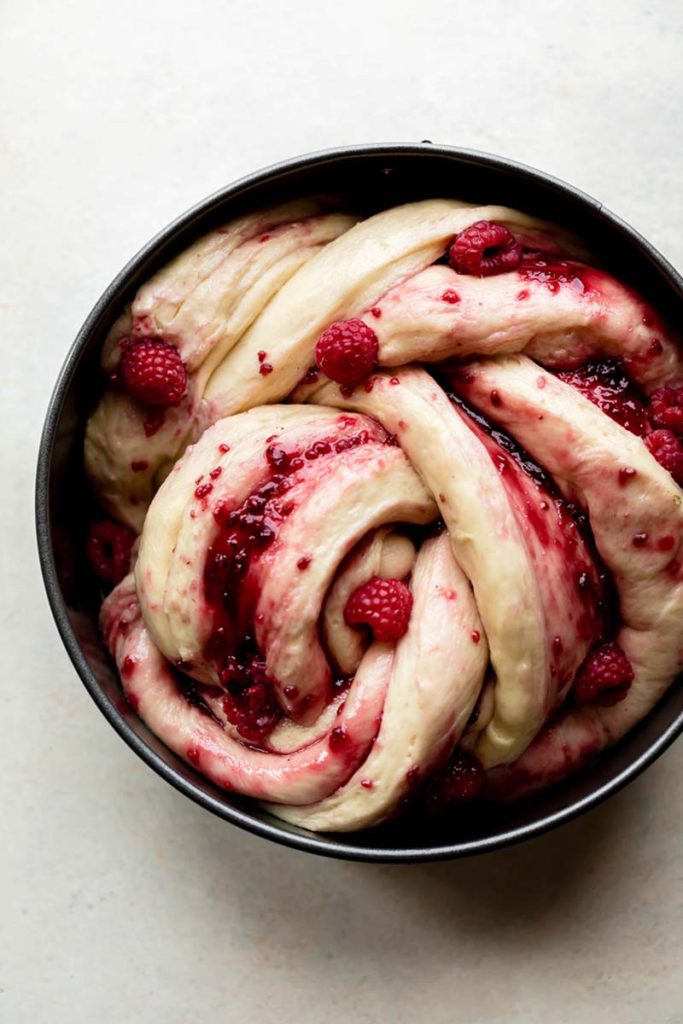 A generous drizzle of vanilla icing seeps into every delicious pocket. Sliced warm and served cake-style, this twist will impress everyone who's lucky enough to steal a taste!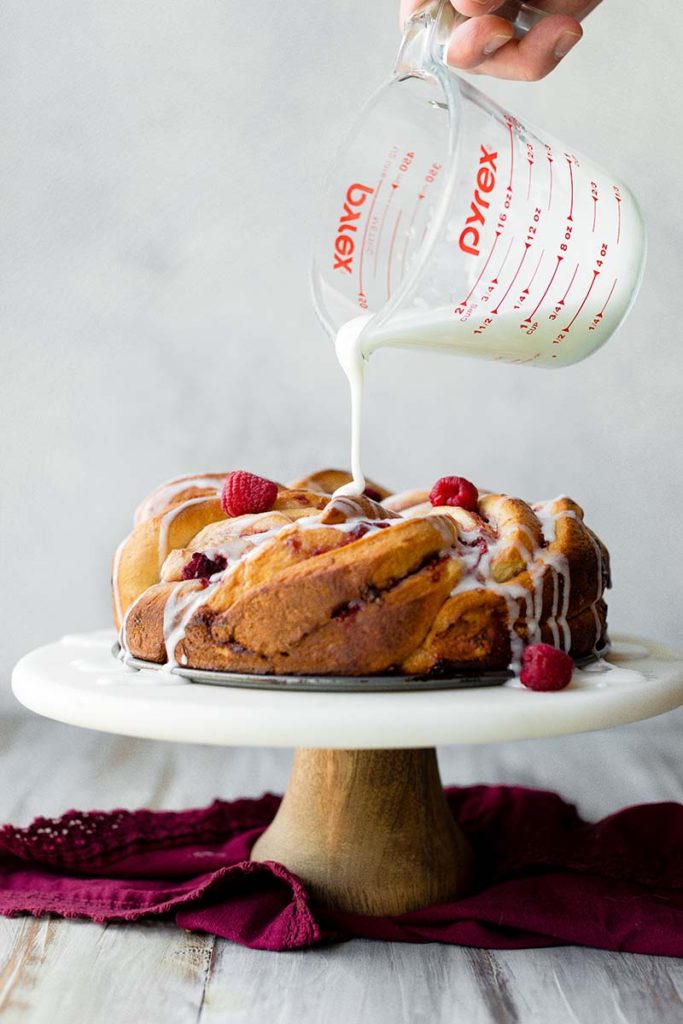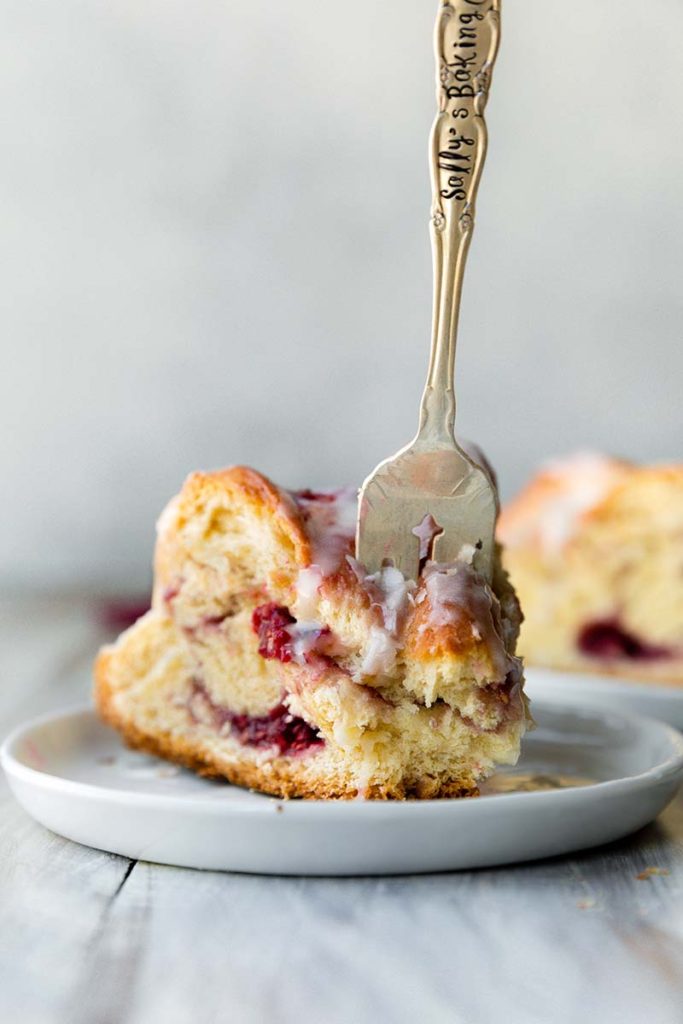 VIDEO TUTORIAL: RASPBERRY TWIST BREAD

Raspberry Danish Twist Bread
This buttery, flaky, decadent masterpiece is brunch goals. Raspberry danish twist bread looks complicated, but it couldn't be easier to assemble!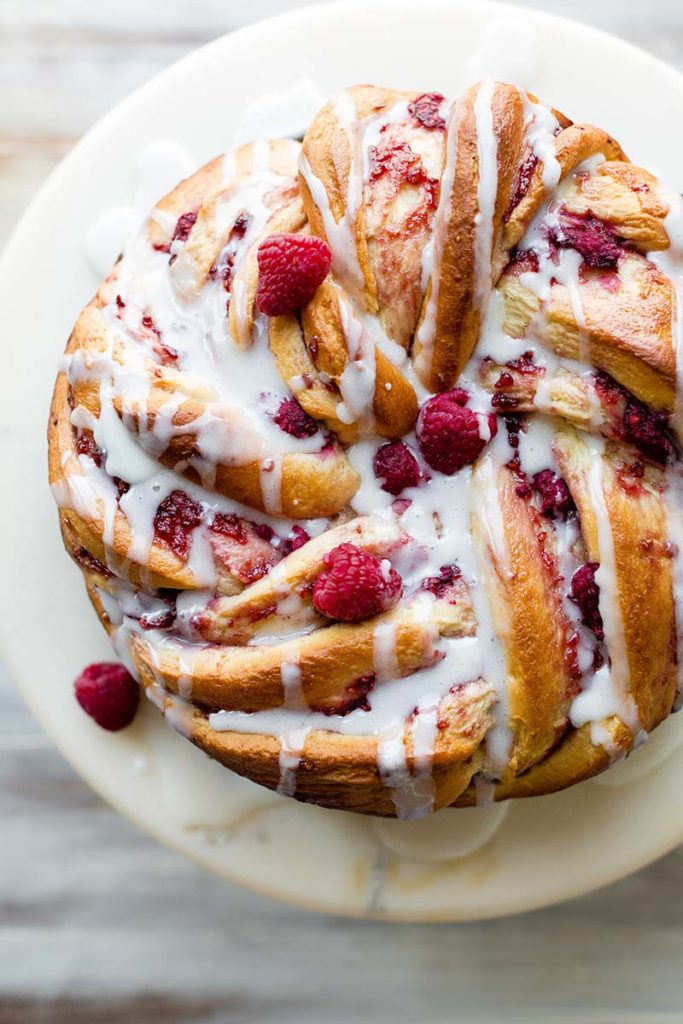 Yield:
One 9-inch round twist bread
Ingredients
1 package (2¼ tsp, ¼oz, 7g) RED STAR Platinum Superior Baking Yeast
3 Tbsp granulated sugar
¾ cup whole milk
¼ cup (4 Tbsp) unsalted butter, softened to room temperature
2 large eggs
3 and ½ cups all-purpose flour (spoon & leveled), plus more as needed
1 tsp salt
¾ cup raspberry preserves or jam
Optional: ½ cup fresh or frozen raspberries
For the Vanilla Icing
1 cup confectioners' sugar
3 Tbsp heavy cream (or half-and-half or milk)
¼ tsp pure vanilla extract
Instructions
Step 1: Make the dough: Place the yeast and sugar in the bowl of a stand mixer fitted with a dough hook or paddle attachment. Or, if you do not own a stand mixer, a regular large mixing bowl. Heat the milk on the stove or in the microwave until warm to touch, about 110°F (43°C). Pour warm milk on top of yeast/sugar. Whisk gently to combine, then loosely cover with a clean kitchen towel and allow to sit for 5-10 minutes. The mixture will be frothy after 5-10 minutes.


Step 2: If you do not have a mixer, you can mix by hand in this step. Add the butter, egg, flour, and salt. Beat on low speed for 4 minutes. Dough will be soft. Transfer it to a lightly floured work surface. Using lightly floured hands, knead it for 1 minute. If the dough is too sticky to handle, add 1-3 more Tablespoons of flour, but you want a very soft dough. Shape into a ball.


Step 3: Place the dough in a greased bowl (I use nonstick spray to grease) and cover with plastic wrap or aluminum foil. Place in a slightly warm environment to rise until doubled in size, around 90 minutes.


Step 4: Grease a 9-inch springform pan. Turn the risen dough out onto a lightly floured work surface, punch it down to release the air.


Step 5: Shape the twist: Watch the video in Sally's post before continuing with this step. The visual guide will help! Using a rolling pin, roll into a 12x16-inch rectangle. Spread jam evenly on top. If desired, dot randomly with raspberries. Tightly roll up the dough to form a 16-inch long log. Place the log on its seam. Using a sharp knife, cut the log in half lengthwise. I find a serrated knife works best. Criss-cross one half on top of the other half-- forming an X. Twist the two together then coil into a circle. Carefully transfer to prepared springform pan. (I carefully pick it up using two flat spatulas!) Cover the twist with plastic wrap or aluminum foil, then allow to rise once again in a slightly warm environment until puffy, about 45 minutes.


Step 6: Adjust the oven rack to the lower third position then preheat oven to 350°F (177°C).


Step 7: Bake until golden brown, about 40-45 minutes. If you find the top is browning too quickly, tent with aluminum foil. Remove from the oven and allow to cool for 5 minutes. Meanwhile, make the vanilla icing by whisking the icing ingredients together until smooth.


Step 8: Carefully remove the rim of the springform pan. Drizzle with vanilla icing. Slice and serve. Cover and store leftovers in the refrigerator for up to 1 week.
Notes
Make ahead tip: You can freeze the baked and cooled twist bread for up to 3 months. Thaw at room temperature or overnight in the refrigerator and warm in the oven to your liking, then top with icing. The dough can be prepared through step 3, then after it has risen, punch it down to release the air, cover tightly, then place in the refrigerator for up to 2 days. Continue with step 5. To freeze the dough, prepare it through step 3. After it has risen, punch it down to release the air. Wrap in plastic wrap and place in a freezer-friendly container for up to 3 months. When ready to use, thaw the dough overnight in the refrigerator. Then let the dough sit at room temperature for about 30 minutes before continuing with step 5. (You may need to punch it down again if it has some air bubbles.)

I always use Red Star Platinum yeast, an instant yeast. If you don't have Platinum, Red Star Active Dry or Quick Rise Yeast works too! If using active dry, your dough may take a little longer to rise.
---
Baking enthusiast Sally McKenney Quinn is the blogger and photographer behind Sally's Baking Addiction, as well as the author of best-selling cookbooks Sally's Baking Addiction and Sally's Candy Addiction. The kitchen is where her creative juices flow and she enjoys sharing recipes with her millions of fans around the world. When Sally isn't in the kitchen or behind the camera, she enjoys practicing yoga, running off all those cookies, and hiking with her husband, Kevin, and their dog, Jude.