Quick Rosemary Garlic Knots
A delicious addition to any dinner, these soft rolls are brushed with a generous amount of butter plus fresh rosemary and garlic. They are sure to be your new favorite homemade roll.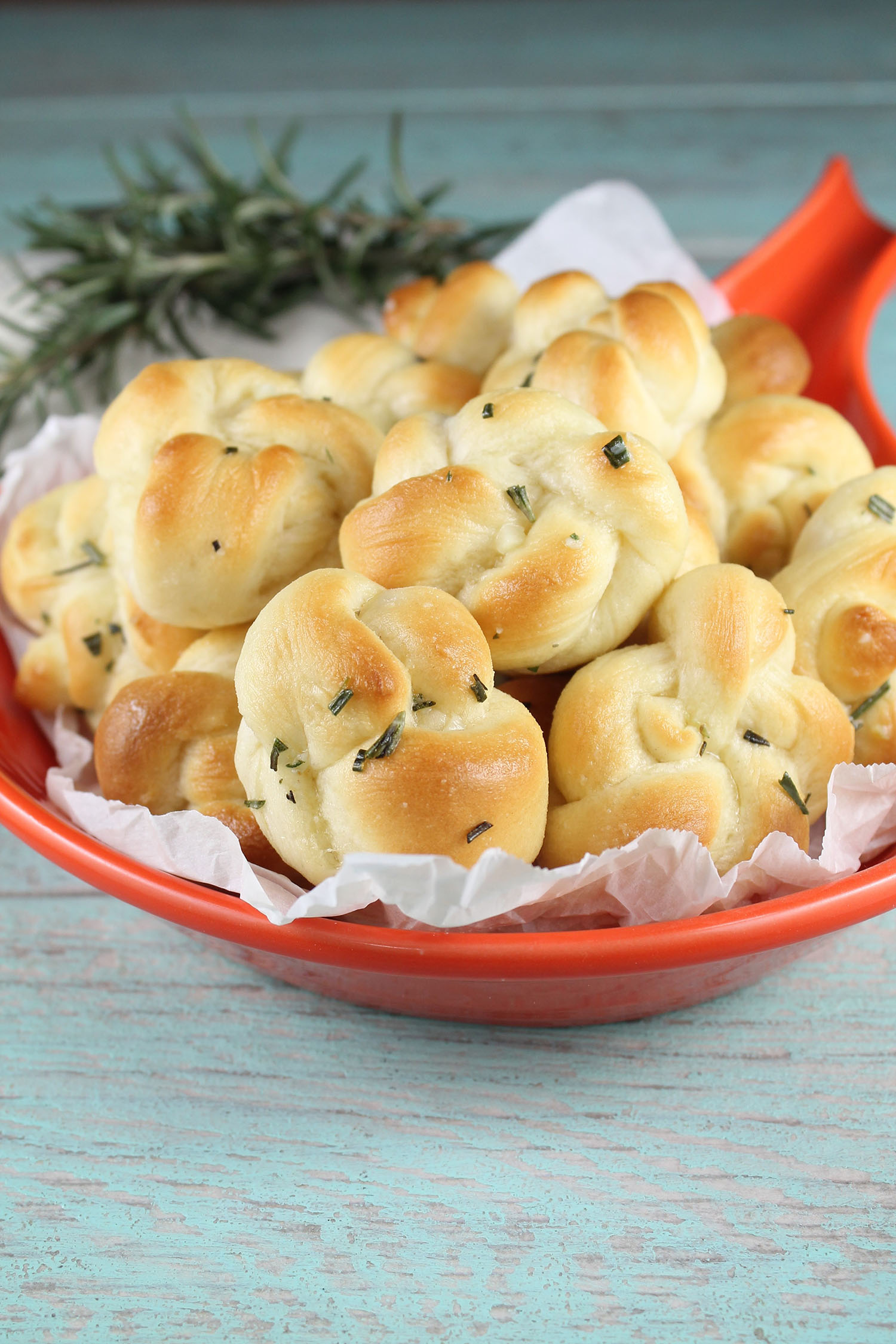 Prep time:
Bake time:
Total time:
Ingredients
1 cup warm milk (110-115°F)
1 Tbsp melted butter
2 packages (4½ tsp, ½oz, 14g) RED STAR Platinum Superior Baking Yeast
1 Tbsp sugar
1 tsp Kosher salt
2 cups all-purpose flour + ½ cup for kneading, rolling and shaping
½ cup salted butter
2 tsp minced garlic
1 tsp minced fresh rosemary
½ tsp Kosher salt
Instructions
Add warm milk, butter, sugar and yeast to a large bowl and stir to combine. Set aside about 5 minutes or until yeast starts to bubble. Add salt and 2 cups of flour. Stir until combined.


Scrape dough out onto a well-floured surface. Knead 3 to 5 minutes or until dough is no longer sticky. Place in greased bowl. Cover and set aside in a warm place for 15 minutes.


Punch dough down and turn dough out onto a floured surface. Divide into 2 sections. Roll each section to about a 10 to 12-inch rectangle.


Use a pizza cutter to cut into 1-inch strips. Cut each strip in half. Roll each strip into a rope shape and loop together and tie in a knot and tuck ends back into the center. Place on a silicone or parchment paper-lined baking sheet about 2 inches apart. Repeat with remaining dough.


Cover and set aside. Preheat oven to 375°F.


Bake rolls for 10-12 minutes or until golden brown.


While the rolls are baking prepare the garlic butter: Add butter to a small skillet or saucepan and place over low heat. Add garlic and rosemary and cook 5 minutes, stirring often.


Brush garlic butter over rolls as soon as they come out of the oven. Sprinkle lightly with Kosher salt. Serve warm or at room temperature.


Recipe created by Miss in the Kitchen.