Pumpkin Star Bread
Authors: Jeff Hertzberg and Zoë François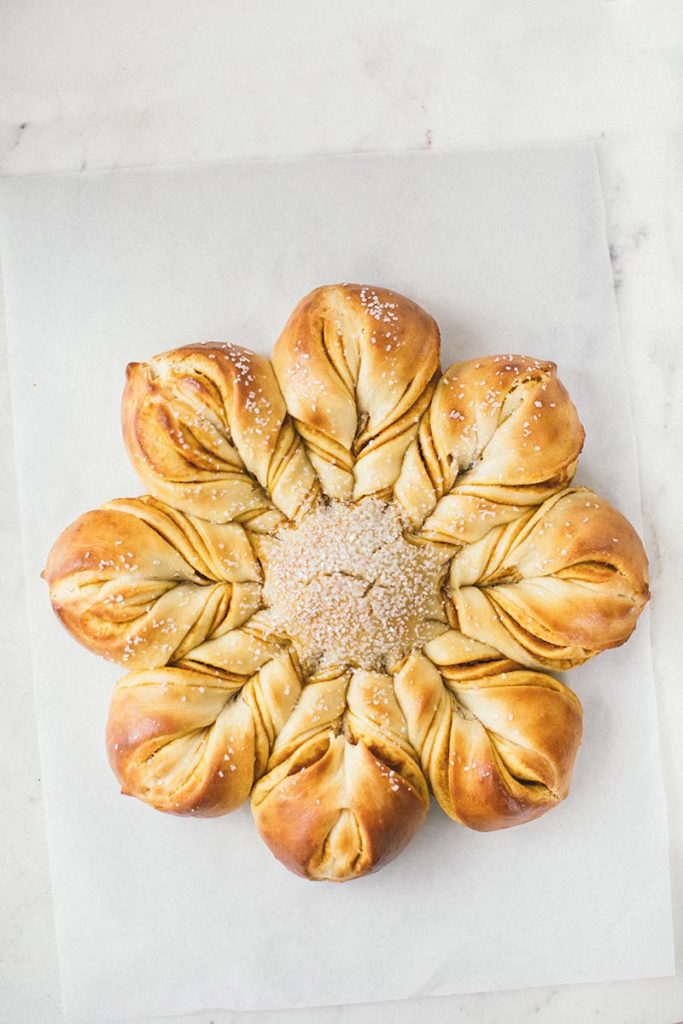 Our Holiday Star Bread was quite popular last year, so we decided to come up with yet another version: this one with pumpkin filling and sprinkled with sanding sugar. Our original version is filled with sugar and holiday spices, but we've also tried it with jam and Nutella, so if you are interested in playing around with recipe, there is also room for your own interpretation! This beautiful bread made it into our newest book, Holiday and Celebration Bread in Five Minutes a Day, and it is one of the prettiest, easiest and most sensational breads to make for a family gathering or work party.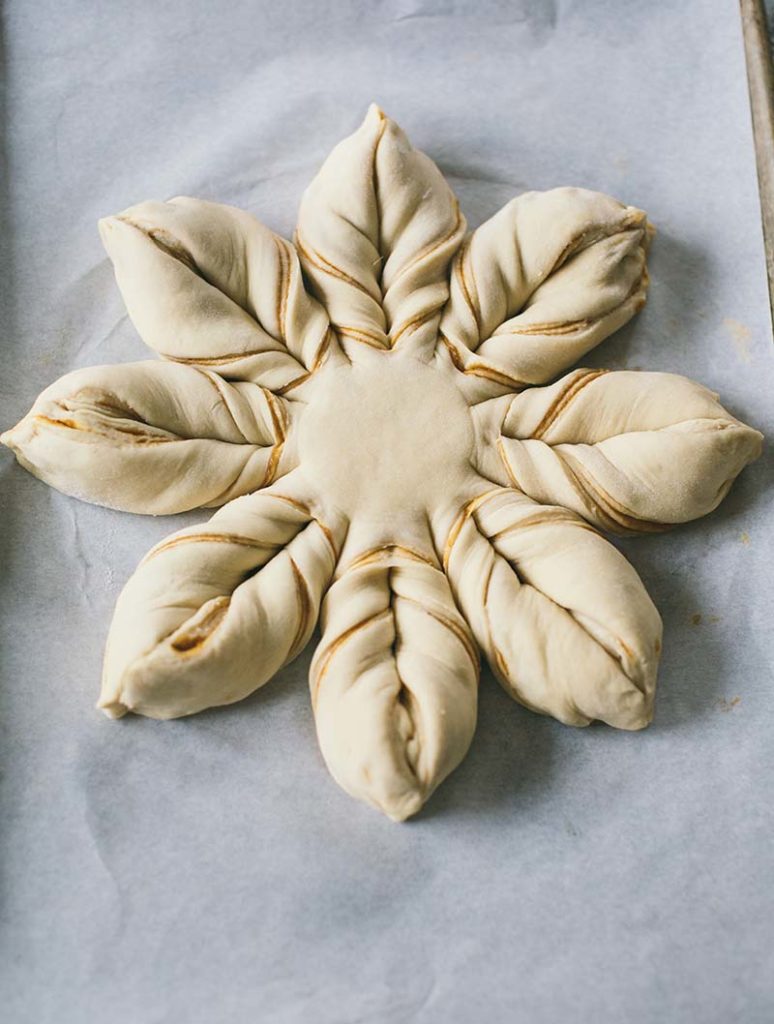 (For step-by-step instructions, check out our Instagram highlights!)
Pumpkin Star Bread
Layered with pumpkin filling and sprinkled with sanding sugar, this star bread is one of the prettiest, easiest and most sensational breads to make for a family gathering or work party.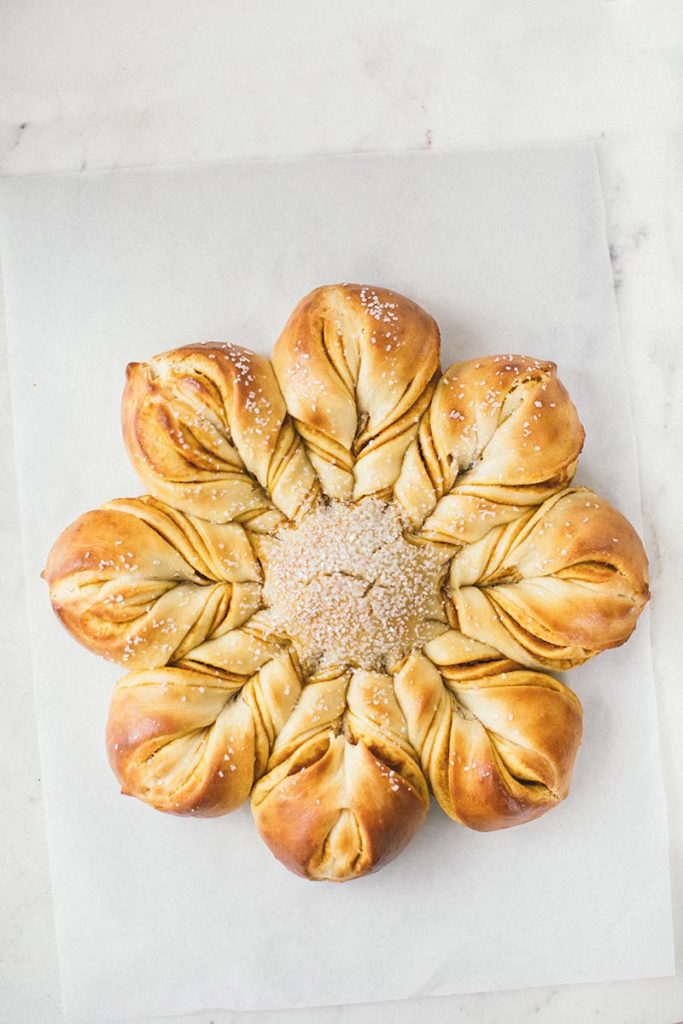 Ingredients
For the Brioche dough:
Makes about 4½ pounds of dough
1½ cups lukewarm water
1 tablespoon (~1½ packets) Platinum Yeast
1 tablespoon kosher salt
6 large eggs
½ cup (170g) honey
1½ cups (340g) unsalted butter, melted and cooled slightly
7 cups (990g) unbleached all-purpose flour
For the Pumpkin Filling:
½ cup unsweetened pumpkin puree
¼ cup light brown sugar
1 tablespoons unsalted butter
½ teaspoon ground ginger
½ teaspoon ground cinnamon
Pinch of salt
For the Topping:
Egg wash (1 egg mixed with 1 tablespoon water and a pinch of salt)
Sanding sugar
Instructions
Make the dough: Mix Platinum Yeast, salt, eggs, honey and melted butter with water in a 6-Quart Round Food-Storage Container with Lid (not airtight) container.


Mix in flour without kneading, using a spoon, a Danish Dough Whisk or a heavy-duty stand mixer (with paddle). The dough will be loose but will firm up when chilled.


Cover (not airtight), and allow to rest at room temperature until dough rises for approximately 2 hours. Then refrigerate for at least four hours before first use, it is easier to handle when thoroughly chilled. This dough can be stored for up to 5 days in the fridge. Beyond that, the dough stores well in the freezer for up to four weeks in an airtight container, in one-pound portions. When using frozen dough, thaw and use as instructed.


Make the pumpkin filling: Combine the pumpkin puree, sugar, butter, ginger, cinnamon, and salt in a small saucepan and heat over low heat, stirring continuously until the butter has melted and the sugar has dissolved. Turn up the heat to medium and continue to heat the mixture, stirring constantly, until the mixture comes to a boil (the mixture is quite thick, so you need to look for slow bubbles). Once the puree is bubbling, turn the heat down to medium-low and cook the mixture for about 5 minutes, still stirring. Remove the puree from the heat. Cool to room temperature, then chill in the refrigerator for at least 30 minutes before using.


Make the star bread: Weigh out 2 pounds of brioche dough (or divide it in about half). Divide the dough into four equal pieces. Roll the pieces into balls, and let rest for 20 minutes, covering with plastic wrap.


With a rolling pin, roll out all the dough balls into 10-inch circles. Place one of the circles on a piece of parchment paper. Put a couple tablespoons of the pumpkin mixture on the round and spread evenly.


Place another circle on top of the first circle, and spread a couple more tablespoons of pumpkin. Repeat with one more circle, then place the final circle on top. (I like to chill the star for 20 minutes at this point; it helps make cutting and twisting a little easier.)


Place a 2½-inch biscuit cutter (or other round object) in the center of the circle, and then use a bench scraper to cut the circle into 16 equal strips (starting at the outer center circle and out to the edge), cutting through all the layers.


Take two pieces of dough, and twist them away from each other two or three times. Pinch the ends of the pair of strips firmly together to create one point. Repeat with the other strips. You should end up with 8 points.


Remove the biscuit cutter. Carefully transfer the star on the parchment to a baking sheet. Cover the star gently with plastic wrap and let rise for 45 minutes to 1 hour, until a bit puffy. During this time, preheat the oven to 400˚F. Before putting into the oven, brush the star with egg wash and sprinkle the center with sanding sugar, if desired. Bake for 20 to 30 minutes, until golden brown.
Remove from the oven and let cool on a wire rack for 15 to 20 minutes. Best eaten the day it's made.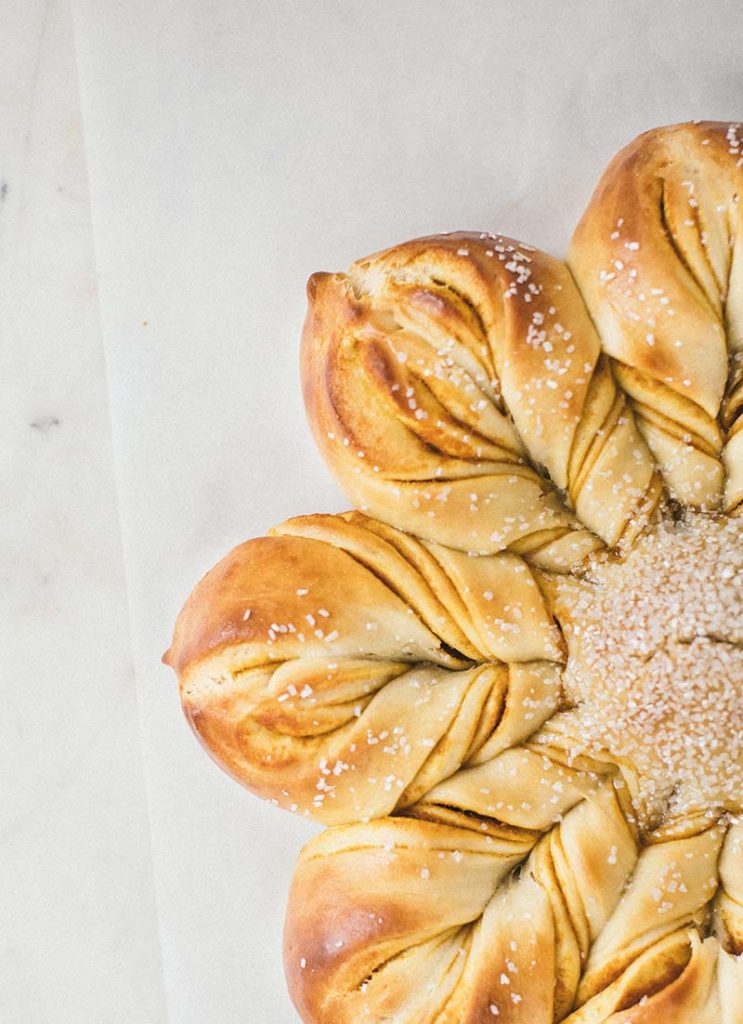 ---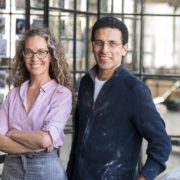 Jeff Hertzberg and Zoë François met in their children's music class in 2003 and have written bread cookbooks with more than 715,000 copies in print. Jeff, a doctor by training, is a self-taught baker who grew up eating great bread and pizza in New York City, and longed to recreate it himself. Zoë is a pastry chef and baker trained at the Culinary Institute of America. Her work appears in blogs all over the United States, and her dessert menus grace fine restaurants in the authors' hometown, Minneapolis, Minnesota. Jeff and Zoë were among the very first cookbook authors to support their readers with personal responses on their website, BreadIn5.com, beginning in 2007, where they blog about their super-fast yeast breads.