Pumpkin Cinnamon Rolls with Caramel Icing
Ribbons of cinnamon, lots of pumpkin flavor and a sticky caramel icing make these rolls totally irresistible!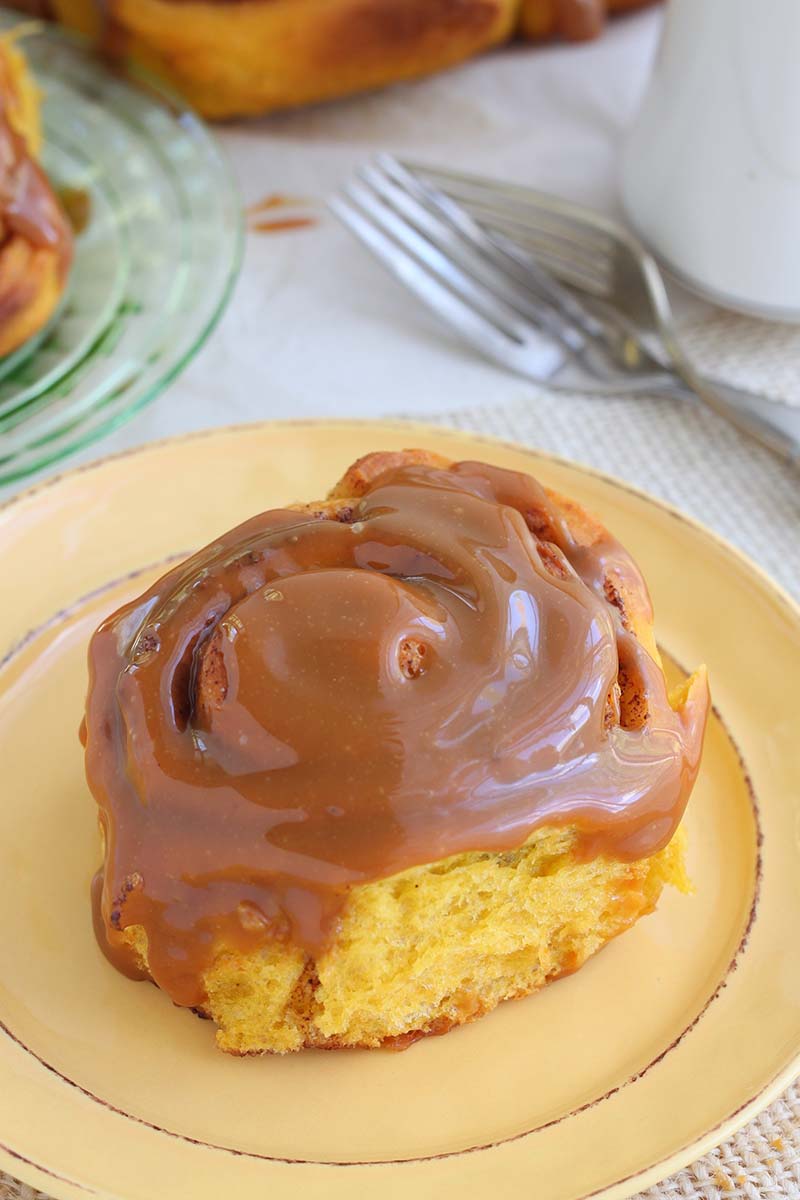 Ingredients
For the dough:
4 cups bread flour
¾ cup lukewarm milk (110-115°F)
1 package (2¼ tsp, ¼oz, 7g) RED STAR Active Dry Yeast
1 Tbsp white granulated sugar
6 Tbsp butter, melted and cooled
1 cup (8 oz) pumpkin puree
¼ cup white granulated sugar
1 tsp pumpkin pie spices
½ tsp salt
¼ to ½ cup bread flour
For the filling:
½ cup white granulated sugar
1 to 2 Tbsp ground cinnamon
2 to 3 Tbsp soft butter
For the caramel icing:
10 oz. caramels
¼ cup heavy cream
Instructions
In a mixing bowl add 4 cups of flour and make a well in the middle. Pour the milk in and sprinkle the yeast and 1 tablespoon of sugar on top of the milk. Gently stir, and leave for a few minutes until the yeast has dissolved and starts to foam.


With the dough hook attachment on, start mixing on low speed, adding in the melted butter, pumpkin puree, ¼ cup sugar, pumpkin pie spices and salt.


Gently, fold in enough flour (1/4 cup to ½ cup) until the dough forms an elastic ball and cleans itself from the sides of the bowl. On low speed, knead the dough for an additional 3 minutes.


Remove the dough from the mixing bowl and place it in a greased bowl. Cover with plastic wrap and leave at room temperature until doubled in volume.


Once the dough is risen, place it in a floured working area and roll it out into a 12X25-inch rectangle. Spread the soft butter all over the dough. Sprinkle the sugar and cinnamon over the buttered dough and roll it starting from the longer side. Pinch the ends together to seal. Cut into 16 rolls.


Arrange the pumpkin rolls into a 13X9-inch baking pan lined with parchment paper. Cover the rolls with plastic wrap and let rise for 20 more minutes.


Preheat the oven to 375°F. Bake the pumpkin rolls for 40 to 45 minutes or until nicely browned. Remove from the oven and let cool completely on a wire rack.


In a small saucepan, combine the caramel and heavy cream and cook over low heat until the caramel are melted and the mixture is smooth. Pour over the pumpkin rolls.


Recipe created by A Treats Affair.