Pumpkin Challah
Slightly sweet, with a hint of pumpkin spice, this Pumpkin Challah is the perfect sweet bread to serve this holiday season.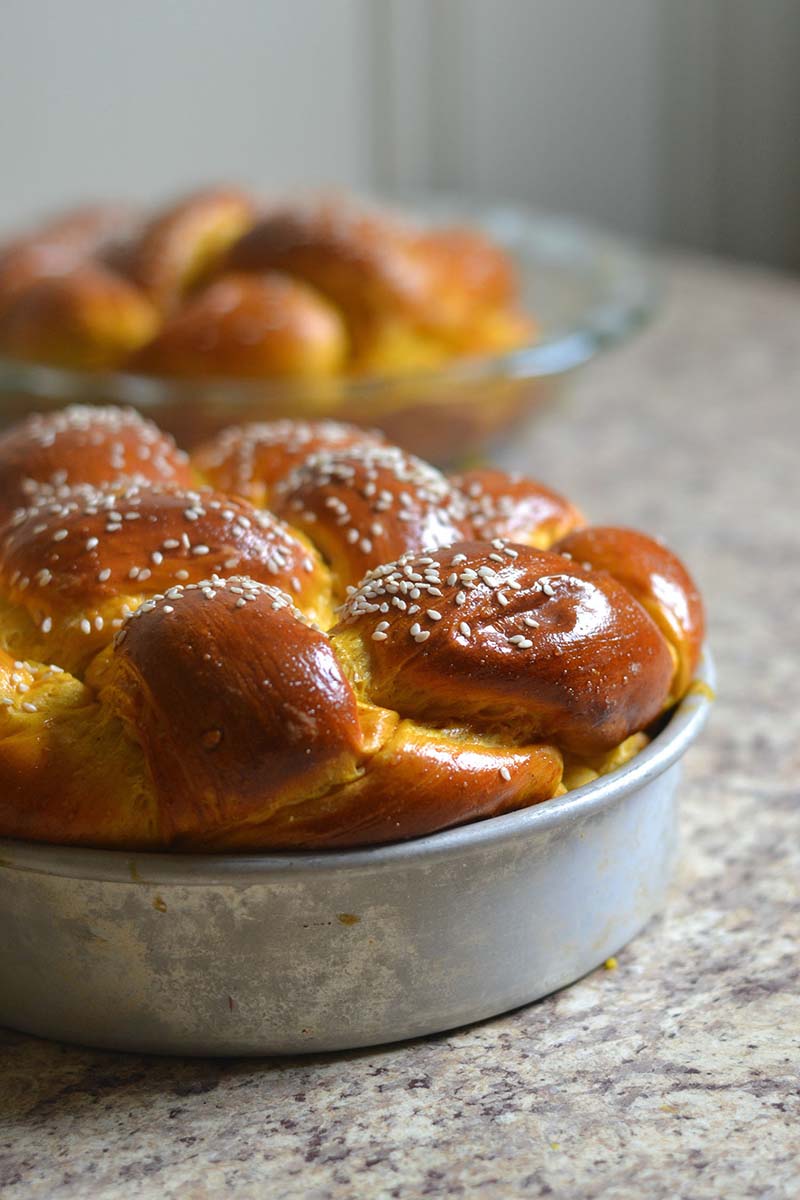 Yield:
4 braided challah loaves
Ingredients
2 packages (1/4oz each) or 4½ tsp Platinum Yeast
⅔ cup warm tap water (110-115°F)
1 tsp granulated sugar
One can (15 oz.) pumpkin puree
12 large egg yolks
1 Tbsp salt
½ cup maple syrup
1 Tbsp olive oil
1½ Tbsp pumpkin pie spice
8-10 cups bread flour
Additional 4 egg yolks to brush finished loaves
Sesame seeds for topping (optional)
Instructions
In a small mixing bowl combine yeast, water and granulated sugar. Give a quick stir, and allow to sit for about 5 minutes or until the yeast becomes nice and foamy.


Mix yeast mixture together with pumpkin puree, egg yolks, salt, maple syrup, olive oil, pumpkin pie spice and 7 cups of bread flour.


Add in additional flour ½ cup at a time until the dough is no longer sticky.


Turn dough out onto a floured surface, and start to knead* the dough, adding more flour as needed until the dough is nice and elastic. About 6-8 minutes.


Place dough into a greased mixing bowl, cover,and allow to rise until it has doubled in size, about 15-30 minutes.


Once dough has risen, turn out onto a floured surface again.


Cut the dough in to 4 equal pieces.


Pick one piece to start with, and then cut that into 6 equal pieces.


Roll each of the 6 pieces into a "snake", about ½ to 1-inch thick.


Weave the pieces together (3 horizontal, 3 vertical), and then braid the four corners, tucking the ends in creating a round braided loaf. Repeat the weaving/braiding process with the remaining 3 loaves.


Place each loaf in a greased baking dish (or glass pie dish); cover with plastic wrap.


Preheat oven to 350°F while you set the braided loaves aside to rise until they double in size.


Once the bread has finished rising, brush each loaf with one egg yolk and then sprinkle with sesame seeds (optional).


Bake for about 40 minutes or until they are golden brown.


Enjoy warm, and share the baked goodness with someone you love!


Recipe by Carrie Burrill.
Notes
*Tip: If dough is too large to knead, cut dough in half and knead each half separately.