Pull-Apart Rolls
Peppery, freshly grated Comté cheese and Caramelized Shallots team up for a flavor blowout in these hearty rolls. This method is a cinch. Throw these Pull-Apart Rolls on a platter, and watch everyone tear off their own piece of pillowy perfection.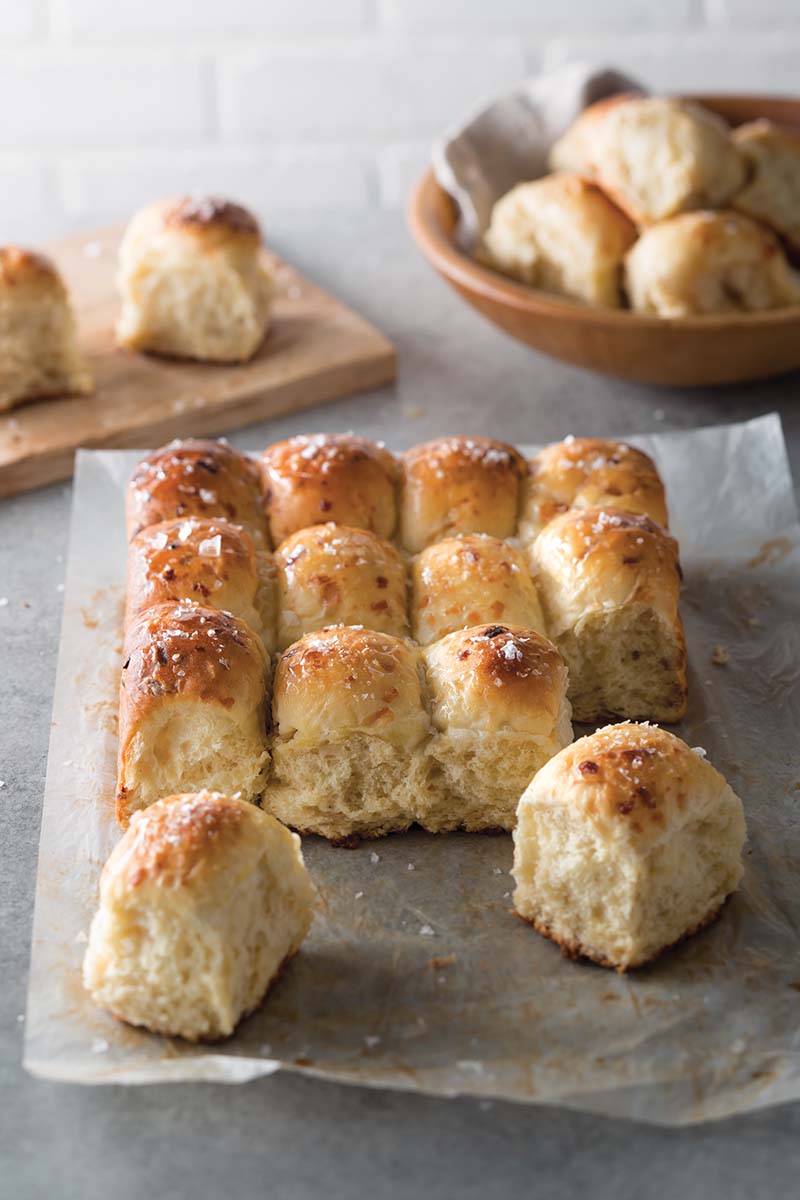 Ingredients
1 cup (240 grams) warm whole milk (105°F/41°C to 110°F/43°C)
1 cup (240 grams) warm water (105°F/41°C to 110°F/43°C)
1 tablespoon (9 grams) Platinum Yeast
2 large eggs (100 grams), room temperature
¼ cup (50 grams) granulated sugar
½ cup (113 grams) unsalted butter, melted and divided
1 tablespoon (9 grams) kosher salt
6¼ cups (794 grams) bread flour
7 ounces (200 grams) coarsely grated Comté cheese
Caramelized Shallots (recipe follows)
Garnish: flaked sea salt


Caramelized Shallots
5 large shallots (215 grams)
1 teaspoon (5 grams) olive oil
1 tablespoon (14 grams) unsalted butter
½ teaspoon (2 grams) granulated sugar
¼ teaspoon kosher salt
⅛ teaspoon ground black pepper
Instructions
Make the Caramelized Shallots: Makes ½ cup
Step 1: Peel shallots, and cut lengthwise into quarters. Slice into ⅛-inch pieces.


Step 2: In a medium skillet, heat oil over medium heat. Add shallots and butter, and sprinkle with sugar, salt, and pepper; cook until shallots begin to brown evenly. Reduce heat to low; cook, stirring frequently, until shallots are very soft, 10 to 15 minutes. Remove from heat; let cool to room temperature before using.


Make the rolls:
Step 1: In the bowl of a stand mixer fitted with the paddle attachment, whisk together warm milk, 1 cup (240 grams) warm water, and yeast by hand. Let stand until mixture is foamy, about 10 minutes.


Step 2: Whisk in eggs, sugar, ¼ cup (57 grams) melted butter, and kosher salt. Add flour, cheese, and Caramelized Shallots. With mixer on low speed, beat until well combined, about 1 minute. Cover and let rise in a warm, draft-free place (75°F/24°C) until doubled in size, about 1 hour.


Step 3: Spray 2 (9-inch) square baking pans with cooking spray. Line pans with parchment paper, letting excess extend over sides of pans; spray parchment.


Step 4: With lightly floured hands, turn out dough onto a lightly floured surface, and knead 3 to 4 times. (If there is too much flour on the work surface, you won't be able to shape the rolls properly.) Divide dough into 24 (71-gram) pieces. Gently shape each piece into a ball, and place 12 balls in each prepared pan in 3 rows of 4, leaving no space between each ball. Cover and let rise in a warm, draft-free place (75°F/24°C) until puffed, 30 to 45 minutes. (Alternatively, cover tightly and refrigerate overnight. When ready to bake, let stand at room temperature for 30 minutes.)


Step 5: Preheat oven to 375°F (190°C).


Step 6: Brush rolls with remaining ¼ cup (57 grams) melted butter.


Step 7: Bake until an instant-read thermometer inserted in center registers 190°F (88°C), about 27 minutes, covering with foil and rotating pans halfway through baking to prevent excess browning. Brush with remaining melted butter again, and sprinkle with sea salt, if desired. Serve warm or at room temperature. Store in an airtight container at room temperature for up to 4 days.


Recipe in partnership with Bake From Scratch.