Pretzel Bun Philly Cheesesteak Bombs
All the amazing flavors of a classic Philly Cheesesteak stuffed in a soft 'n chewy pretzel bun! This will quickly become your favorite game day or party snack!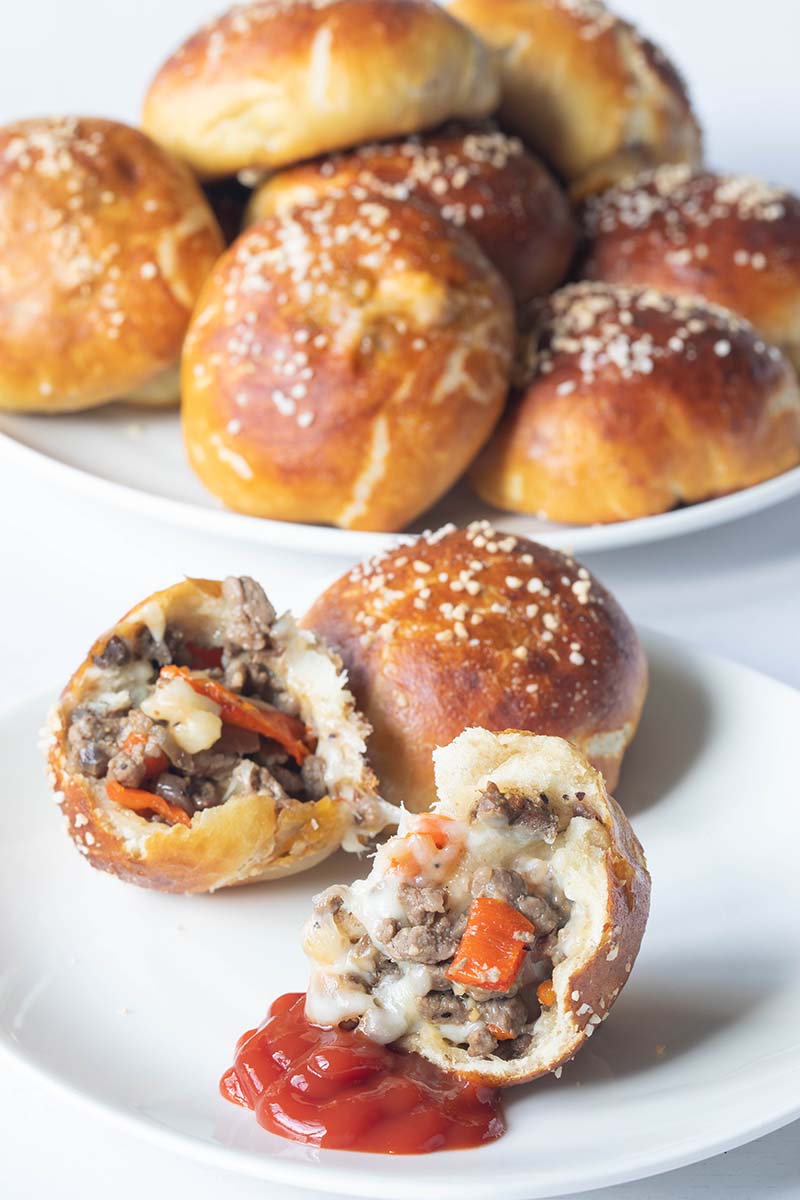 Yield:
12 pretzel bun bombs
Ingredients
For the pretzel dough:
1 cup warmed whole milk (110-115°F/43-46°C)
2 Tbsp butter, unsalted and softened
2 Tbsp brown sugar
1 package (2¼ tsp, ¼oz, 7g) RED STAR Platinum Superior Baking Yeast
1 tsp salt
3 cups all-purpose flour
6 quarts of water (for water bath)
¼ cup baking soda (for water bath)
1 large egg + 2 tsp water, beaten (for egg wash)
Pretzel salt
For the cheesesteak filling:
2 Tbsp olive oil
2 cups red bell pepper, cut into small pieces
1 cup red onion, cut into small pieces
1¼ cup shaved rib eye steak, chopped up *see note
1 tsp salt, divided
1 tsp black pepper, divided
¾ tsp garlic powder
1 cup cubed cheddar pieces
1 cup cubed mozzarella pieces
Instructions
Make the Dough
In the bowl of a stand mixer fitted with the paddle attachment add in milk, butter, brown sugar and yeast. Gently mix and allow to proof for ~5 minutes.


Add in the flour and salt and mix on low just until loosely combined, gently scraping down the sides. Mix until a soft, smooth elastic ball forms, about 8-10 minutes. The dough should pull away from the sides (though it may not be fully pull away) of the bowl but still be wet/tacky to the touch. Remove the dough from the bowl and place on a very lightly floured surface, give it a few kneads by hand. Place in a lightly oiled bowl (at least 2-3 times bigger than the ball) and cover with plastic wrap. Allow to rise until doubled in size; about 60-90 minutes.
Make the Cheesesteak filling
In a large skillet over medium-high heat add in 1 tablespoon of oil. When the oil begins to shimmer add in the onions and peppers. After a minute add half of the salt, pepper and garlic powder. Stir to combine. Cook until softened, about 6-8 minutes. Remove to a bowl.


In the same skillet add the remaining tablespoon of oil. Season the steak with the rest of the salt, pepper and garlic powder. Gently mix. Add the meat to the skillet and cook just until no longer pink, about 2-3 minutes. Add back in the onions and peppers. Stir to combine and remove the pan from the heat and set aside.
Assembly
Turn the dough out onto a lightly floured board. Cut into 12 even pieces. Gently form into a ball and then pat each ball out into 5x3-inch rectangle. To the center of the rectangle, add some of the meat mixture and then top with a chunk of each piece of cheese. Fold up the bottom, then each side and then roll to close. Pinch the seams closed. *Make sure that the dough is not patted too thin as the mixture will leak out.


Place on a lightly sprayed parchment paper. Repeat for each bomb.
Bake
Preheat the oven to 425°F, rack in the middle. In a large pot add the 6 quarts of water. Bring to a rolling boil and add in the baking soda.
One at a time, using a slotted spoon gently drop in the pretzel cheesesteak bomb and boil for 20 seconds. Remove with a slotted spoon, letting the water drip off and then place back on the sprayed parchment. Repeat until all 12 are done.


Brush the bombs with the egg mixture and sprinkle pretzel salt.


Bake for 15-20 minutes or until there is a deep caramel pretzel color. Gently remove from the tray and cool slightly before serving. Store any leftovers in the fridge.


Recipe created by The Kitchen Whisperer.
Notes
For the pretzels: Do not use iodized or even kosher salt for pretzel salt. The granules are smaller and they often melt or tend to get too salty.

For the steak: Freeze the meat for at least 30 minutes to an hour. You don't want the meat soft but you also don't want it rock hard. What you want to is have it be firm enough that you can slice it thinly with a knife. Philly Steak sandwiches do not have huge chunks of meat but almost shaved-like slices. You can ask your butcher if they will shave it for you but some may not be able to.
Once you slice it thin, turn the pieces a quarter turn and chop it. You really want to chop up the meat as it will be easier to cook. Most sandwich shops that serve this already buy their meat that is so thinly shaved that as soon as it cooks it starts to fall apart with the slightest touch.