Platinum Instant Sourdough Pumpkin Rolls
Combining the pleasant tang of sourdough with mildly sweet pumpkin and baked in a cast-iron skillet, these bread rolls embody fall comfort baking at its finest. We finished them off with a savory topping of pepitas and flaked sea salt, delivering a welcome note of crunch to the rolls' pillowy perfection.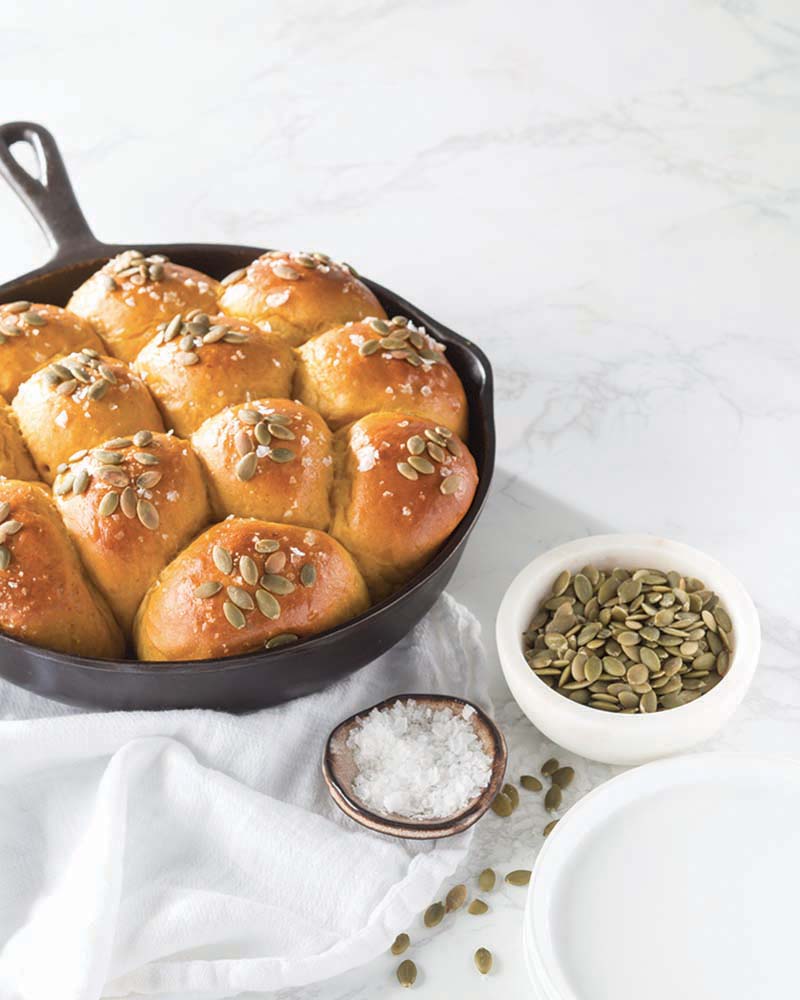 Ingredients
3½ cups (438 grams) all-purpose flour
1 (0.63-ounce) package (18 grams) Platinum Instant Sourdough Yeast OR 1 (7g) packet Platinum Yeast
2 teaspoons (6 grams) kosher salt
½ teaspoon (1 gram) ground cinnamon
¾ cup (183 grams) canned pumpkin
½ cup (120 grams) whole milk
¼ cup (57 grams) unsalted butter
¼ cup (85 grams) honey
1 large egg (50 grams), lightly beaten
3 tablespoons (27 grams) raw pepitas
1 tablespoon (9 grams) flaked sea salt
Instructions
Step 1. In the bowl of a stand mixer fitted with the paddle attachment, beat flour, Platinum Instant Sourdough Yeast, kosher salt, and cinnamon at low speed until combined.


Step 2. In a small saucepan, heat pumpkin, milk, butter, and honey over medium heat until butter is melted and mixture registers 120°F (49°C) to 130°F (54°C) on an instant-read thermometer. Remove from heat; let cool slightly, if necessary.


Step 3. With mixer on low speed, add warm pumpkin mixture to flour mixture, beating until combined, about 2 minutes. Switch to the dough hook attachment. Beat at low speed until dough is smooth and elastic, 12 to 13 minutes.


Step 4. Lightly oil a large bowl. Turn out dough onto a lightly floured surface, and shape into a smooth ball. Place dough in bowl, turning to grease top. Cover and let rise in a warm, draft-free place (75°F/24°C) until doubled in size, 45 minutes to 1 hour.


Step 5. Oil a 10-inch cast-iron skillet with oil.


Step 6. Punch down dough, and turn out onto a lightly floured surface. Divide dough into 12 equal portions (about 75 grams each). Shape each portion into a smooth round, and place in prepared skillet. Cover and let rise in a warm, draft-free place (75°F/24°C) until doubled in size, 30 to 45 minutes.


Step 7. Preheat oven to 350°F (180°C).


Step 8. Brush top of rolls with egg wash, and sprinkle with pepitas and flaked salt.


Step 9. Bake until deep golden brown and an instant-read thermometer inserted in center registers 190°F (88°C), 25 to 30 minutes. Let cool slightly. Serve warm.