Platinum Instant Sourdough Bagels
A staple of the New York City culinary scene gets a sourdough makeover with Platinum Instant Sourdough Yeast. The bite from the sourdough and sweetness from the honey work together to create a perfectly balanced combination. See video below.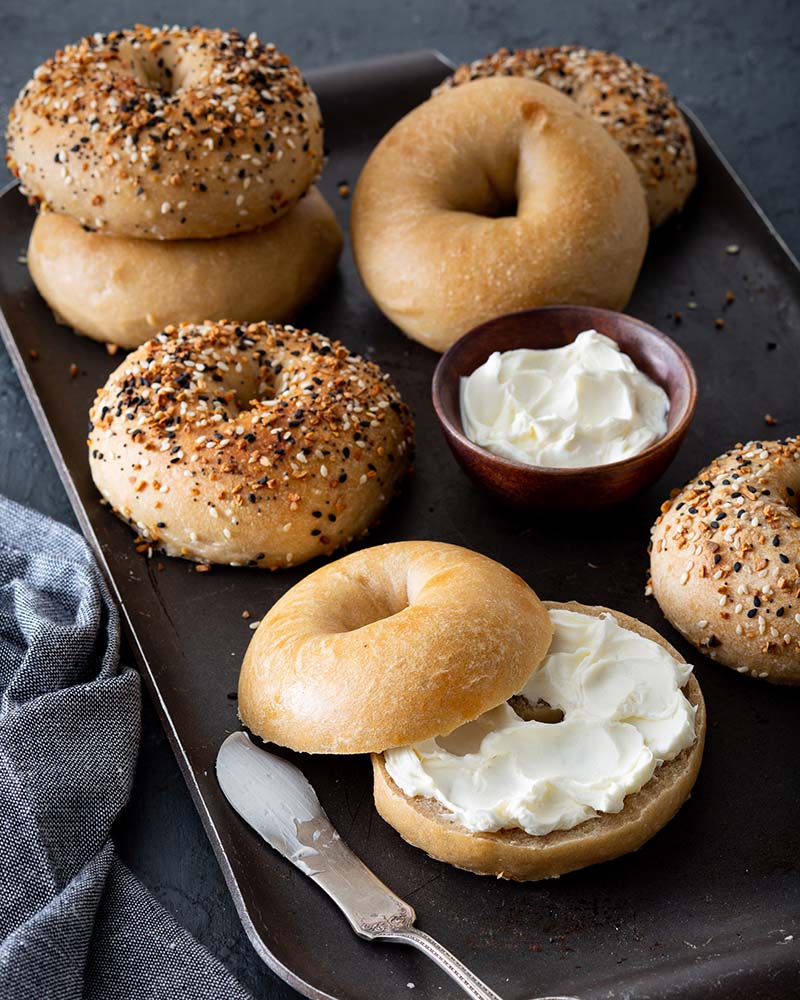 Ingredients
5½ cups (699 grams) bread flour
1 (0.63-ounce) package (18 grams) Platinum Instant Sourdough Yeast
4 teaspoons (12 grams) kosher salt
1⅔ cups plus 2 tablespoons (430 grams) warm water (120°F/49°C to 130°F/54°C)
1½ tablespoons (32 grams) barley malt syrup
8 cups (1,920 grams) plus 1 tablespoon (15 grams) water, divided
½ cup (170 grams) honey
1 large egg white (30 grams)
Garnish: everything bagel seasoning
Instructions
STEP 1. In the bowl of a stand mixer fitted with the paddle attachment, stir together flour, instant sourdough, and salt by hand. Add 1⅔ cups plus 2 tablespoons (430 grams) warm water and malt syrup, and beat at very low speed until a shaggy dough forms, about 1 minute. Switch to the dough hook attachment. Beat at low speed for 10 minutes. Increase mixer speed to medium-low, and beat until dough pulls away from sides and bottom of bowl, about 5 minutes. Check for proper gluten development using the windowpane test. (See Note.)


STEP 2. Lightly oil a large bowl. Shape dough into a smooth ball, and place in bowl, turning to grease top. Cover and let rise in a warm, draft-free place (75°F/24°C) until doubled in size, 30 to 45 minutes. (See Note).


STEP 3. Place a large sheet of parchment paper on a counter in a warm, draft-free place (75°F/24°C), and generously dust with flour.


STEP 4. Divide dough into 12 equal portions (about 105 grams each). Shape each portion into a ball. Using your finger, poke a hole through center of each ball, stretching hole to 1 to 1½ inches wide. Place on prepared parchment. Cover and let rise until puffed, 15 to 30 minutes.


STEP 5. Preheat oven to 375°F (190°C). Line 2 sheet pans with parchment paper.


STEP 6. In a large stockpot, bring 8 cups (1,920 grams) water and honey to a low simmer. Carefully drop bagels, 1 to 2 at a time, into water, reopening holes slightly if necessary. Cook for 10 seconds per side. Remove from water, and place on prepared pans.


STEP 7. In a small bowl, whisk together egg white and remaining 1 tablespoon (15 grams) water. Brush dough with egg wash. Sprinkle with bagel seasoning, if desired.


STEP 8. Bake until golden brown, 20 to 25 minutes. Let cool on pans for 15 minutes. Serve warm or at room temperature.
Notes
To check for proper gluten development, use the windowpane test: Pinch off a small piece of dough, and carefully stretch to a thin sheet. If dough stretches into a translucent sheet without tearing, it is ready. If dough tears, it's not quite ready.

To test for doubling, quickly press the tips of two fingers ½ inch into dough. If dents remain, the dough has doubled in size.