Peanut Butter Sweet Rolls with Chocolate Drizzle
Indulge in these light and fluffy sweet rolls with just a touch of peanut butter filling and a delicious chocolate glaze.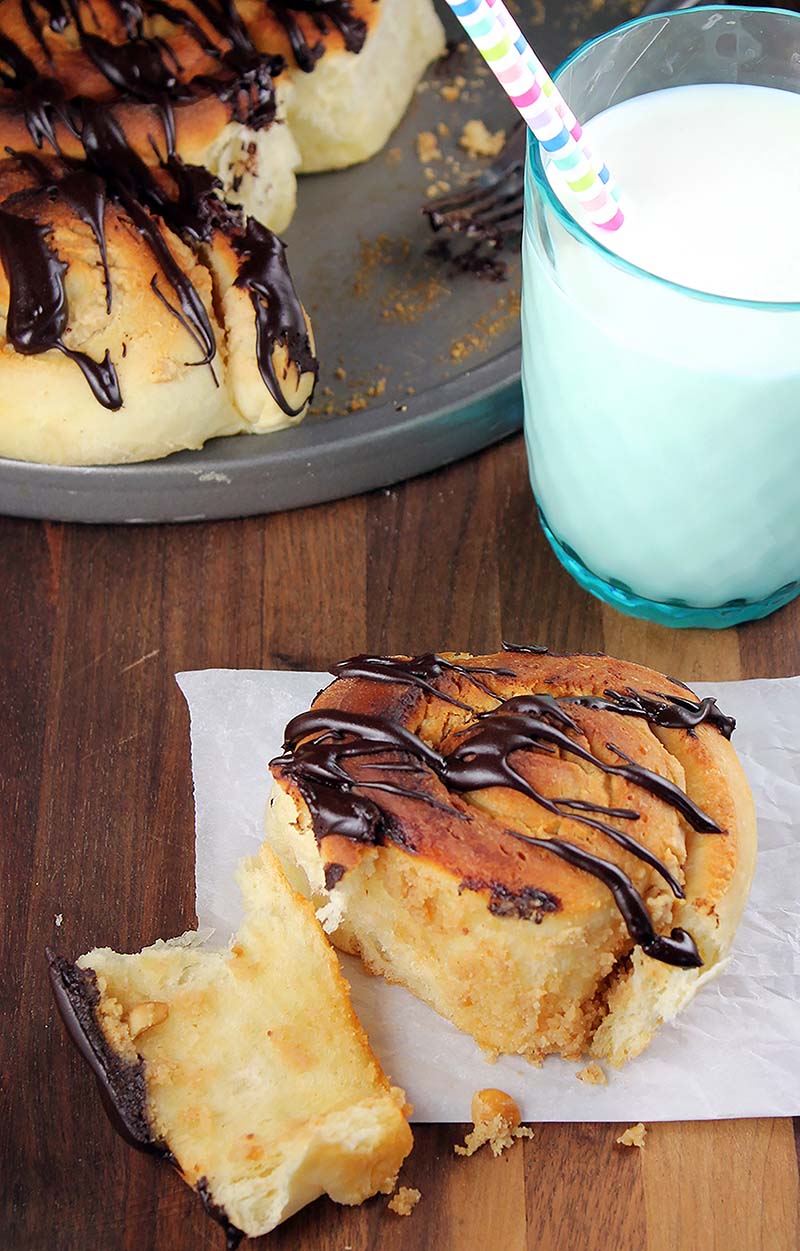 Ingredients
For the dough:
1 cup warm milk (about 110-115°F)
¼ cup melted butter
1 egg
¼ cup sugar
1 package (2¼ tsp, ¼oz, 7g) RED STAR Quick·Rise Yeast
3-4 cups bread flour
1 tsp salt
For the filling:
4 oz cream cheese
½ cup crunchy peanut butter
⅓ cup powdered sugar
For the chocolate glaze:
½ cup cocoa powder
½ cup powdered sugar
4 Tbsp milk
Instructions
Add milk, butter egg, sugar and yeast into a mixing bowl and whisk together to combine. Let set 5 minutes or until mixture starts to bubble. Add 1 cup of flour and salt to the yeast mixture. Stir together adding 1- 2 cups of additional flour until dough comes together.


Turn dough onto a floured surface and knead for 3 to 5 minutes, until dough is smooth and no longer sticky. Add more flour as needed, until dough is soft and elastic. Cover and let rest 45 minutes to 1 hour.


Prepare filling: In a mixing bowl combine peanut butter, cream cheese, butter and powdered sugar until smooth.


Roll dough to about a 10x12- inch rectangle. Spread filling evenly over dough. Roll up from the long side, pinching the seam together. Cut into 12 slices with a sharp serrated knife. Place on a greased baking sheet about 2 inches apart. Cover and let rise about 1 - 1½ hours.


Preheat oven to 350°F. Bake for 12-15 minutes or until rolls are golden brown. Cover loosely with foil the last 5 minutes to prevent over-browning.


Prepare glaze: Mix cocoa powder and powdered sugar together and whisking in milk, 1 tablespoon at a time until desired consistency. Drizzle over baked rolls.


Serve warm or at room temperature. Best if enjoyed within 1 day of baking. Store leftovers, covered in refrigerator.


Recipe created by Miss in the Kitchen.