Panettone Monkey Bread
Authors: Jeff Hertzberg and Zoë François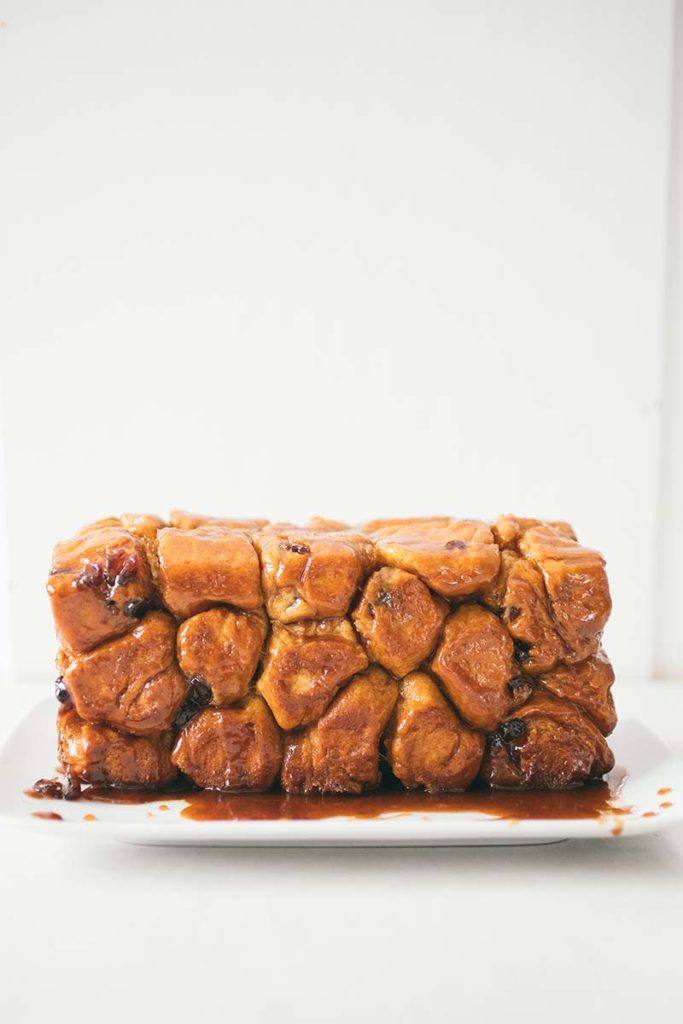 We are big fans of sweet dough (especially around the most wonderful time of the year), and while we often choose gigantic cinnamon rolls, we will never say no to monkey bread. Over the years we've made Classic Monkey Bread, Pumpkin Spice Monkey Bread, and even Crock Pot Monkey Bread, and now we are adding Panettone Monkey Bread to the list. The Panettone dough comes from our Holiday and Celebration Bread in Five book (a fabulous Holiday gift, wink wink), and works well in this adaption; it's studded with orange, lemon, and dried fruit, coated in sugar and butter and then more sugar and butter. It's the perfect way to start out Christmas break (or even just Monday morning).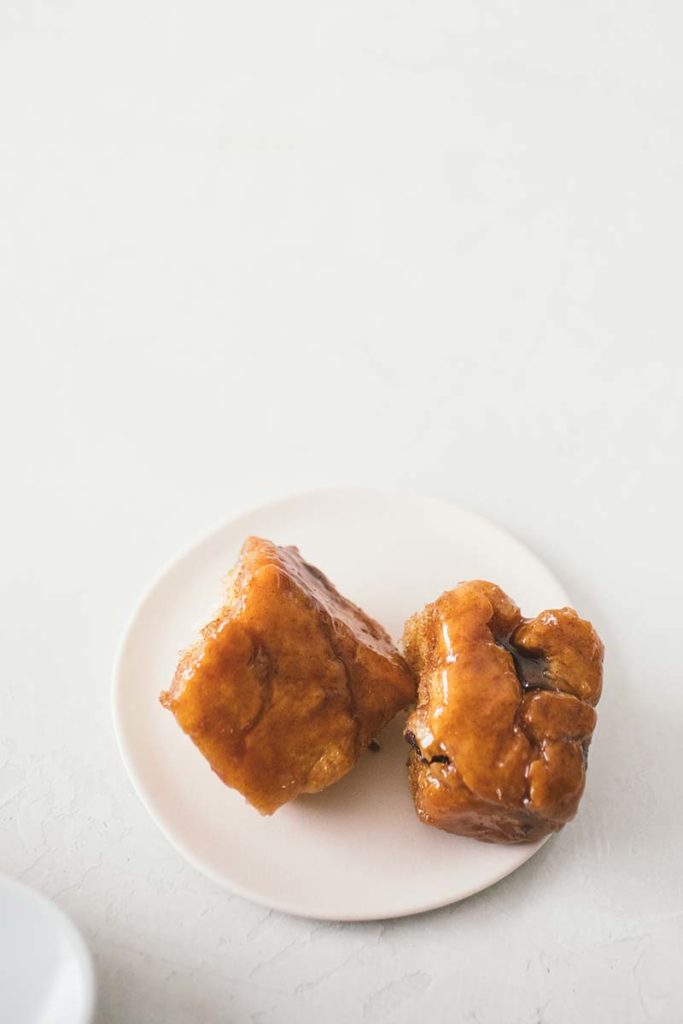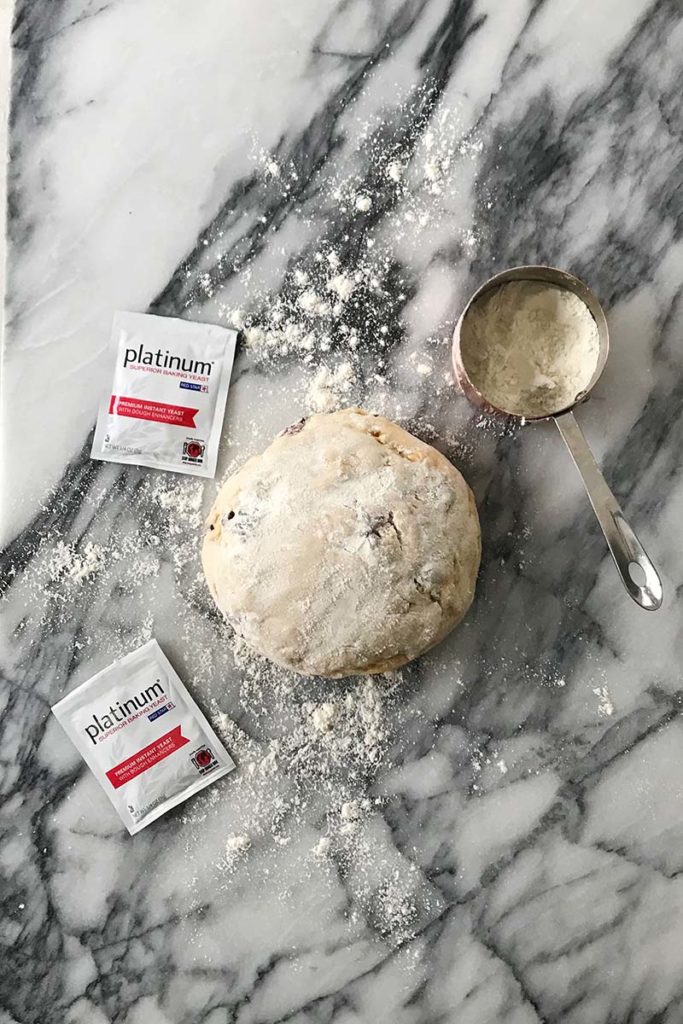 You can watch how to make the Panettone Monkey Bread in our instagram video highlights.

Panettone Monkey Bread
This bread is studded with orange and cranberry (or the dried fruit of your choice) and then coated in sugar and cinnamon. It's easy and beautiful, and a perfect addition to your holiday dessert table.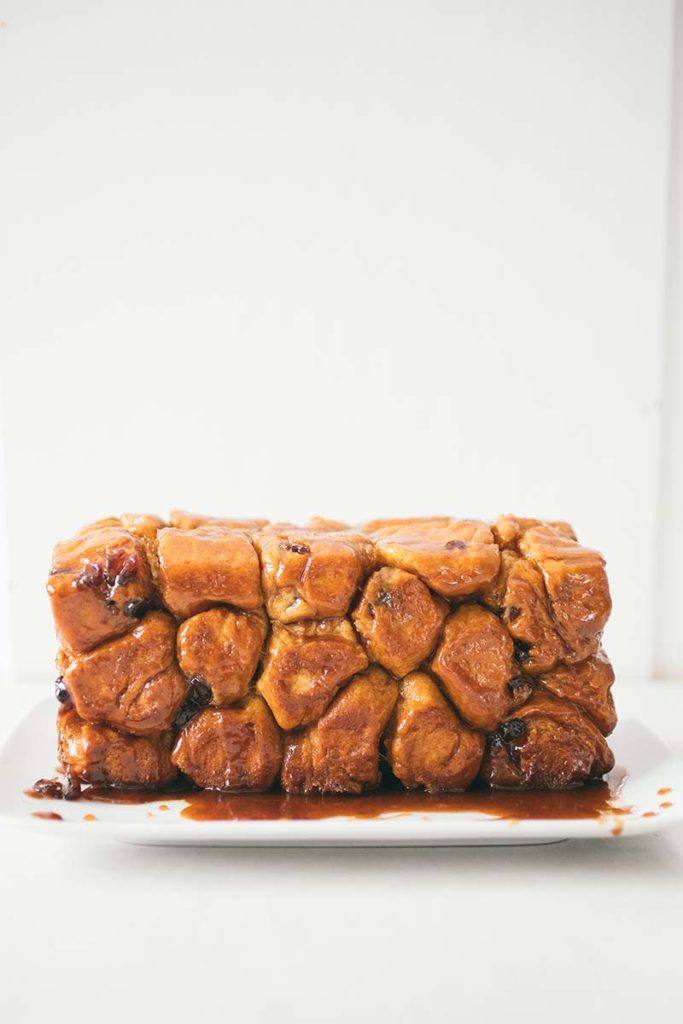 Ingredients
For the Panettone Dough:
(from Holiday and Celebration Bread in Five cookbook)
1½ cups (340g) lukewarm water (100˚F or below)
1 tablespoon (10g) Platinum Yeast
1 tablespoon (17g) kosher salt
½ cup (170g) honey
8 large eggs, room temperature
1 cup (2 sticks | 225g) unsalted butter, melted and slightly cooled
1 teaspoon lemon extract
2 teaspoons pure vanilla extract
2 teaspoons lemon zest, grated
2 cups (340g) mixed dried and/or candied fruit (We used a mixture of dried cranberries and candied orange peel, but golden raisins, dried pineapple, dried apricots, and dried cherries are all good options.)
7½ cups (1065g) all-purpose flour
For the filling:
5 tablespoons unsalted butter, plus more for greasing the pan
1 cup (200g) granulated sugar
1 tablespoons plus 1 teaspoon ground cinnamon
For the caramel topping:
4 tablespoons unsalted butter
¼ cup brown sugar
¼ teaspoon salt
1 to 2 tablespoons Triple Sec (optional)
Instructions
Make the dough: Mix the water, yeast, salt, honey, eggs, melted butter, extracts, and lemon zest in a 6-quart bowl or lidded (not airtight) food container.


Mix in the dried fruit and flour without kneading, using a heavy-duty stand mixer (with paddle attachment), a dough whisk, or a spoon. If you're not using a machine, you may need to use wet hands to incorporate the last bit of flour. The dough will be loose, but firm up when chilled (don't try using it without chilling).


Cover (not airtight) and allow to rest at room temperature until dough rises for 2 hours.


The dough can be used as soon as it's chilled after initial rise. Refrigerate the container and use within 5 days.


Make the monkey bread: Generously butter a 9x4x4-inch Pullman Pan or 10-cup Bundt pan.


Dust the surface of the refrigerated dough with flour and cut off a 1½ pound (cantaloupe-size) piece. (See our book for more recipes with this dough.) Divide the dough into about 30 equal pieces. Roll the dough into small balls. If the dough is sticking to your hands, coat your palms with a small amount of soft butter. Melt 5 tablespoons butter in a bowl. Combine the granulated sugar and cinnamon in a second bowl. Drop the dough balls into the butter and then coat them with the cinnamon sugar.


Place the balls in the prepared pan.


Cover pan with plastic wrap. Allow the dough to rise for about 1 hour.


Preheat the oven to 350˚F, with a rack placed in the center of the oven.


Make the topping: In a small pot, melt 4 tablespoons butter, and then add any remaining cinnamon sugar, the brown sugar, and the salt. Add the triple sec (optional). Stir to combine and cook over low heat.


Set the bread pan on a baking sheet. Pour topping over bread right before going into the oven. Bake for about 40 minutes, or until caramelized and set.


Allow the bread to cool for 5 minutes.


Invert the loaf onto a serving tray. Serve warm.
---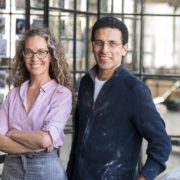 Jeff Hertzberg and Zoë François met in their children's music class in 2003 and have written bread cookbooks with more than 715,000 copies in print. Jeff, a doctor by training, is a self-taught baker who grew up eating great bread and pizza in New York City, and longed to recreate it himself. Zoë is a pastry chef and baker trained at the Culinary Institute of America. Her work appears in blogs all over the United States, and her dessert menus grace fine restaurants in the authors' hometown, Minneapolis, Minnesota. Jeff and Zoë were among the very first cookbook authors to support their readers with personal responses on their website, BreadIn5.com, beginning in 2007, where they blog about their super-fast yeast breads.