Orange Cheesecake Lattice Bread
This sweet bread has a hint of cinnamon in the dough and a sweet, rich cream cheese center any cheesecake fan is going to go nuts over!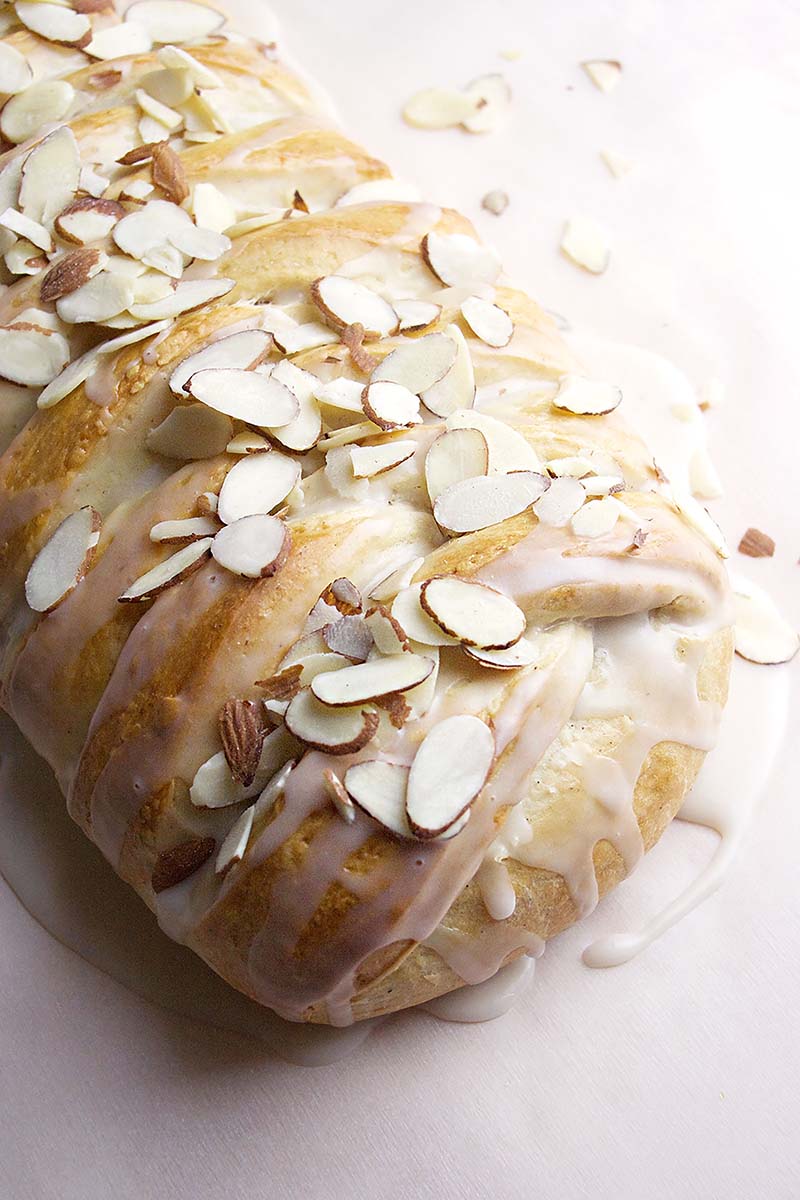 Ingredients
For the dough:
3 Tbsp granulated sugar
½ tsp cinnamon
1 tsp orange zest
3 ½ cup unbleached all-purpose flour
1 package (2¼ tsp, ¼oz, 7g) RED STAR Platinum Superior Baking Yeast
¼ cup + 1 Tbsp unsalted butter, melted and cooled
1 cup of lukewarm milk
1 tsp salt (I used Alaea Hawaiian Sea Salt)
For the filling:
4 oz. cream cheese, softened
¼ cup granulated sugar
1 tsp orange zest
1 Tbsp butter, room temperature
½ tsp almond extract
¼ tsp vanilla extract
¼ tsp lemon juice
1 egg white (for egg wash)
For the glaze and topping:
1 cup powdered sugar
½ tsp vanilla extract
½ tsp lemon juice
2 Tbsp milk
⅓ cup sliced almonds (optional)
Instructions
See recipe video below.


In a stand mixer bowl, add sugar, cinnamon and orange zest; stir to combine.


Add flour, yeast, butter, milk and salt. Mix until dough forms then knead for 5 minutes (use dough hook attachment).


Oil a clean bowl, turn dough in the bottom of the bowl then flip over so all sides are oiled. Cover with a towel and let it rise for an hour.


Make the filling: Start with the cream cheese in the clean and dry bowl of a stand mixer fitted with paddle or whisk attachment and mix on medium to whip the cream cheese so it's smooth and lump-free. Add sugar, orange zest, butter, almond extract, vanilla extract and lemon juice. Mix on medium until ingredients are evenly incorporated.


Roll risen dough into a rectangle, approximately 11x17-inches. Use fingers to make dough edges straight and corners squared.


Transfer to a sheet pan lined with parchment paper or silicone mat. Visually, divide dough in thirds lengthwise and cut 1-inch strips crosswise down the length of the outer thirds.


Cut off the 4 corner flaps.


Spread filling in the center third of dough.


Fold the cut strips over the filling at a diagonal, alternating side to side.


Cover and let it rest for half hour.


Preheat your oven to 350°F while dough is rising.


Brush egg white over risen dough. Bake for 35-40 minutes, until crust is light brown. Let cool on pan for half an hour.


Make the glaze: In a bowl, combine powdered sugar, vanilla, lemon juice and milk. Add more/less milk to achieve desired consistency.


Drizzle over the cooled bread. Top with sliced almonds (optional).


Recipe created by Try Anything Once Culinary.