One-Hour Sun-Dried Tomato, Basil, and Mozzarella Focaccia
The bread is soft and chewy, loaded with tangy sun-dried tomatoes, and the basil is the perfect complement to the tomatoes. Of course, everything is better topped with a little cheese. This focaccia is fast, easy, and ready in 1 hour, proving it's possible to have fresh homemade bread with short notice.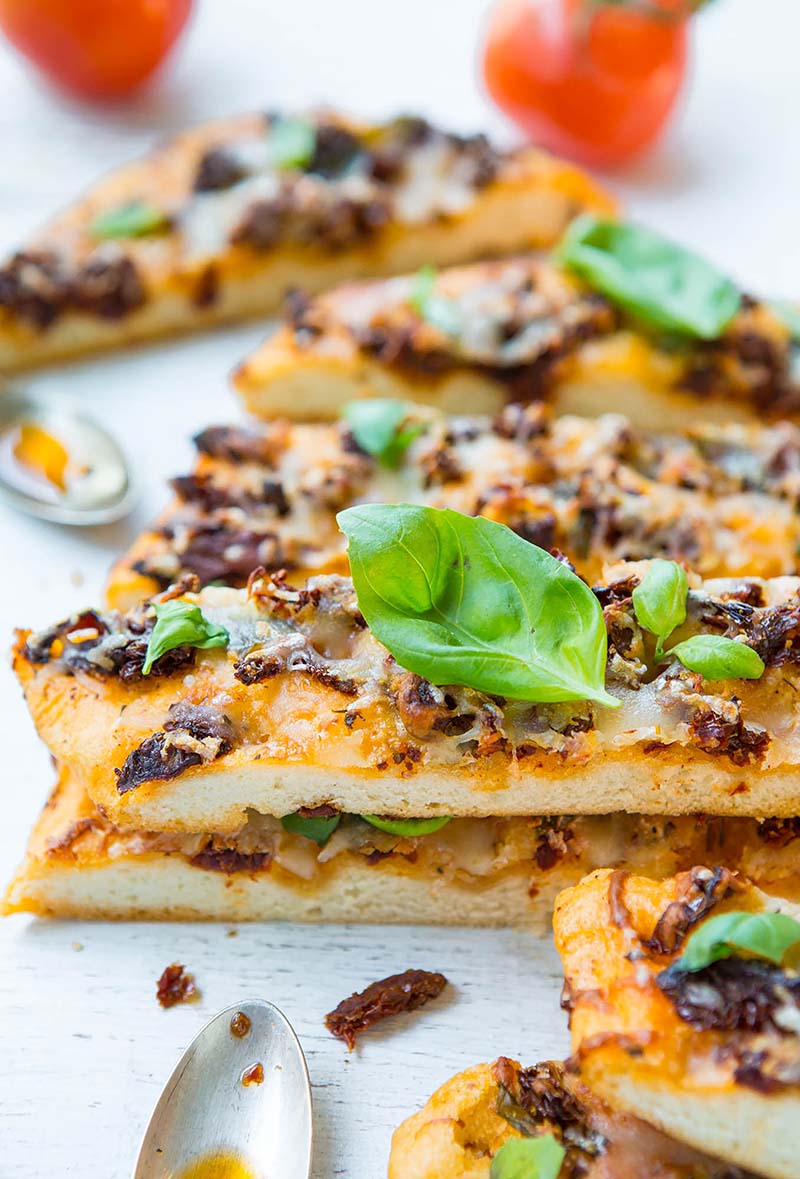 Yield:
One 8x10-inch focaccia
Ingredients
2 cups all-purpose flour
¾ cup water at 120-130°F
1 package (2¼ tsp, ¼oz, 7g) RED STAR Platinum Superior Baking Yeast
2 Tbsp olive oil
1 tsp granulated sugar
½ tsp salt, optional and to taste
One 8.5-ounce jar sun-dried tomatoes in olive oil, julienne or thin slices
About 10 fresh torn basil leaves, divided (generous pinches of dried basil may be substituted, to taste)
1½ cups shredded Mozzarella cheese, loosely packed when measuring
Instructions
To the bowl of a stand mixer fitted with the dough hook (or large mixing bowl and hand-knead), combine flour, water, yeast, oil, sugar, optional salt (remember the tomatoes are salted and so is the cheese), and knead for about 5 minutes, or until dough is soft, smooth, and has come together in a firm mass. If hand-kneading, you may need to knead a few minutes longer.


Turn dough out onto a silicone mat-lined countertop (provides nice traction) or just the bare counter. Roll the dough into a large oval or rectangle (shape doesn't matter) until it's about ½-inch thick and covers about two-thirds of a standard (about 17-inches) baking sheet.


Place rolled dough onto a silicone mat-lined or cooking sprayed baking sheet.


Cover with plastic wrap and allow to rise for about 25 minutes.


While dough rises, preheat oven to 350°F.


After 25 minutes, using your fingertips, create dimples evenly over the surface of the dough. It's okay to press almost all the way down because the dough will re-inflate quickly.


Evenly top with sun-dried tomatoes and oil. Some of the oil will runoff, that's okay.


Evenly top with half the torn basil leaves or sprinkle with dried basil; reserve remainder for after baking to garnish.


Evenly top with cheese.


Bake for about 23 to 26 minutes, or until bread is cooked through and the cheese is melted and golden. Baking time will vary based on how juicy or oily your tomatoes are, how much cheese was added, and oven and climate variances. Watch your bread and not the clock.


Garnish with reserved basil and serve immediately. If during baking your bread rose and it's quite puffed and you prefer the cosmetic look of flatter bread, use the blunt end of a wooden spoon to create dimples, thereby flattening the bread. Bread is best warm and fresh, but will keep airtight for up to 2 days. Before eating leftovers, heat for 5 seconds in microwave to soften.


Recipe created by Averie Cooks.