One-Hour Soft Buttery Breadsticks: Salted and Cinnamon-Sugar
Warm and fresh from the oven, these buttery breadsticks are ridiculously good. They're soft, fluffy, tender, and make your house smell amazing while baking. There's only one hour that separates you from warm, fresh, homemade bread.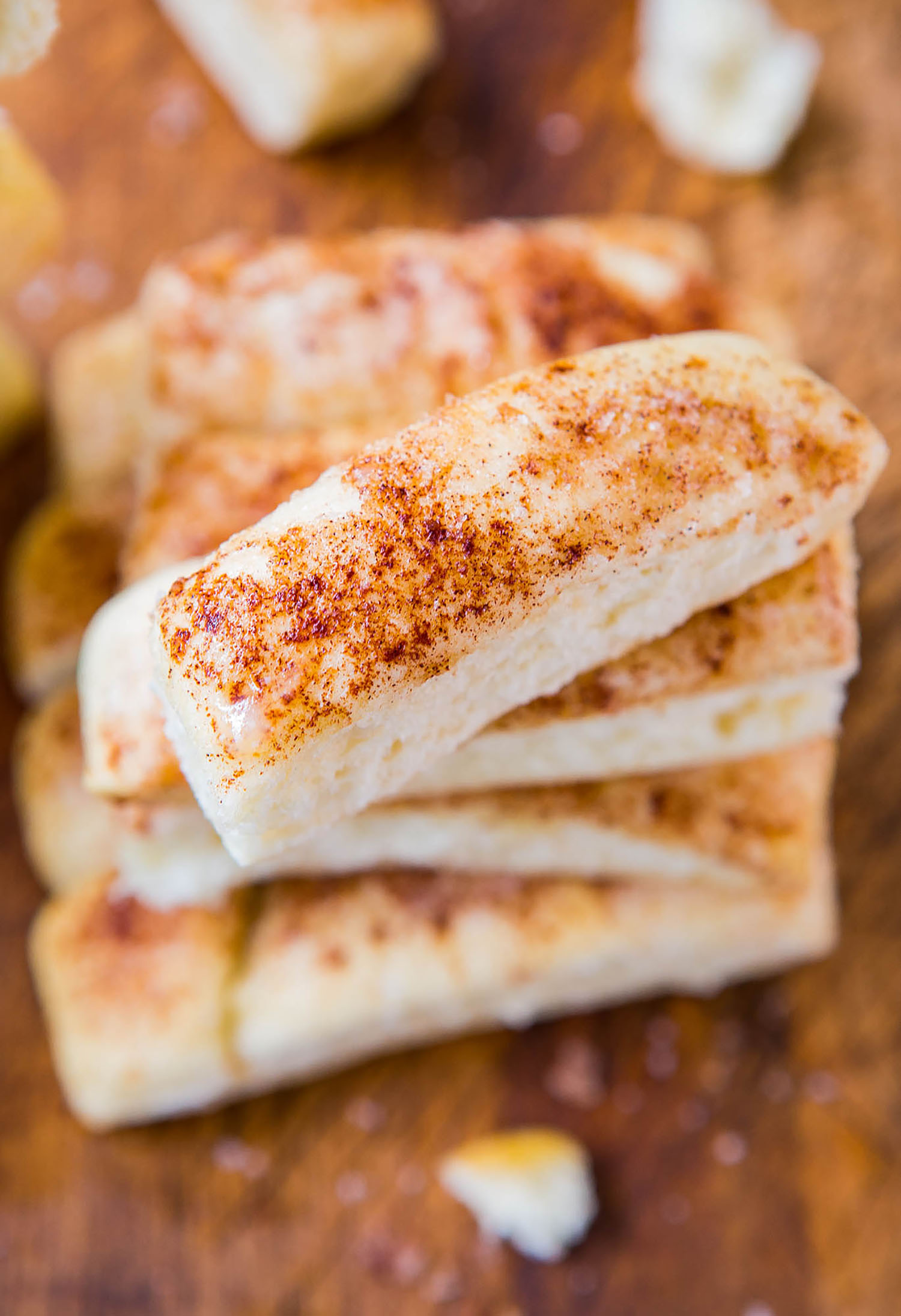 Yield:
22 small breadsticks
Ingredients
2¼ cups all-purpose flour
1 cup water (120-130°F)
1 package (2¼ tsp, ¼oz, 7g) Platinum Yeast
1 Tbsp olive oil
1 tsp granulated sugar
½ tsp salt, optional, and to taste
¼ cup unsalted butter, melted for brushing/drizzling, divided
Kosher or sea salt, for topping optional
Cinnamon-sugar (2 Tbsp sugar + 1 tsp cinnamon, stir to combine) for topping, optional
Instructions
To the bowl of a stand mixer fitted with the dough hook (or large mixing bowl and hand-knead), combine flour, water, yeast, oil, sugar, optional salt, and knead for about 7 minutes, or until dough is soft, smooth, and has come together in a firm mass. If hand-kneading, you may need to knead a few minutes longer.


Turn dough out onto a silicone-lined or greased standard-sized baking sheet.


Using a rolling pin, roll dough into a rectangle that's approximately 8x12-inches, and about 1-inch thick. No need to measure, just eyeball it and roll into a rectangle that covers about two-thirds of a standard baking sheet.


Score the dough with a pizza cutter. One long slice down the middle, and then 11 vertical slices, creating 22 breadsticks. Depending on the size and shape of your dough, and your size preference for breadsticks, you may get more or less breadsticks.


Cover the pan with a piece of plastic wrap and place it in a warm, draft-free place to rise, about 30 minutes.


Preheat the oven to 350°F.


Before baking, generously brush dough with about half of the melted butter (or a vegan buttery spread); reserve remainder.


Optional: sprinkle with Kosher salt and/or cinnamon-sugar. (Other flavors to try: Parmesan cheese, chives, garlic or onion powder, poppy or sesame seeds.)


Bake for about 20 minutes, or until slightly golden, firm to the touch, and cooked through. After baking, drizzle with remaining melted butter. Breadsticks are best warm and fresh, but will keep airtight for up to 2 days. Before eating leftovers, heat for 5 seconds in microwave to soften them up, adding a pat of butter if desired.


Recipe created by Averie Cooks.