Nutella Babka
Swirl upon swirl of chocolate hazelnut spread and a buttery, nutty streusel topping make this babka one decadent and delicious bread.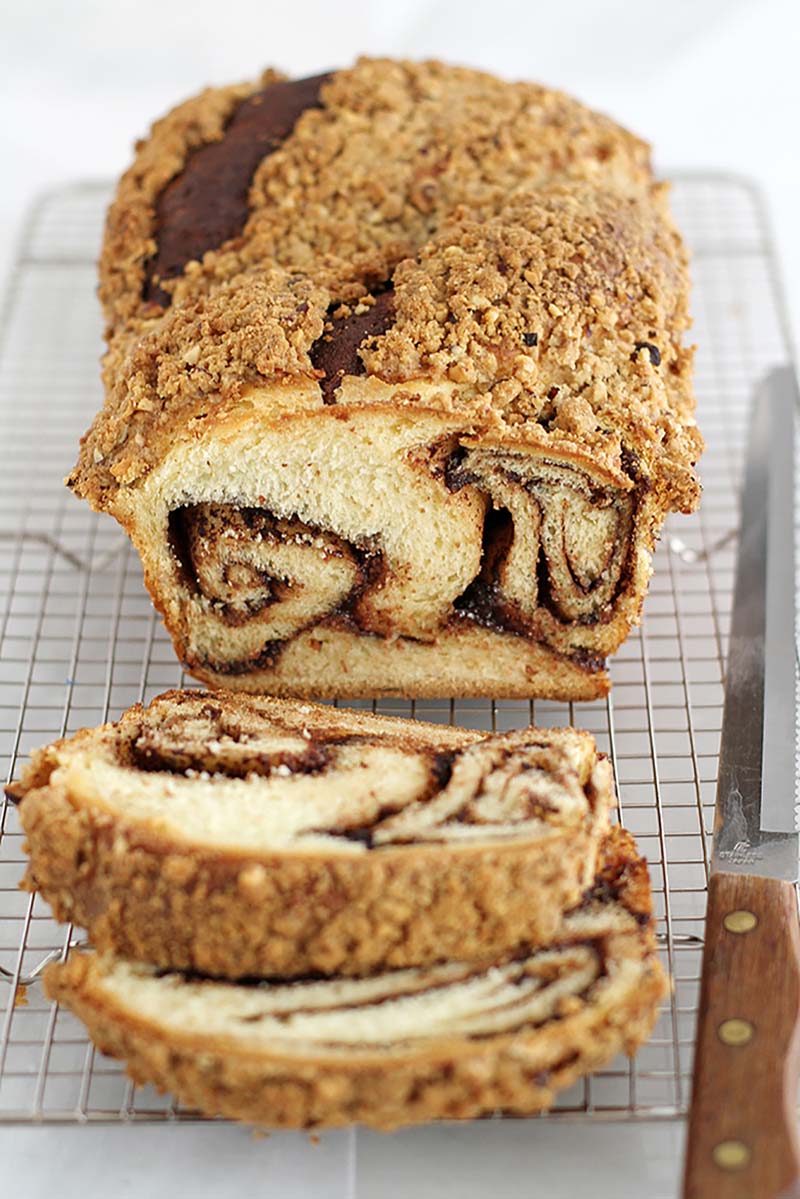 Ingredients
For the bread:
¾ cup warm milk (110-115°F)
1 package (2¼ tsp, ¼oz, 7g) RED STAR Active Dry Yeast
6 Tbsp unsalted butter, softened
6 Tbsp granulated sugar
1 tsp vanilla
4 egg yolks
3¼ cups all-purpose flour, plus more for kneading and shaping
½ tsp salt
egg wash (1 egg beaten with 1 Tbsp water), for topping
For the filling:
1 (13 oz) jar Nutella, or your favorite chocolate hazelnut spread
For the streusel topping:
½ cup all-purpose flour
½ cup packed light brown sugar
¼ cup chopped hazelnuts
¼ cup (1/2 stick) cold unsalted butter, cut into ¼-inch cubes
Instructions
In a small bowl, combine warm milk and yeast; stir to dissolve yeast. Let sit 10 minutes until yeast is foamy.


Meanwhile, in a large bowl or bowl of a stand mixer, beat butter and sugar on medium speed 1 to 2 minutes until light and fluffy. Beat in vanilla and egg yolks, one at a time, beating well and scraping down sides of bowl after each addition.


Add flour, salt and yeast mixture to bowl; stir just until a dough forms. Using the stand mixer fitted with the dough hook attachment, knead dough on medium speed 4 to 5 minutes, adding a few more tablespoons of flour if needed until a smooth, soft, elastic and only slightly sticky dough forms; OR, turn dough out onto a well-floured surface and knead by hand 10 minutes, adding a few more tablespoons of flour if needed until a smooth, soft, elastic and only slightly sticky dough forms.


Shape dough into a ball and place in a large, lightly oiled bowl; turn to coat. Cover with plastic wrap and let rise in a warm place 1 hour to 1½ hours until doubled.


Punch down risen dough. On a lightly floured surface, use a rolling pin to roll dough into roughly an 18-by-18-inch square. Use a spatula to spread Nutella evenly on top of dough.


Roll up dough tightly like a jelly roll. Use palms to gently roll into a 24-inch (2-foot) long log. Twist log into a figure 8, then twist into a figure 8 one more time, pinching seams to seal. Place dough in a well-greased 9-by-5-inch loaf pan. Cover with plastic wrap or a tea towel and let rise in a warm place 40 to 45 minutes until the loaf just begins to peek over the top of the pan and is nearly doubled.


Meanwhile, heat oven to 350°F. In a medium bowl, combine all ingredients for the streusel except the butter. Using a pastry cutter or your fingers, cut in the butter until mixture resembles coarse crumbs. Place bowl in refrigerator until loaf is ready to bake.


Brush the top of the loaf lightly with egg wash. Sprinkle and gently pat as much streusel as you can on top of loaf. Place loaf pan on a baking sheet (to catch any streusel drips), then place baking sheet on center rack of oven. Bake 50 minutes to 1 hour until golden brown and a toothpick inserted in the center comes out clean.


Remove loaf from pan; transfer to a cooling rack to cool completely before slicing.


Recipe created by Girl Versus Dough.