Nut-filled Butterhorns
It seems many nationalities claim these dainty rolls are from their ethnic heritage. It is no wonder as they add a delightful treat to any occasion.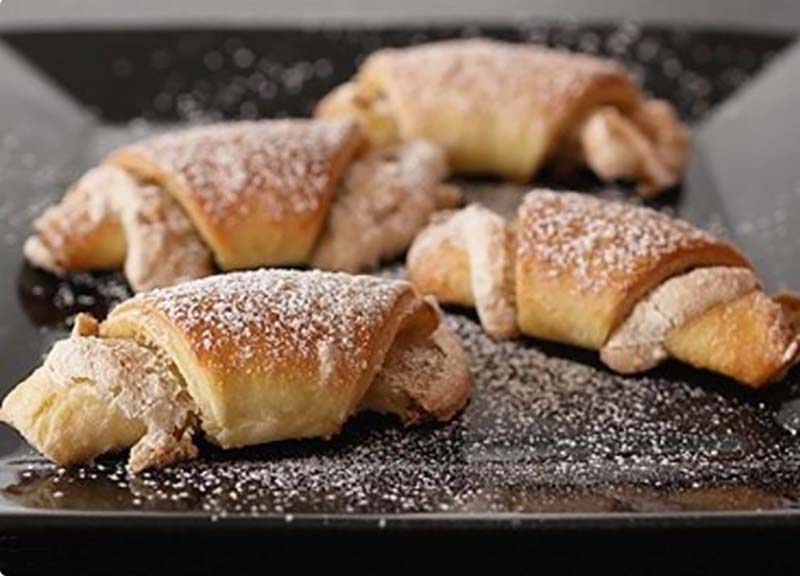 Ingredients
For the dough:
4 cups all-purpose flour
1 Tbsp sugar
1 tsp salt
2 packages (4½ tsp, ½oz, 14g) RED STAR Active Dry Yeast
¼ cup water
½ cup sour cream
1 cup butter, room temperature
4 egg yolks
For the filling:
4 egg whites
1 cup sugar
1 tsp vanilla
1 cup walnuts, finely chopped
Instructions
Bread Machine Method
Place room temperature ingredients into pan in the order recommended by bread machine manufacturer. Select DOUGH setting. When kneading is complete, remove pan from machine and cover. Continue with Refrigerating, Shaping and Baking directions.
Traditional Method
In mixing bowl, combine 1½ cups flour, sugar, salt and yeast. Heat water, sour cream and butter to 120-130°F (butter does not need to melt). Add to flour mixture; blend on low speed. Add egg yolks; beat 2 to 3 minutes on medium speed. By hand, stir in enough remaining flour to make a soft dough. Cover bowl with plastic wrap.
Refrigerating, Shaping and Baking
Chill dough 3 to 24 hours. This is a rich dough and will rise very little. Since this recipe makes 64 butterhorns, half of dough could be made after 4 hours; the rest later. If you are only making ½ of recipe, prepare half of filling.


Prepare filling: Beat egg whites to soft peak stage. Gradually beat in sugar and vanilla. Beat again until stiff. Gently fold in finely chopped nuts.


Divide dough into 8 parts. Roll out one at a time on work surface sprinkled with confectioners' sugar. (Cover and refrigerate the rest.) Shape dough into a ball, then roll from center in all directions to an 8-inch circle. Add more confectioners' sugar to board for easy rolling. Dough can be patched by pressing with fingers and rolling to smooth. Cover circle with a thin layer of Filling. Cut into 8 wedges. Roll up, beginning at rounded edge. Place on ungreased pan; bake immediately in preheated 375°F oven for 15 to 20 minutes. Remove from pan, cool on rack. If desired, dust with in confectioners' sugar before serving.


Use Active dry yeast for this recipe. Instant yeast is not recommended for refrigerated dough. Visit our Lessons in Yeast & Baking for more information on baking.


Recipe featured at My Kitchen Addiction.