No Knead Rosemary & Cheese Dutch Oven Bread (and video)
This simple no-knead recipe requires very little effort. Mix the dough the night before you plan to bake the bread and let it sit on the countertop overnight. Shape it and let it rise for two hours then bake it in a piping hot Dutch oven. This is one yeast bread you are sure to love time and time again.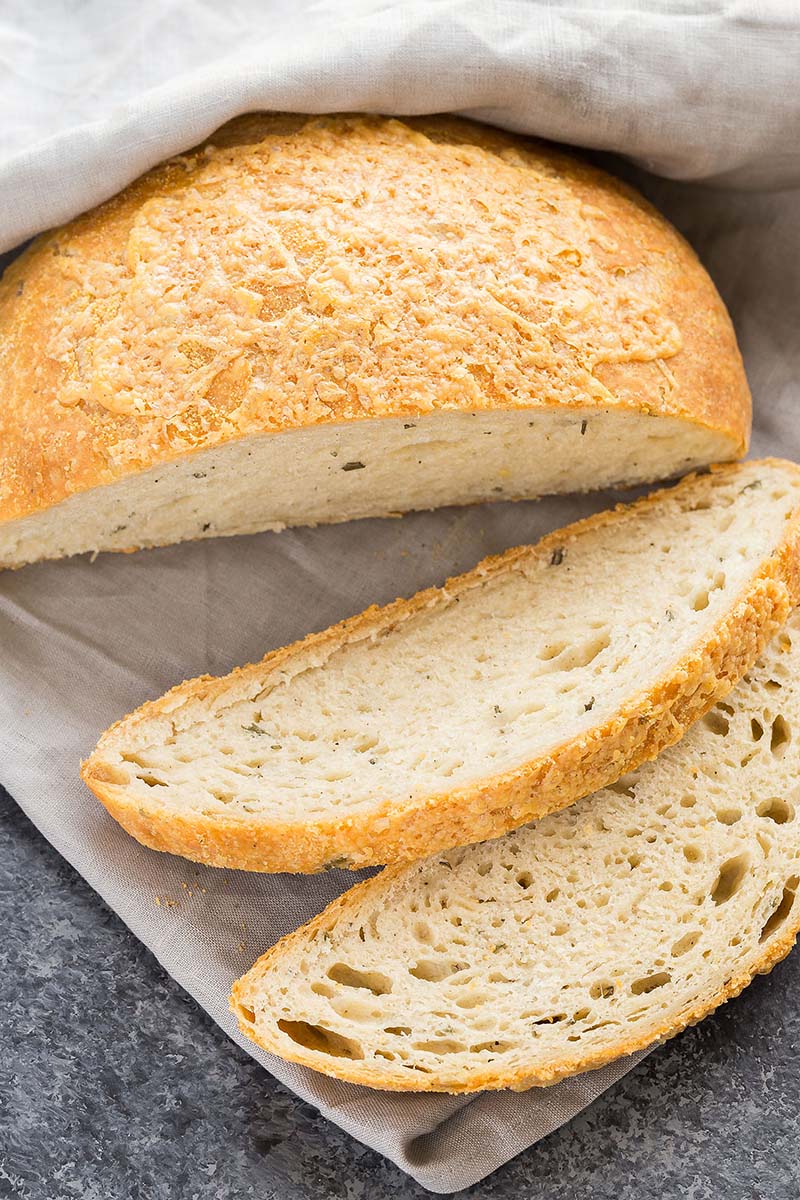 Ingredients
3½ cups bread flour
1½ tsp salt
1 package (2¼ tsp, ¼oz, 7g) RED STAR Active Dry Yeast
1 cup grated Gruyere cheese
1 Tbsp freshly chopped rosemary
½ tsp ground black pepper
12 ounces luke warm water
½ cup cornmeal
Instructions
Watch recipe video below.


In a large bowl, combine the flour, salt, yeast, ¾ cup of the cheese, and rosemary. Stir with a whisk. Slowly pour in the water. Stir with a wooden spoon until well blended and the dough forms into a ball.


Cover the bowl with plastic wrap and let it set on the counter overnight, 8-24 hours.


Turn the dough out onto a lightly floured surface. With well-floured hands, flatten the dough into a 9-inch circle, then fold it over onto itself and shape it into a ball. Place the dough into a lightly greased bowl that is smaller that the Dutch oven you plan to bake it in. Cover the bowl with a tea towel and let rise for 2 hours or until doubled in size.


Meanwhile, position the oven rack to the lower third of the oven and set a 4 to 6-quart Dutch oven on the rack. Preheat the oven to 450ºF.


Once the dough has risen, remove the Dutch oven from the oven and remove the lid. Use caution, it will be hot -- use oven mitts to handle the Dutch oven! Sprinkle the bottom of the Dutch oven generously with cornmeal. Carefully place the dough inside and sprinkle the top with remaining cornmeal. Place the lid on the Dutch oven and return it to the oven.


Bake for 30 minutes. Remove the lid from the Dutch oven and sprinkle with remaining cheese. Bake uncovered for an additional 15 -20 minutes. Turn the bread out of the Dutch oven and place it on a wire rack to cool completely.


Recipe created byBaked by an Introvert.