Naan
An easy to make Indian Flatbread that is ready to eat, fresh and hot from the oven in about an hour using Quick Rise Yeast and a mixer to do the kneading for you.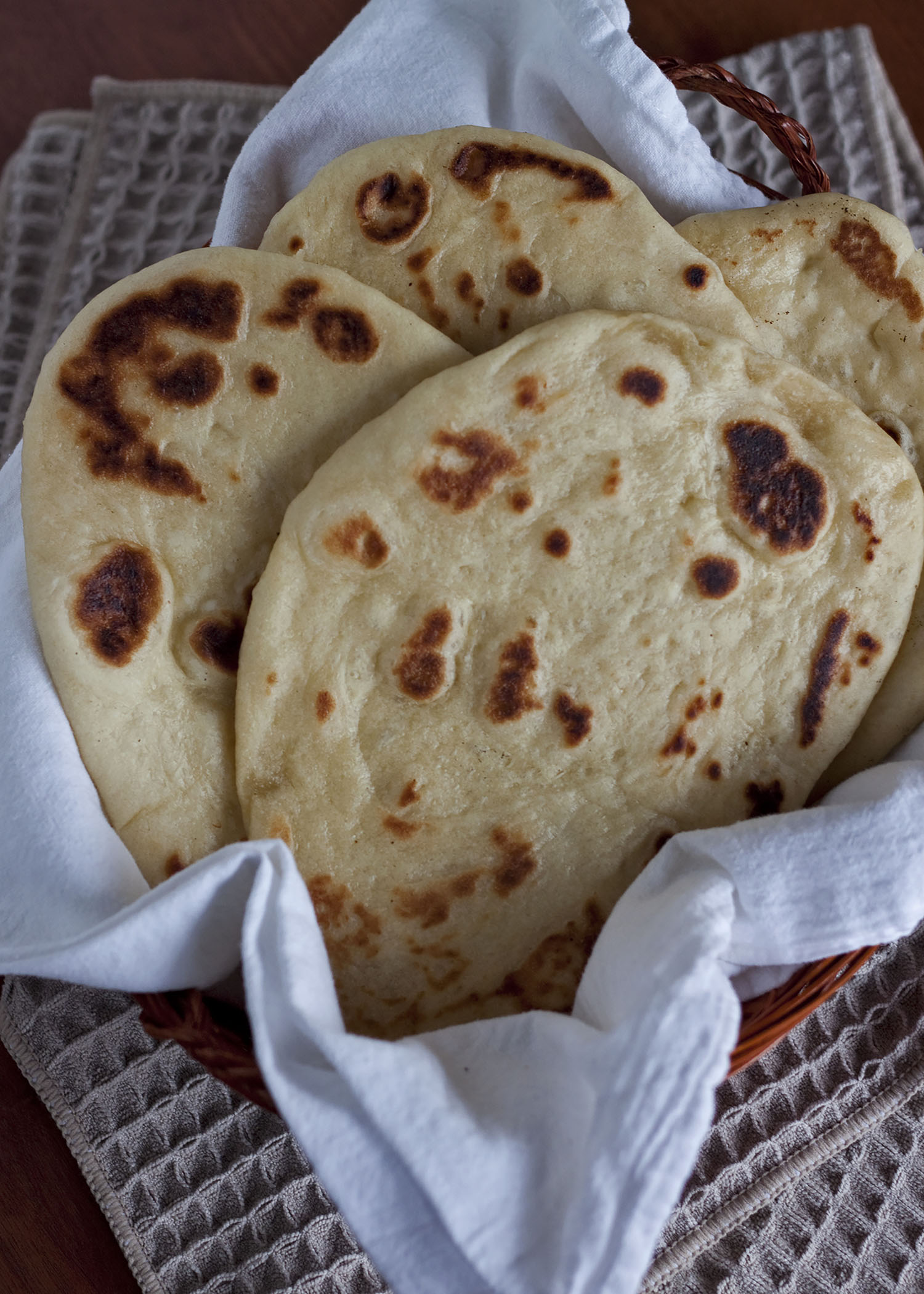 Yield:
6 naan (flatbreads)
Ingredients
2½ - 3 cups all-purpose flour
1 package (2¼ tsp, ¼oz, 7g) RED STAR Quick∙Rise Yeast
2 tsp sugar
⅛ tsp baking soda
1 tsp salt
¾ cup warm water (120-130°F)
¼ cup oil
¼ cup full fat plain yogurt
Melted butter - enough for brushing after baking
Instructions
In a large mixer bowl, combine 1½ cups flour, yeast, sugar, baking soda, and salt. Add warm water, oil, and yogurt to flour mixture. Blend at low speed until moistened; beat 1 minute at medium speed. Switch to the dough hook and gradually mix in enough of the remaining flour to make a smooth dough. Knead for 5 minutes.


Place dough in lightly oiled bowl and turn to grease top. Cover; let rise until dough doubles, about 45 minutes.


Preheat oven to 400°F with a pizza stone on the center rack. (At least 30 minutes before baking naan so the pizza stone gets very hot.)


Punch the dough down, and divide dough in to 6 pieces. Let it rest five minutes covered. Roll out each piece of dough in to a tear drop shape about 8 inches long and ¼ inch thick.


Cook naan two at a time, use a spray bottle to lightly mist each piece of dough with water and put it wet side down on the pizza stone. Cook for about 2 minutes until the bottom is lightly browned and starting to puff. Spray with additional water and flip the naan over and cook an additional 2 minutes.


Remove from the oven and brush lightly with melted butter.


Wrap naan in aluminum foil to keep them warm until ready to serve.


Recipe created by Barbara Bakes.
Notes
You can also grill your naan or cook it in a covered cast iron skillet (pictured). This will achieve more of the typical browning.

Cast Iron Skillet Directions: Preheat skillet over medium heat. Use a spray bottle to lightly mist a piece of dough with water and put it wet side down in the skillet. Cover. Cook for about 2 minutes until the bottom is lightly browned and starting to puff. Spray with additional water and flip the naan over, cover, and cook an additional 2 minutes