Multigrain Oatmeal Bread
Nuts, seeds and cracked wheat give this wholesome bread a wonderfully crunchy texture.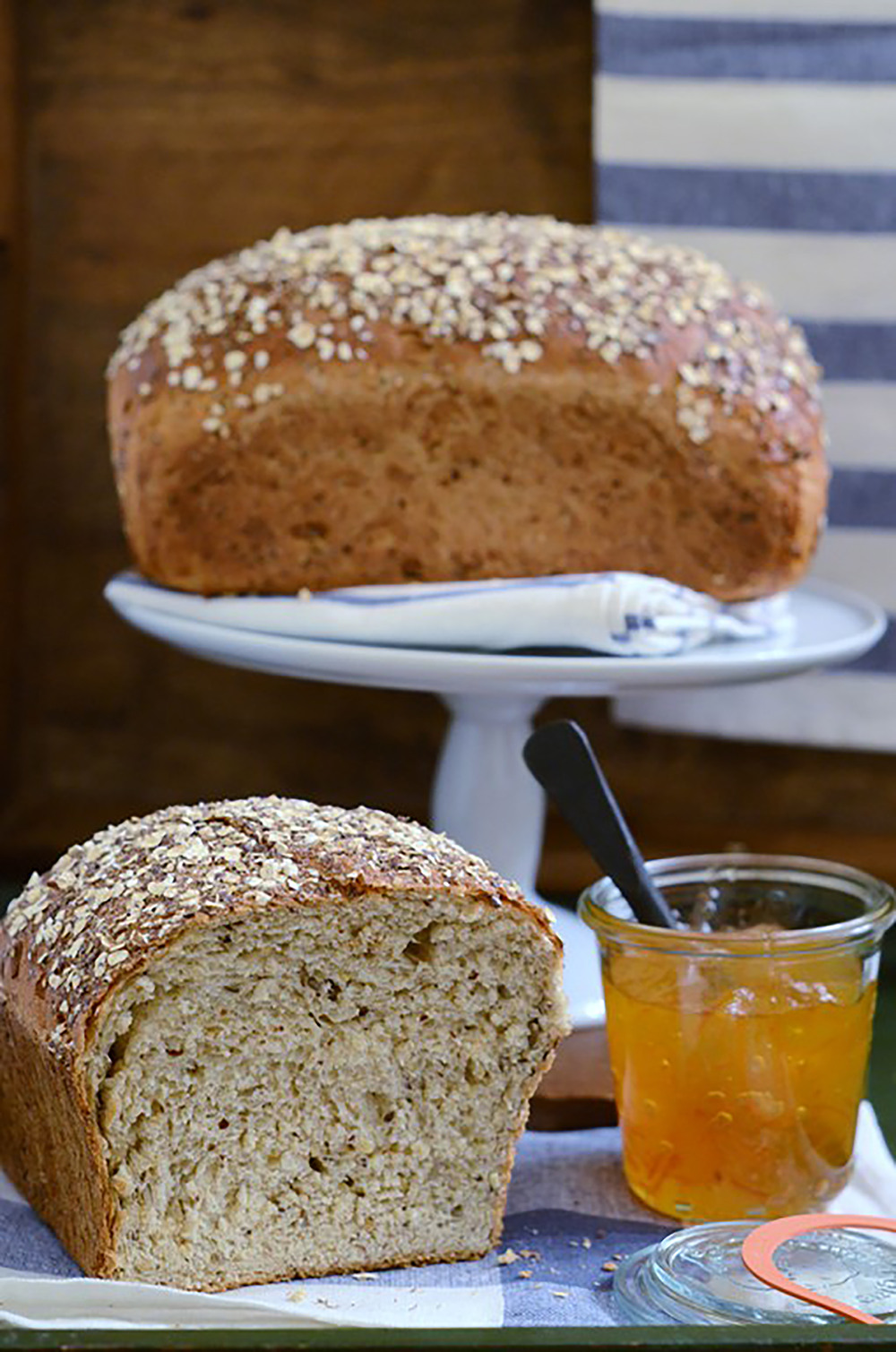 Ingredients
½ cup, plus 1 tsp granulated sugar
½ cup warm water (110-115°F)
4½ tsp (two packages) RED STAR Active Dry Yeast*
1¼ cups boiling water
¾ cup quick-cooking rolled oats
¼ cup cracked wheat
¼ cup vegetable oil
1½ tsp salt
¼ cup flax seeds
¼ cup sunflower seeds
2 large eggs, lightly beaten
1 cup whole wheat flour
4½ cups bread flour, divided
Topping
1 large egg, lightly beaten
3 Tbsp quick-cooking rolled oats
2 Tbsp flax seeds
Instructions
In small bowl, dissolve 1 tsp sugar in warm water. Stir in yeast; let stand for 10 minutes, or until foamy.


In large bowl, combine ½ cup sugar, boiling water, rolled oats, cracked wheat, oil and salt; let cool to lukewarm (around 90-100°F). Stir in yeast mixture, flax seeds, sunflower seeds and eggs.


With dough whisk or wooden spoon, beat in whole wheat flour and 2 cups of bread flour. Using wooden spoon, gradually stir in enough of remaining bread flour to make soft dough. Turn out onto lightly floured surface; knead for 7-10 minutes or until smooth and elastic, adding more flour if necessary.


Place dough in greased bowl, turning to coat all over. Cover with plastic wrap; let rise in warm draft-free place until dough tests ripe, about an hour.


Grease two 8x4-inch loaf pans; set aside.


Punch down dough; turn out onto lightly floured surface. Divide dough in half; shape each portion into ball. Using rolling pin, gently roll each ball into a rectangle the length of loaf pan. Roll up into cylinder; pinch along bottom to seal. Fold each end of loaf in and pinch to seal. Place into prepared pans. Cover and let rise in warm draft-free place for about 1 hour or until doubled in bulk.


Brush egg over loaves, sprinkle with topping of rolled oats and flax seeds. Bake in center of 375°F oven for about 30-35 minutes or until loaves are golden brown and sound hollow when tapped on bottom. Remove from pans; let cool on racks.


*You can substitute Instant (fast-rising) Yeast in place of Active Dry Yeast. When using Instant Yeast, expect your dough to rise faster. Always let your dough rise until ripe. Traditional methods: use equal amounts; Bread Machine: use ½ tsp Instant Yeast OR ¾ tsp Active Dry Yeast per cup of flour in your recipe. Visit our Lessons in Yeast & Baking for more information.


Recipe featured at Food Wanderings.