Multigrain Garlic Knots
A double threat, these multi-grain knots covered in butter and garlic are both scrumptious and hearty.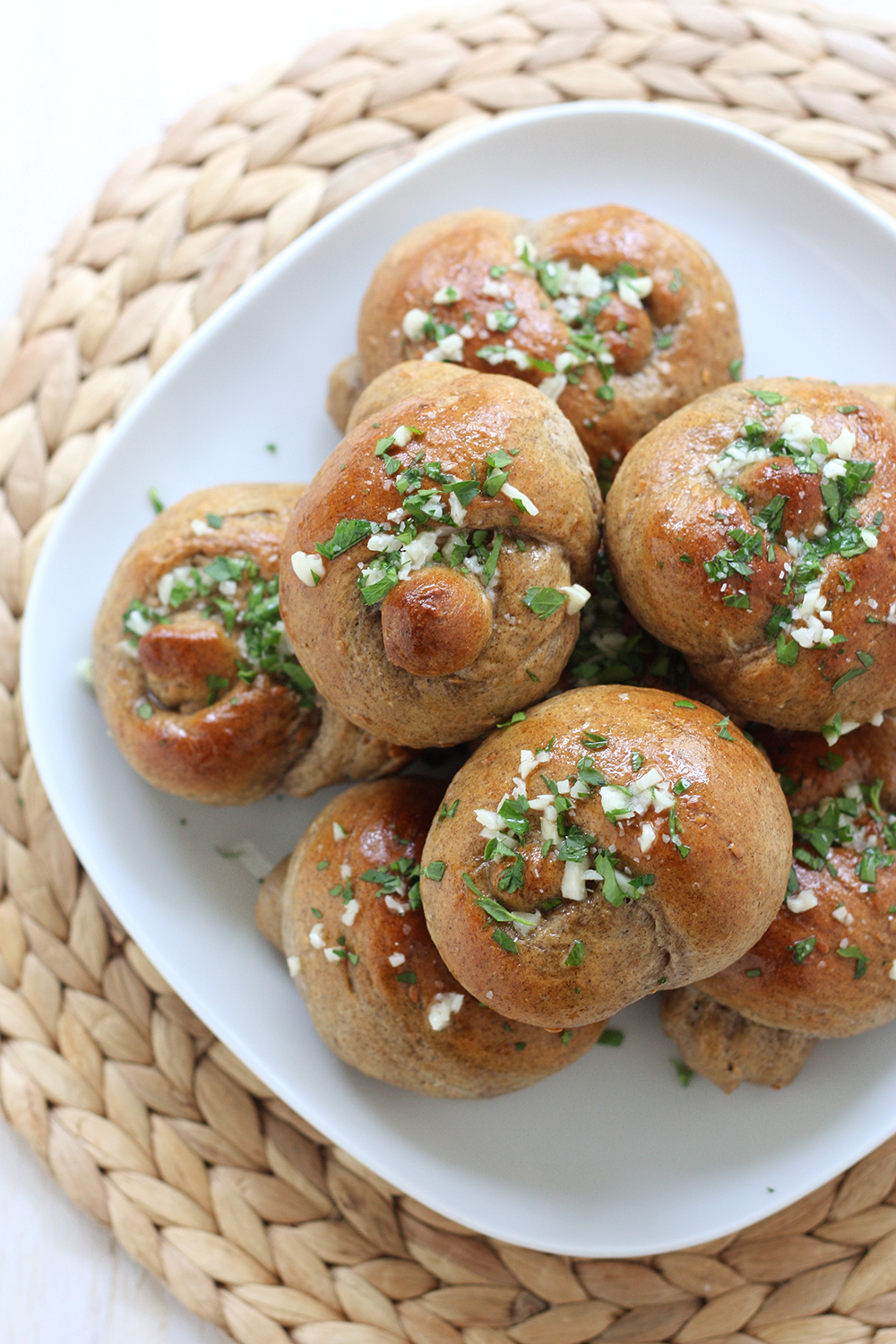 Ingredients
For the knots:
1 cup (237 ml) water
⅓ cup (72 grams) unsalted butter
¼ cup (85 grams) honey
1½ cups (170 grams) whole wheat flour
¼ cup (26 grams) rye flour
⅓ cup (28 grams) old fashioned rolled oats
¼ cup (35 grams) flax seeds
1 package (2¼ tsp, ¼oz, 7g) RED STAR Active Dry Yeast
2 tsp salt
1 large egg
1½ cups (180 grams) all-purpose flour
1 large egg plus 1 tsp water, for egg wash
For the garlic butter:
⅓ cup (72 grams) unsalted butter
4 cloves garlic, minced
1 tsp salt
¼ cup (15 grams) parsley, chopped
Instructions
Warm the water, butter and honey in a small saucepan over medium low heat until butter is melted. Stir until smooth. Remove from heat and let cool for 5 minutes, or until 120-130°F.


In the bowl of a stand mixer fitted with a dough hook, combine the whole wheat flour, rye flour, oats, flax seeds, yeast and salt. Add the warm butter mixture and egg and mix until combined. With the mixer on low speed, add the all-purpose flour ¼ cup at a time until dough clears the bowl but is still slightly sticky to the touch (you may not need all of the flour).


Knead the dough on medium speed until smooth and elastic, about 5-7 minutes. Place the dough in a greased bowl, cover with plastic wrap and let rise in a warm place until doubled, about 1 hour.


Gently punch down the dough to release gases and knead a few times. Let rest for about 5 minutes.


Divide the dough into 12 equal pieces. Roll each piece into a rope about 10 inches long. Use your fingers to tie the dough into a knot. Place on a sheet pan lined with parchment paper. Cover with plastic wrap and let rise for 30-60 minutes, or until doubled.


Preheat oven to 375°F. Brush the knots with the egg wash and bake until golden, about 20 minutes.


To make the garlic butter, melt the butter in a small saucepan over medium low heat. Add the garlic and let cook for 1-2 minutes until fragrant. Add the salt and parsley. Brush butter over the warm rolls. Serve immediately.


Rolls are best the day they are made, but will keep in an airtight container at room temperature for 3 days.


Recipe created by Completely Delicious.