Milk Bread
Commonly found in Asian bakeries, this pillow-soft bread uses Tangzhong to render three tall, spiraled loaves that are airy and delicately sweet, taking your everyday toast to the next level.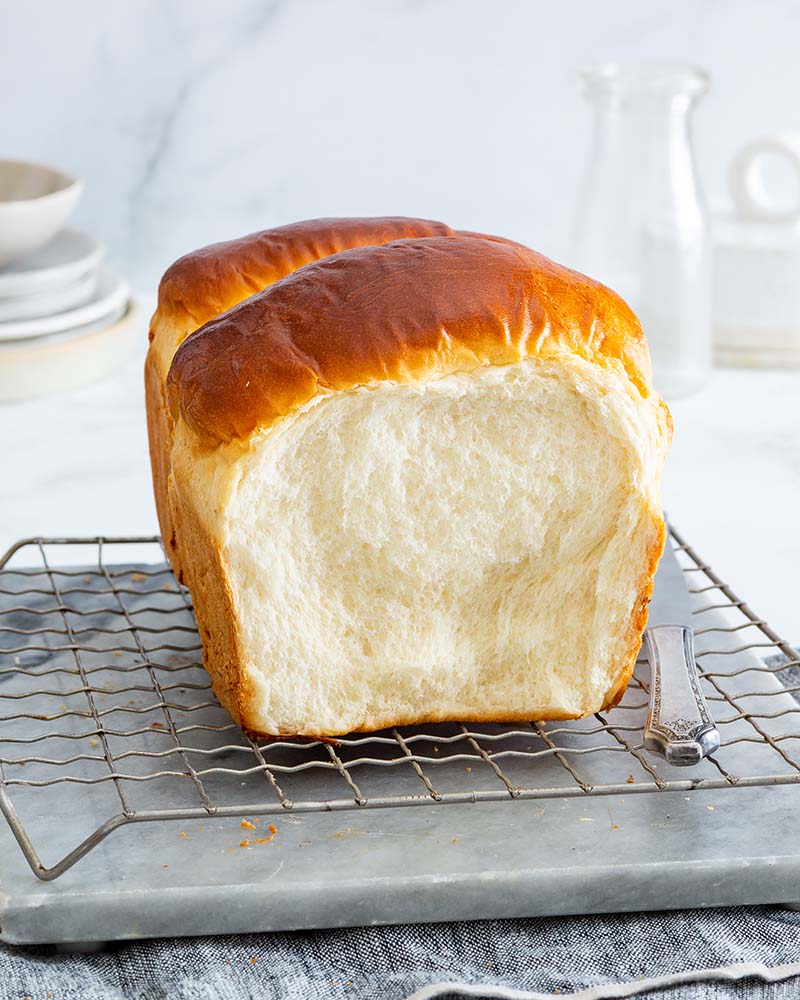 Ingredients
3 cups (375 grams) all-purpose flour
⅓ cup (67 grams) granulated sugar
1 (0.25-ounce) package (7 grams) Platinum Yeast
1 teaspoon (3 grams) kosher salt
⅔ cup (160 grams) warm whole milk (120°F/49°C to 130°F/54°C)
¼ cup (57 grams) unsalted butter, melted
2 large eggs (100 grams), room temperature and divided
1 tablespoon (15 grams) whole milk
Tangzhong (makes about ⅓ cup):
⅓ cup plus 1 tablespoon (95 grams) whole milk
2 tablespoons plus 1 teaspoon (19 grams) all-purpose flour
Instructions
STEP 1. Make Tangzhong: In a small saucepan, whisk together milk and flour. Cook over medium-low heat, whisking constantly, until mixture thickens and registers 149°F (65°C) on an instant-read thermometer and whisk leaves lines on bottom of saucepan. Transfer to a small bowl, and let cool to room temperature before using.


STEP 2. In the bowl of a stand mixer fitted with the paddle attachment, stir together flour, sugar, yeast, and salt by hand. Add Tangzhong.


STEP 3. In a small bowl, lightly whisk together warm milk, melted butter, and 1 egg (50 grams). Add milk mixture to flour mixture, and beat at low speed until a soft dough forms, about 3 minutes. Scrape sides of bowl, and switch to the dough hook attachment. Beat at low speed for 3 minutes. Increase mixer speed to medium-low, and beat for 8 minutes. Check for proper gluten development using the windowpane test. (See Note.)


STEP 4. Lightly oil a large bowl. Shape dough into a smooth ball, and place in bowl, turning to grease top. Cover and let rise in a warm, draft-free place (75°F/24°C) until doubled in size, about 1 hour. (See Note.)


STEP 5. Spray a 9x5-inch loaf pan with cooking spray.


STEP 6. Punch down dough, and turn out onto a lightly floured surface. Divide dough into 3 equal portions (about 260 grams each). Shape each portion into a ball. Roll each ball into a 12x5-inch oval. Place one oval horizontally in front of you. Fold right third over middle third. Fold left side over middle. Using a rolling pin, flatten dough, and reroll into a 12x5-inch oval. Starting with one short side, roll up dough, jelly roll style, into a cylinder. Place seam side down in the center of the prepared pan. Repeat with remaining two portions of dough and place in the pan on either side of the first cylinder. Cover and let rise in a warm, draft-free place (75°F/24°C) until puffed and dough fills pan, 30 to 45 minutes.


STEP 7. Preheat oven to 350°F (180°C).


STEP 8. In a small bowl, whisk together milk and remaining 1 egg (50 grams). Brush top of loaf with egg wash.


STEP 9. Bake until golden brown and an instant-read thermometer inserted in center registers 190°F (88°C), about 30 minutes, covering with foil during last 10 minutes of baking to prevent excess browning. Let cool in pan for 15 minutes. Remove from pan, and let cool completely on a wire rack.
Notes
To check for proper gluten development, use the windowpane test: Pinch off a small piece of dough, and carefully stretch to a thin sheet. If dough stretches into a translucent sheet without tearing, it is ready. If dough tears, it requires more kneading.

To test for doubling, quickly press the tips of two fingers ½ inch into dough. If dents remain, the dough has doubled in size.