Milk Bread Babka
Made with a soft milk bread dough, this babka has swirls of chocolate and almond cream making it simply irresistible. Watch shaping video below.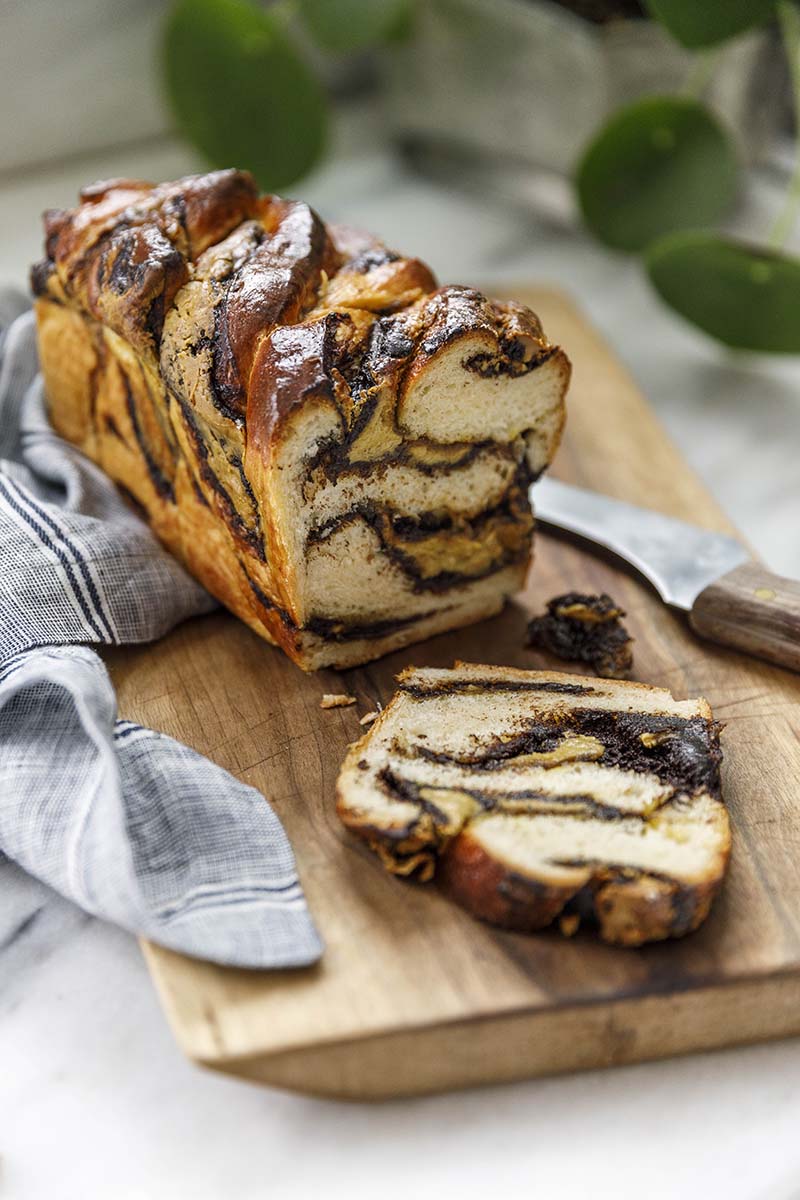 Ingredients
One Milk Bread Honey Buns dough (risen and cooled in refrigerator)
One 12-ounce can of Love'n Bake "Schmear™" Chocolate Filling (*for a homemade version, see below)
Almond Cream
½ cup (1 stick) unsalted butter, softened
½ cup granulated sugar
1 cup almond flour
3 tablespoons all-purpose flour
2 large eggs
¼ cup heavy cream
1 teaspoon almond extract
Generous pinch salt
1 drop green gel food coloring (optional)
Instructions
Assemble the Babka:
Use parchment to line two 8 ½ x 5-inch loaf pans so that the paper drapes over the sides of the pan (this makes it easier to lift the loaf out of the pan). Set aside.


Make the almond cream: Add butter and sugar to mixer bowl. Mix together until creamy and smooth. Add remaining ingredients – except the food coloring. Mix until thoroughly blended. Stir in food coloring to achieve desired color. Set aside.


Roll the chocolate filling between two pieces of parchment into a rectangle that measures just under 13x18-inches. Set aside.


Remove the dough from the refrigerator. Roll it out to a clean 13x18-inch rectangle. Center the chocolate filling onto the dough and gently press to adhere. Remove parchment paper. Then spread the almond cream in an even layer over the chocolate schmear. If the almond cream is very loose, freeze the topped dough for 5-10 minutes to firm the cream before continuing to shape.


Starting from the long side, roll the dough up tightly, as if making a jelly roll, then turn the roll seam-side down on the sheet pan. Cover with parchment and refrigerate for 20 minutes. This makes the dough easier to handle.


When the roll has chilled, first cut it in half crosswise, so you have two equal rolls. Then cut each roll lengthwise down the center, exposing the layers of filling. For each roll, twist the two halves around each other, keeping the cut sides facing up as much as possible. Tuck the loaves into the prepared pans, cover with plastic wrap and let rise until doubled in size, 45 minutes to an hour.


About 15 minutes before baking, preheat oven to 350°F and set a rack to the middle position. Bake until nicely browned and cooked through, 45 to 50 minutes. Transfer the pans to a wire rack to cool, then remove the loaves by lifting the parchment paper. Serve at room temperature. Loaves (wrapped well in plastic wrap) can be frozen for up to a month.




*Homemade Chocolate Filling:
• 4 ounces bittersweet chocolate, finely chopped
• 1 ounces (2 tablespoons) unsalted butter
• 2 tablespoons Dutched cocoa powder
• 1 tablespoon sugar
• pinch salt


In a heatproof bowl, combine all ingredients and place over simmering water, stirring occasionally, until melted. Allow to cool for about 10 - 15 minutes, until the mixture is lukewarm (not hot) but still spreadable. Use a small offset spatula to spread the chocolate over the cooled dough (as per the schmear).


Recipe in partnership with Gesine Prado.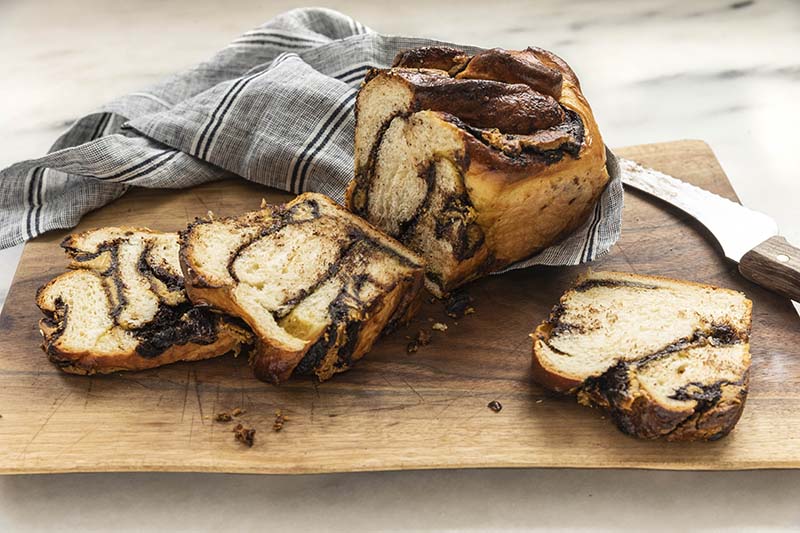 Other variations on this recipe: