Maple Vanilla Cream Stuffed Chai Doughnuts
There is nothing better for a weekend breakfast than fluffy chai-spiced yeast doughnuts filled with a homemade maple vanilla bean cream. Make these easy doughnuts for a fun kitchen project!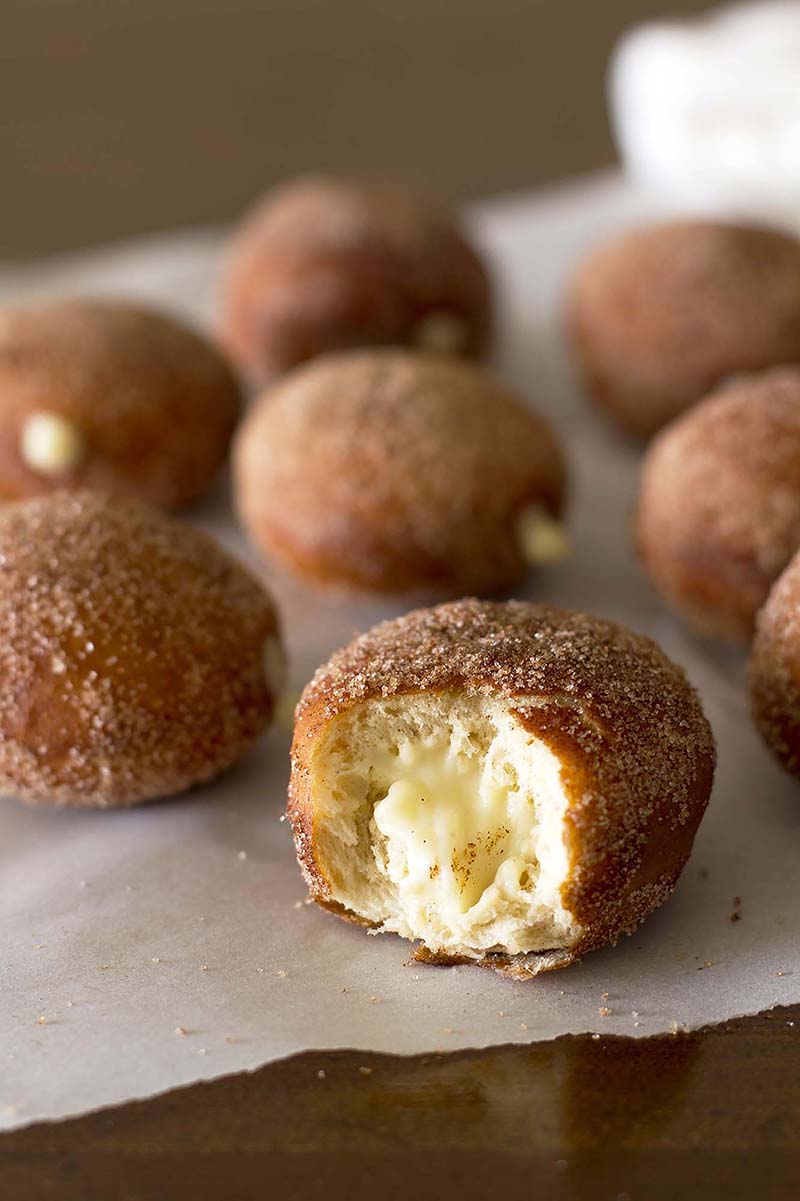 Ingredients
For the cream filling:
3 egg yolks
3 cups whole or 2% milk
½ cup granulated sugar
⅓ cup cornstarch
¼ tsp salt
Seeds from 1 vanilla bean
2 Tbsp pure maple syrup
For the doughnuts:
2 packages (4½ tsp, ½oz, 14g) RED STAR Active Dry Yeast
½ cup warm water (110-115°F)
¼ cup plus 1 tsp granulated sugar
1 bag chai tea
3 cups all-purpose flour
2 tsp salt
¾ tsp cinnamon
½ tsp cardamom
2 Tbsp unsalted butter, softened
2 eggs
Vegetable oil, for frying
For the cinnamon-sugar coating:
¼ cup granulated sugar mixed with 1 Tbsp cinnamon
Instructions
In medium bowl, beat egg yolks. Gradually stir in milk until combined.


In large saucepan, stir sugar, cornstarch and salt until combined. Stir in small amount of milk mixture to form smooth paste. Gradually stir in remaining milk mixture until combined.


Heat saucepan over medium-low heat and cook mixture, stirring constantly, 15 to 20 minutes until mixture thickens and comes to boil. Continue to cook 1 minute, stirring constantly. Remove from heat.


Set pan in larger bowl or pan of ice water to cool quickly. Cool 10 minutes, stirring mixture gently every 2 to 3 minutes. Stir in vanilla bean seeds and maple syrup until just combined. Transfer cream to airtight container. Place sheet of plastic wrap directly on surface of cream to prevent a skin from forming. Seal container and refrigerate at least 1 hour and up to 3 days.


To make doughnuts: In small bowl, whisk yeast, warm water and 1 teaspoon sugar to dissolve yeast. Add chai tea bag. Steep 10 minutes until yeast mixture is foamy, then remove tea bag and squeeze bag to release excess liquid. Discard tea bag.


In large bowl or bowl of stand mixer, whisk 2½ cups flour, remaining ¼ cup sugar, salt, cinnamon and cardamom until combined. Make well in center. Add butter, eggs and yeast mixture. Use wooden spoon or dough hook attachment on low speed to stir mixture until soft dough forms.


On lightly floured surface, knead dough by hand 10 to 15 minutes, adding just enough of remaining ½ cup flour until dough is soft, smooth, elastic and only slightly sticky; OR, using dough hook attachment on medium speed, knead dough in stand mixer 5 to 7 minutes, adding just enough of remaining ½ cup flour until dough is soft, smooth, elastic and only slightly sticky. Shape dough into ball and place in lightly oiled large bowl. Cover with plastic wrap or tea towel and let rise in warm place 1½ to 2 hours until doubled.


Punch down risen dough. On lightly floured surface, roll out dough to ¼-inch thickness. Use 2½-inch round cookie cutter to cut dough into circles (re-roll scraps as necessary). Cover with tea towel and let rest 15 minutes.


Meanwhile, in medium saucepan over medium heat, heat approximately 4 cups vegetable oil to 375°F. Place cinnamon-sugar coating in shallow bowl. Drop doughnuts 2 to 3 at a time in hot oil and fry 30 seconds each side until deep golden brown. Use slotted spoon to transfer doughnuts to paper towel-lined plate to drain, then roll in cinnamon-sugar coating. Repeat with remaining doughnuts.


When cool enough to handle, poke skewer in one side of each doughnut. Attach plain tip to piping bag and fill with approximately 1 cup chilled cream (reserve extra cream for another use, like spooning directly into your mouth). Poke tip in hole of doughnut and pipe about 1 to 2 tablespoons cream into doughnut. Repeat with remaining doughnuts. Serve warm or at room temperature.


Recipe created by Girl Versus Dough.