Malted Yeast Waffles with Apple Cranberry Compote
These Malted Yeast Waffles are rich in flavor, crunchy on the outside, and soft and fluffy on the inside. The Apple Cranberry Compote makes them perfect for a fall weekend breakfast for your family.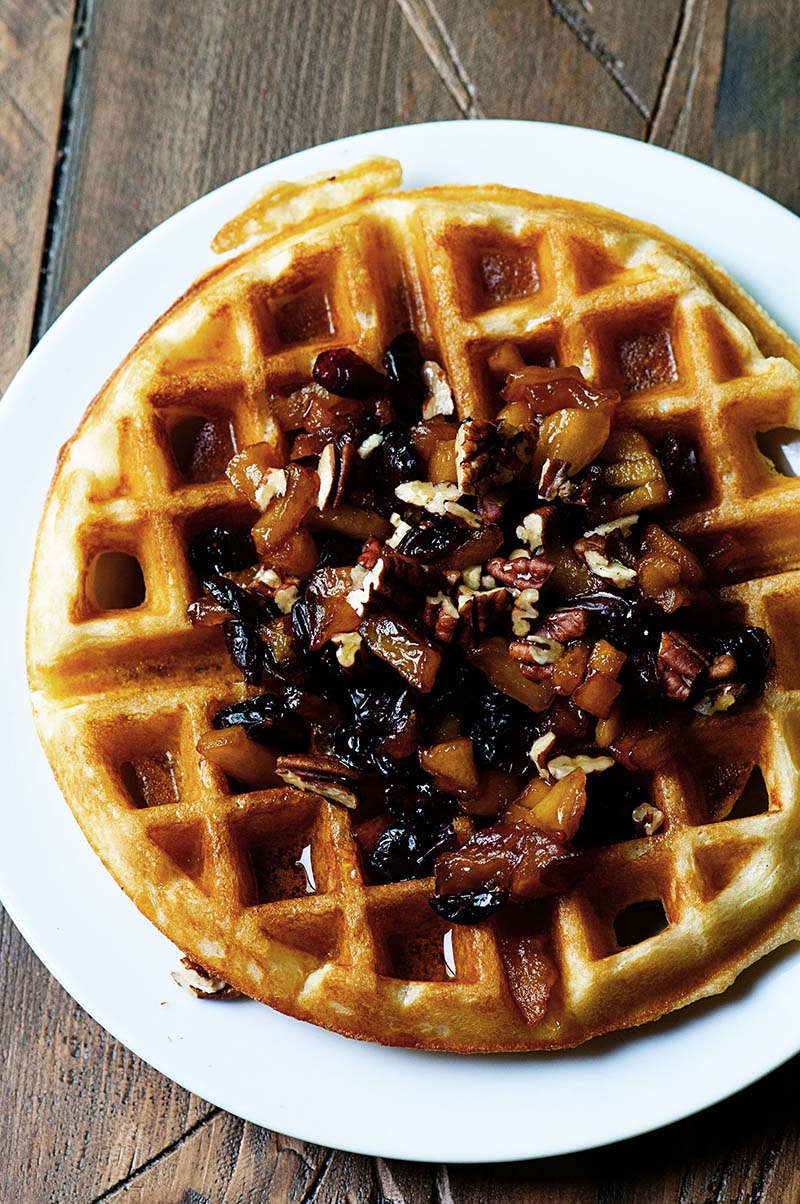 Ingredients
For the compote:
2 large honeycrisp apples, peeled and diced
½ cup apple cider or juice
⅓ cup brown sugar
½ cup dried cranberries
Zest of 1 orange
Pinch of salt (optional)
For the waffles:
2¼ cups whole milk
½ cup malted milk powder
4 oz. unsalted butter, sliced into 8 Tbsp pieces
½ tsp salt
2 Tbsp sugar
½ cup warm water (110-115°F)
1 package (2¼ tsp, ¼oz, 7g) RED STAR Platinum Superior Baking Yeast
2 ½ cups all-purpose flour
2 eggs
¼ tsp baking soda
For the topping:
Chopped pecans
Butter
Maple syrup
Instructions
For the compote: In a sauce pan on medium-high heat, add the apples, apple juice, dried cranberries, lemon zest, and brown sugar. Simmer over medium heat until the apples are tender and the juices are thickened to a thin syrup, 10 to 12 minutes. Season with a pinch of salt. Set aside. (You can serve warm or room temperature.)


For the waffles: In a small pot over medium heat whisk the milk, malted milk, and butter until melted and very warm, but not simmering, about 110-115°F. Add the salt and sugar, whisk, and remove from heat.


While the milk/butter is heating up, in a small bowl combine the ½ cup warm water with the yeast. Let sit until bubbles form, about 5-10 minutes.


In a large bowl add the yeast mixture and the milk/butter mixture together and whisk together.


Add the flour and whisk until fully combined.


Cover with plastic wrap. If you want to make them that day, leave them at room temperature for 2-3 hours until it doubled in size. If you want to let it rise overnight, simply place it in the fridge overnight.


Remove from fridge and let sit on counter for 1 hour if batter was in overnight.


Add the eggs and the baking soda. Whisk until combined.


Using baking spray or melted butter, lightly coat the waffle maker. You can make Belgium or regular size waffles.


Cook waffles until golden and crisp (keep an eye on them so they don't burn).


Top with compote, pecans, butter and maple syrup.


Serve immediately.


Recipe created by Sweet Recipeas.