Light and Flaky Croissants
These take a little bit of effort, but are so worth it!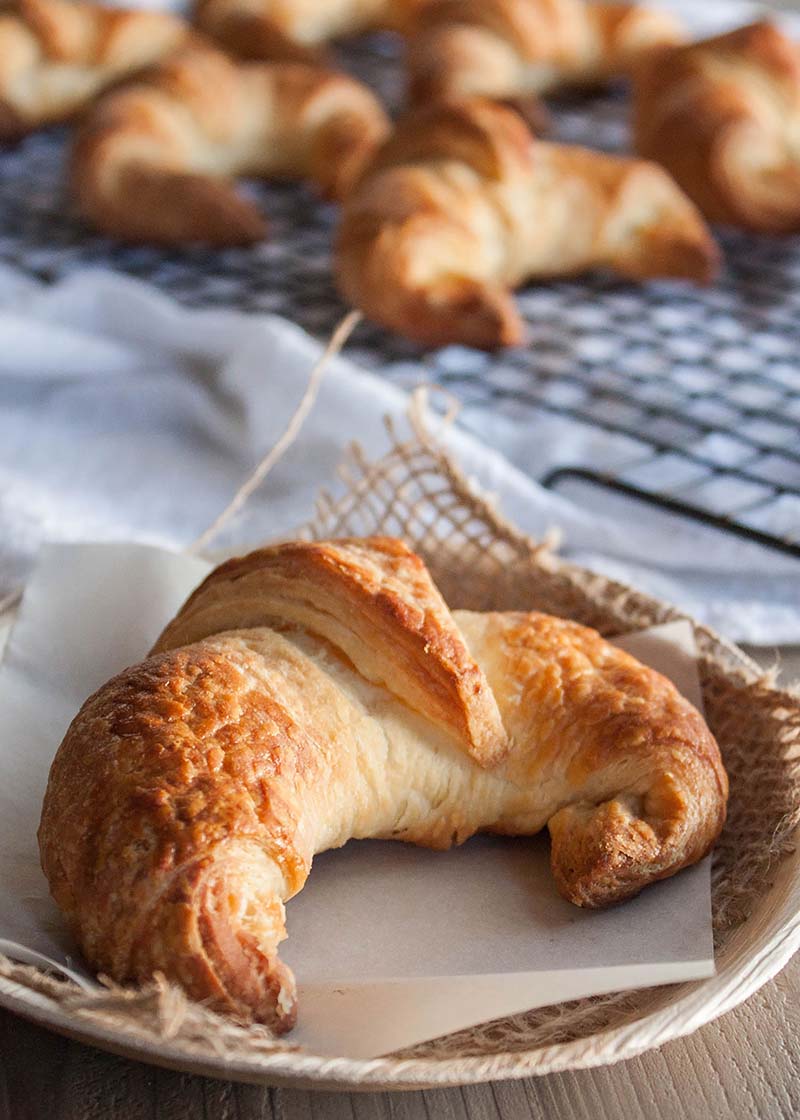 Ingredients
1½ cups milk
¼ cup sugar
1 tsp salt
2 eggs, medium
2 packages (4½ tsp, ½oz, 14g) RED STAR Active Dry Yeast
4⅔ cups bread flour
1½ cups butter
1 egg, beaten
Instructions
In a small saucepan heat milk to 110°-115°F. Pour into a large bowl, stir in the yeast. Add sugar, salt, eggs. Beat with a wire whisk or wooden spoon until smooth.


Stir in 2 cups of bread flour, beat well. Stir in 2 more cups of bread flour. Beat until well combined.


Gradually mix the last ⅔ cup of bread flour in with your hands, pressing flour into dough and turning dough over, until the flour is all worked in. Place dough on a floured surface. Roll dough into a rectangle about ¼-inch thick, always keeping both sides well floured.


Slice butter into ¼-inch thick slices, place on center third of dough. Fold left hand side over center third, then right hand side over both. Pinch seams to seal.


Roll again to a rectangle ¼-inch thick. If butter comes through just spread back in and dust with flour. Repeat the rolling and folding two more times. Let dough rest for 10 minutes.


With a floured rolling pin roll the dough into a rectangle ¼-inch thick. Cut lengthwise in half, then crosswise in half, making four rectangles. Work with each piece separately. Roll out to no less than ⅛-inch thick.


Cut into wedges with wide sides about 3-inch. Roll up each wedge loosely, starting from the wide end. Place point down on greased baking sheets. Lightly curve each roll into a crescent shape. Cover and let rise until indentation remains after lightly touching.


Beat egg and brush on top of croissants.


Bake in a preheated 375°F oven for 12 to 15 minutes until a beautiful golden brown. Cool on wire racks.


Note: The croissants freeze well.


*You can substitute Instant (fast-rising) yeast in place of Active Dry Yeast. When using Instant Yeast, expect your dough to rise faster. Always let your dough rise until ripe. Traditional methods: use equal amounts; Bread Machine: use ½ tsp Instant Yeast OR ¾ tsp Active Dry Yeast per cup of flour in your recipe. Visit our Lessons in Yeast & Baking for more information.


Recipe featured at Sweet Phi.