Lemon Roll Wreath with Gorgonzola Dip (video)
Fluffy lemon yeast rolls shaped in a wreath with a hot Gorgonzola cheese dip - all baked together for a quick and easy appetizer.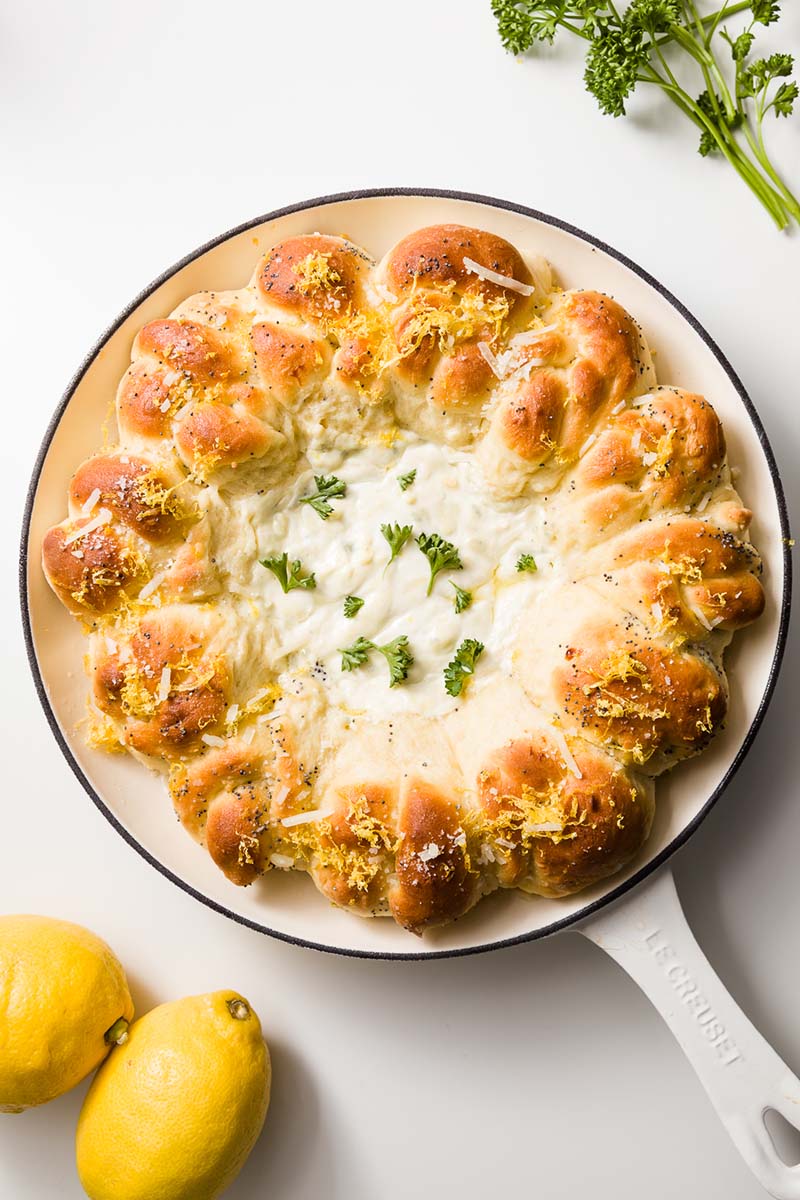 Yield:
12 rolls / 6 servings
Ingredients
For the rolls:
1 package (2¼ tsp, ¼oz, 7g) RED STAR Platinum Superior Baking Yeast
½ Tbsp sugar
2 Tbsp unsalted butter, melted
½ cup warm milk
¼ tsp salt
1 large egg
1¾ cups all-purpose flour
1 tsp poppy seeds
For the Gorgonzola dip:
⅔ cup sour cream
2⅜ ounces Gorgonzola cheese
1½ ounces shredded white cheddar
For the topping:
½ Tbsp lemon juice
½ Tbsp unsalted butter, melted
Zest of 1 lemon
1 Tbsp Parmesan cheese
Fresh parsley, chopped finely, to taste, for garnish
Instructions
Make the rolls: Place yeast and sugar in a large mixing bowl. Mix melted butter and milk in a small bowl. The mixture should feel warm to the touch, but not too hot to touch (110-115°F). Pour over yeast/sugar and stir to combine. Mix in salt and egg. Mix in flour a little bit at a time until the dough comes together. If the dough still feels very sticky, you can add a little bit extra flour.

Turn out onto a floured board and knead for five minutes.


Divide dough into 12 pieces. Roll each piece into a small log, sprinkle the log with poppy seeds, and tie into a knot. Place knots in a circle around the perimeter of a 9½-inch oven-safe skillet. Cover and set aside while you make the dip (the rolls need to rest for ten minutes before baking).


Preheat oven to 350°F.


Make the Gorgonzola Dip: Mix sour cream and Gorgonzola cheese in a small bowl. Mix in white cheddar until fully combined.


Pour dip into the center of the skillet with the dough knots.


Bake for 15 minutes or until the rolls are lightly browned on top.


Make the topping: In a small bowl, mix lemon juice and melted butter. Brush lemon butter over the tops of the rolls.


Distribute lemon zest and Parmesan evenly over the rolls.


Sprinkle parsley over the dip.


Serve immediately.


Recipe created by Cupcake Project.