Lemon Herb Focaccia
Fluffy, soft and tender inside. Buttery and crisp on the outside. A summer salad or a vibrant pasta dish will go wonderfully with this quick, easy to make herbed skillet focaccia recipe.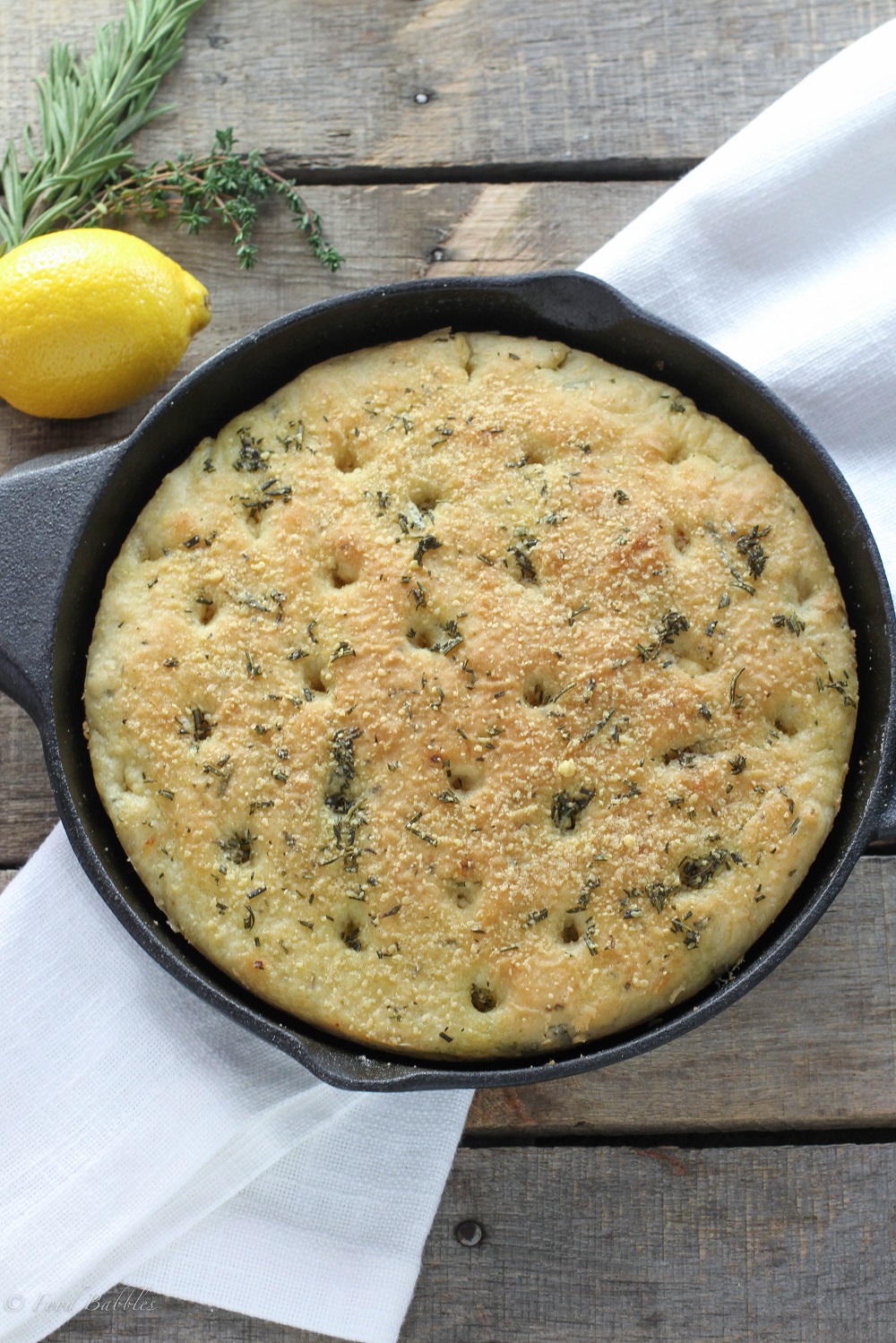 Ingredients
2 cups all-purpose or bread flour
1½ tsp RED STAR Platinum Yeast
½ tsp granulated sugar
½ tsp salt
¾ cup water (120-130°F)
2 Tbsp + 2 tsp olive oil, divided
3 tsp finely chopped fresh rosemary, divided
3 tsp finely chopped fresh thyme, divided
1 tsp lemon zest
½ tsp crushed red pepper flakes
1 Tbsp grated Parmesan cheese
½ tsp sea salt
Instructions
In the bowl of a stand mixer fitted with a dough hook, whisk together 1½ cups flour, yeast, sugar and salt until well combined. Add the water and 2 tablespoons olive oil, 2 teaspoons rosemary, 2 teaspoons thyme, lemon zest and crushed red pepper flakes. With mixer on medium speed, mix until well combined then slowly add ¼ cup flour and mix until dough begins to pull away from sides and begins to look smooth - but will still be sticky.


Sprinkle surface with remaining ¼ cup flour and knead dough until smooth and no longer sticky. Shape dough into a ball and cover with a light kitchen towel.


Preheat oven to 150°F then turn the oven off. Butter or grease a 10"-12" cast iron skillet. Roll dough to size of skillet and fit into skillet. Cover dough again with light kitchen towel and place inside warm oven for 20 minutes.


After 20 minutes remove skillet and set in a warm, draft-free place. Preheat oven to 400°F. Using the handle of a wooden spoon or your fingertips, poke indentations in dough.


In a small bowl, whisk together remaining 2 teaspoons olive oil, remaining 1 teaspoon rosemary, remaining 1 teaspoon thyme and Parmesan cheese. Brush mixture over the top of the risen dough.


Bake in preheated oven for 20 minutes until golden and puffed. Cool in pan on a wire rack then slide focaccia out of skillet, cut into squares and serve.


Recipe created by Food Babbles.