Key Lime Pie Sweet Rolls
Graham flour brioche filled with key lime pie filling and sprinkled with graham crackers all topped with a white chocolate key lime icing.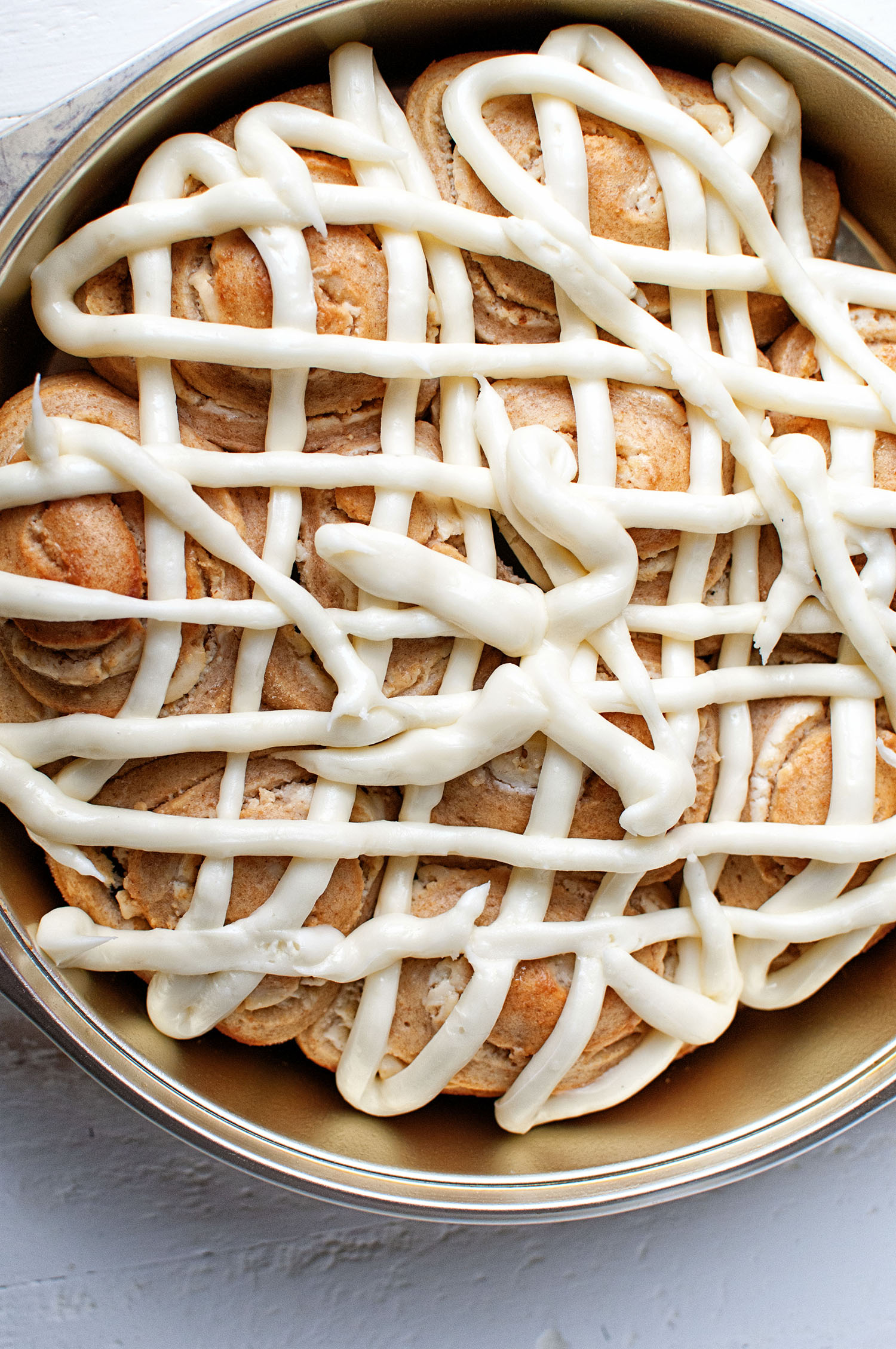 Ingredients
For the dough:
½ cup milk (warmed to 120-130°F)
1 package (2¼ tsp, ¼oz, 7g) RED STAR Platinum Superior Baking Yeast
1¼ cups all-purpose flour
2 eggs
1 cup graham flour
2 Tbsp honey
½ tsp salt
6 Tbsp butter (cut in 1 Tbsp size pieces)
For the filling:
8oz. cream cheese, at room temperature
9 oz. condensed milk
¼ cup key lime juice
1 cup crushed graham crackers
For the icing:
2 Tbsp butter
1 Tbsp key lime juice
⅓ cup white chocolate chips
2 cups powdered sugar
Instructions
Make the brioche: In a mixer bowl whisk together the milk, yeast, and 1 cup all-purpose flour. Cover with plastic and set aside for 30 minutes.


Place the mixing bowl onto the stand mixer, fitted with a paddle attachment.


While mixing at low speed, add the eggs, one at a time. Add the remaining all-purpose flour and graham flour to the mixture and mix until combined…it will be dry.


Switch to dough hook attachment. With mixer on medium speed, add honey and salt. Add the butter, 1 tablespoon at a time and do not add the next pat of butter until the previous one is completely mixed into the dough. Knead until you have a stiff dough but one that pulls away from the sides of the bowl.


Spray a bowl with oil or baking spray and place dough in bowl, turning to grease all sides. Cover with plastic wrap and let rise for 2 hours or until doubles in size. Punch down dough, recover and place in fridge overnight (or at least 8 hours).


Make the key lime pie filling: Using a stand mixer with a paddle attachment, beat together the cream cheese and condensed milk until smooth. Scrape down the sides and bottom of bowl. Add the key lime juice and beat until smooth. Cover and place in fridge until ready to use.


Remove the dough from fridge. Punch down dough and place on a well-floured (use graham flour) surface. Roll out dough into a 10x14-inch rectangle. Spread the key lime pie filling evenly over dough. Sprinkle with crushed graham cracker pieces.


Starting at one of the long (14-inch) sides, roll the dough up, and pinch the seam well to seal.
Using a serrated knife, cut the dough into 10 equal rolls (about 1½-inch thick slices) and place them in a greased 9-inch round pan. Cover with plastic wrap and let rise until doubled in size, about 1 hour.


Preheat the oven to 350°F.


When the rolls have risen, bake until golden brown, about 25-30 minutes. Tent with aluminum foil after 15 minutes if rolls are browning too fast. Let cool on wire rack while you prepare icing.


Make the icing: In a medium saucepan melt the butter and white chocolate chips together. Stir in the powdered sugar. Thin with key lime juice. If too thick, add more key lime juice or some milk. Mix until fully combined. You will either have to pipe or spread the icing on the cooled rolls, as it is thick.


Recipe created by Sweet Recipeas.