Key Lime Doughnuts
Crisp, fluffy, yeasted doughnuts filled with a tart key lime curd and topped with a sugary sweet glaze. The perfect balance of tart and sweet, these are fun to make and a delicious, decadent treat!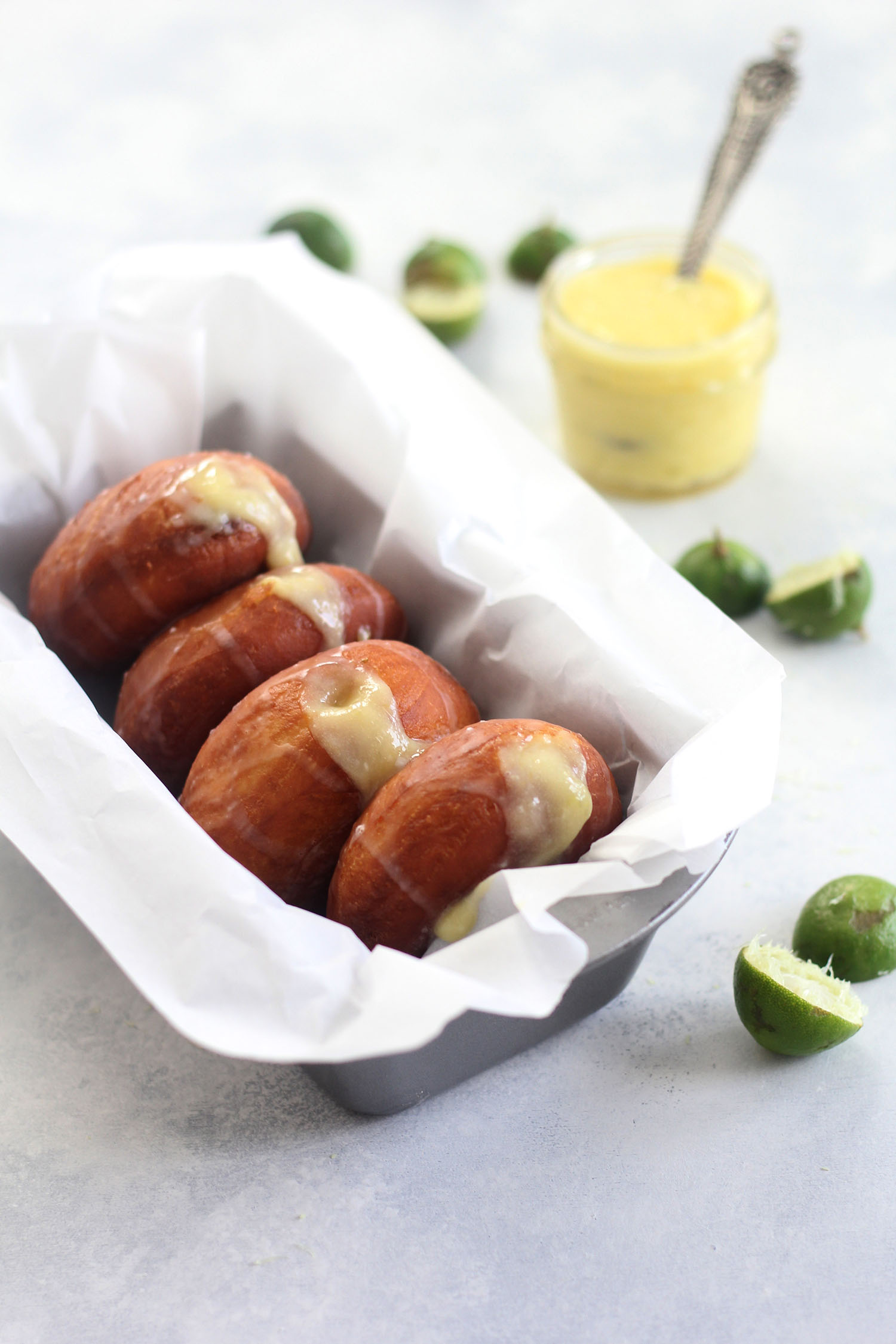 Ingredients
For the dough:
1½ cups whole milk
1 package (2¼ tsp, ¼oz, 7g) RED STAR Active Dry Yeast
2 eggs, room temperature
8 Tbsp (1 stick) butter, melted and cooled slightly
¼ cup granulated sugar
¼ tsp ground nutmeg
1 tsp salt
4¼ cups all-purpose flour, plus more for rolling out the dough
Oil for frying. (canola, vegetable, peanut or grapeseed oils work well) plus more for oiling the bowl
For the curd filling:
1 cup white sugar
4 large eggs
2 Tbsp key lime zest
½ cup key lime juice (*see note)
1 stick (8 tablespoons,) unsalted butter cut into cubes
For the glaze:
3 cups powdered sugar
¼-1/2 cup milk
½ tsp vanilla extract
Instructions
For the doughnuts:
Warm the milk to 110-115°F and combine it with the yeast, stirring lightly. Let it sit for 5 minutes or until it foams up a bit.


In the bowl of a stand mixer fitted with a paddle attachment, combine the eggs, melted butter, sugar, and milk mixture. Mix on medium-high speed until well mixed and smooth.


Add the nutmeg, salt, and 2 cups of the flour and mix until combined, then switch to the dough hook attachment.


Add the remaining flour and mix until dough pulls away from the bowl. If dough feels sticky, add more flour, 1-2 tablespoons at a time, until soft and smooth.


Oil a bowl and place dough inside, cover with plastic wrap or a clean towel and allow to proof in a warm place for an hour or until doubled in size.


When dough has doubled in size, punch it down a bit and roll to ½-inch thickness. Cut out desired doughnut shapes. For filled doughnuts, use a 3 ½-inch diameter biscuit cutter. You can re-roll the scraps, but try not to overwork the dough and let it rest for a few minutes between rounds; or roll into small balls for doughnut holes.


Place cut doughnuts on a lined cookie sheet an inch or so apart and cover loosely again, proofing in a warm place for 45-60 minutes.


While doughnuts are proofing make your filling and glaze


For the curd filling:
In a small saucepan combine the sugar, eggs, zest, and juice. Heat on medium-high and stir constantly, until mixture becomes thick, coating the back of your spoon, about 10 minutes.


Remove from heat, add butter, and stir until smooth. Pour into a heat safe bowl or jar and place in the fridge until ready to use.


For the glaze:
Whisk together the powdered sugar, vanilla and milk, using more or less depending on how thick you'd like your glaze to be. If it gets too thick or hard before you're ready to use it, you can whisk it rapidly to smooth it out.


Frying doughnuts:
Heat oil in a Dutch oven or heavy bottomed pan. Clip on a candy thermometer if you have one and adjust your heat until the oil reaches about between 365F-375°F (** see note) While the oil is heating, prep some cookie sheets with paper towels to place the doughnuts on after they are done frying.


When oil is ready, use a spatula to slide a doughnut into the oil. (You may want to fry one at a time until you get the hang of it.) When the bottoms are deep golden (45 seconds or so), use a slotted spoon to flip the doughnut and fry the other side. Place finished doughnuts on the paper towel-lined sheets and continue frying the rest.


When doughnuts are cool enough to handle, fill a pastry bag with key lime curd, make a little hole in one end of the doughnut using a chopstick, or something similar in size, and fill the doughnuts. Dip the tops into the glaze and let dry on a wire rack.


Recipe created by The Baker Chick.
Notes
*If you can't find key limes, regular limes will work.

**A candy thermometer works best, but any instant read cooking thermometer will work as long as it can read temperatures up to 400°F. When the oil is too cool, the doughnuts may end up greasy and oily.